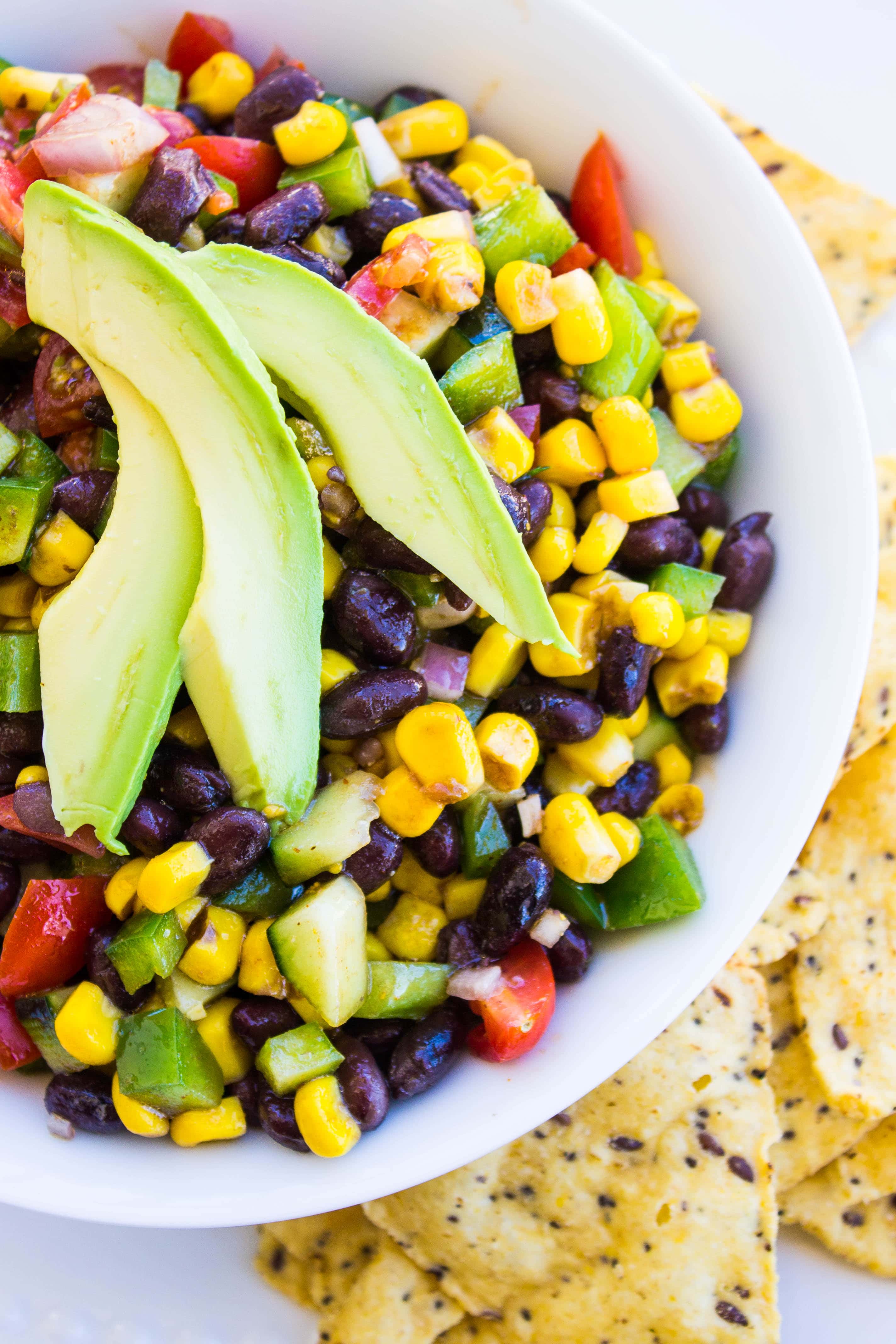 First off- Happy almost Cinco De Mayo. Secondly, Happy Friday- the best day of the week..because for obvious reasons..the weekend that begins at 5pm. At least for me anyways. If you are wanting a healthy snack with some spice this weekend, you need to make this Spicy Cowboy Caviar!
This Spicy Cowboy Caviar is a great salad topper, side dish, or one of my favorites… a dip!
There are all kinds of fresh vegetables in this tasty recipe. You can add any of your favorite veggies and beans to this recipe. It is light and refreshing and is dressed with simple oil and vinegar dressing with a little spiciness added*.  I like just a hint of spice so if you are one of those that can handle the heat, add more spice!
I lovvve avocados in just about everything so I add cubed avo to this when serving. I typically don't like to add it in the mix because it will turn brown if it's being stored afterwards.
Speaking of avos, you must try my homemade guacamole recipe!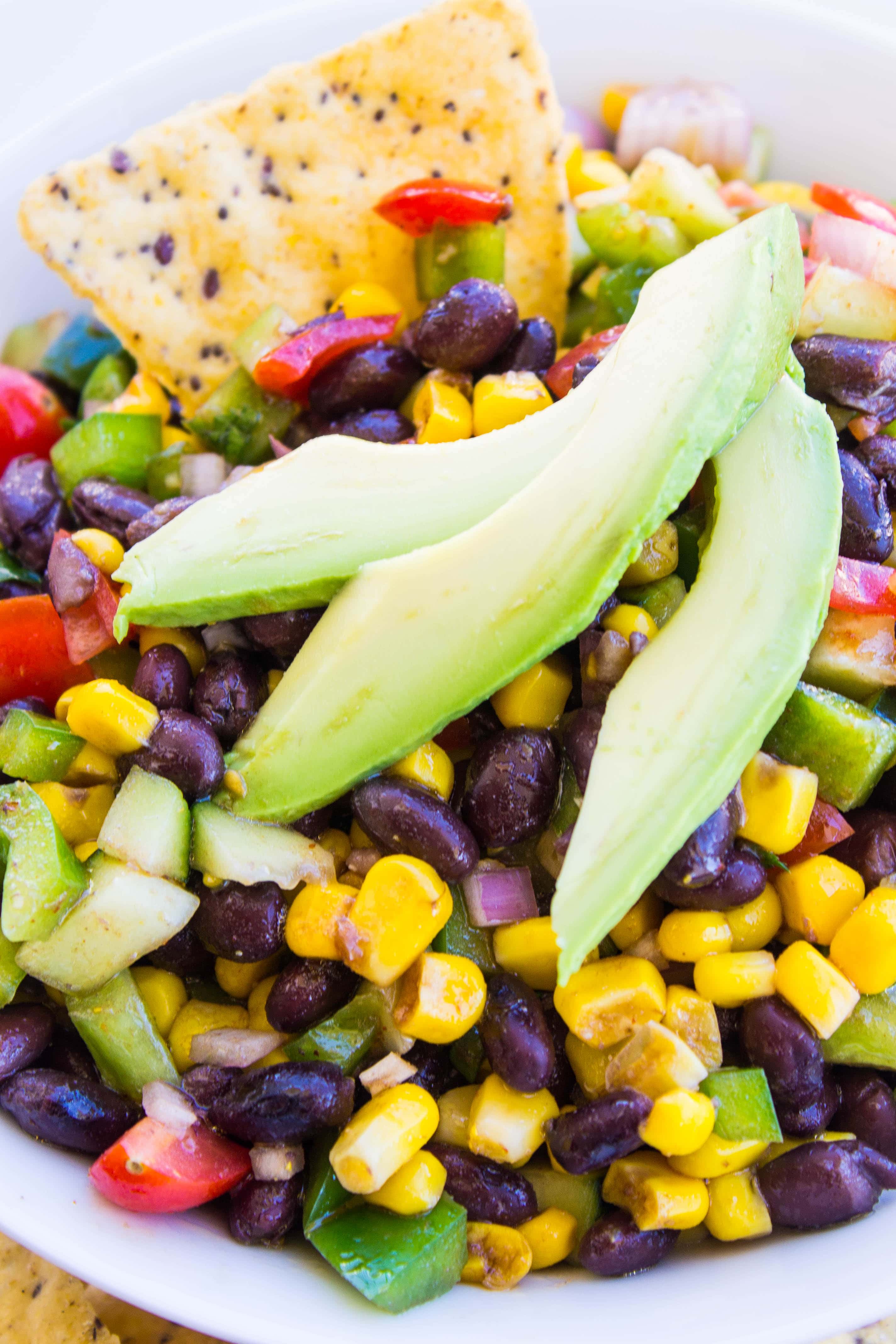 This dip is perfect for any occasion. It's super fresh and every bite has a crunch! It's packed with flavor and color that also happens to be healthy! Win-win! This is naturally vegan and dairy free.
Ingredients
1 (15 ounce) can of black beans; rinsed and drained
1 (11 ounce) can of sweet corn; rinsed and drained
1/4 cup bell peppers; diced
1/ 4 cup cucumbers; diced
1/4 cup cherry tomatoes; sliced in half
1 Tbsp. fresh parsley; chopped
2 tsp. garlic; minced
1 Tbsp. fresh shallots; diced
1/4 cup olive oil
3 Tbsp. balsamic vinegar
Salt and Pepper to taste
Avocado; optional
Chips to dip!
Instructions
Combine all of the ingredients together. Mix until everything is evenly coated. Top with avocado and dip with your favorite chips!
http://kathrynskitchenblog.com/spicy-cowboy-caviar/
Copyright Kathryn's Kitchen Blog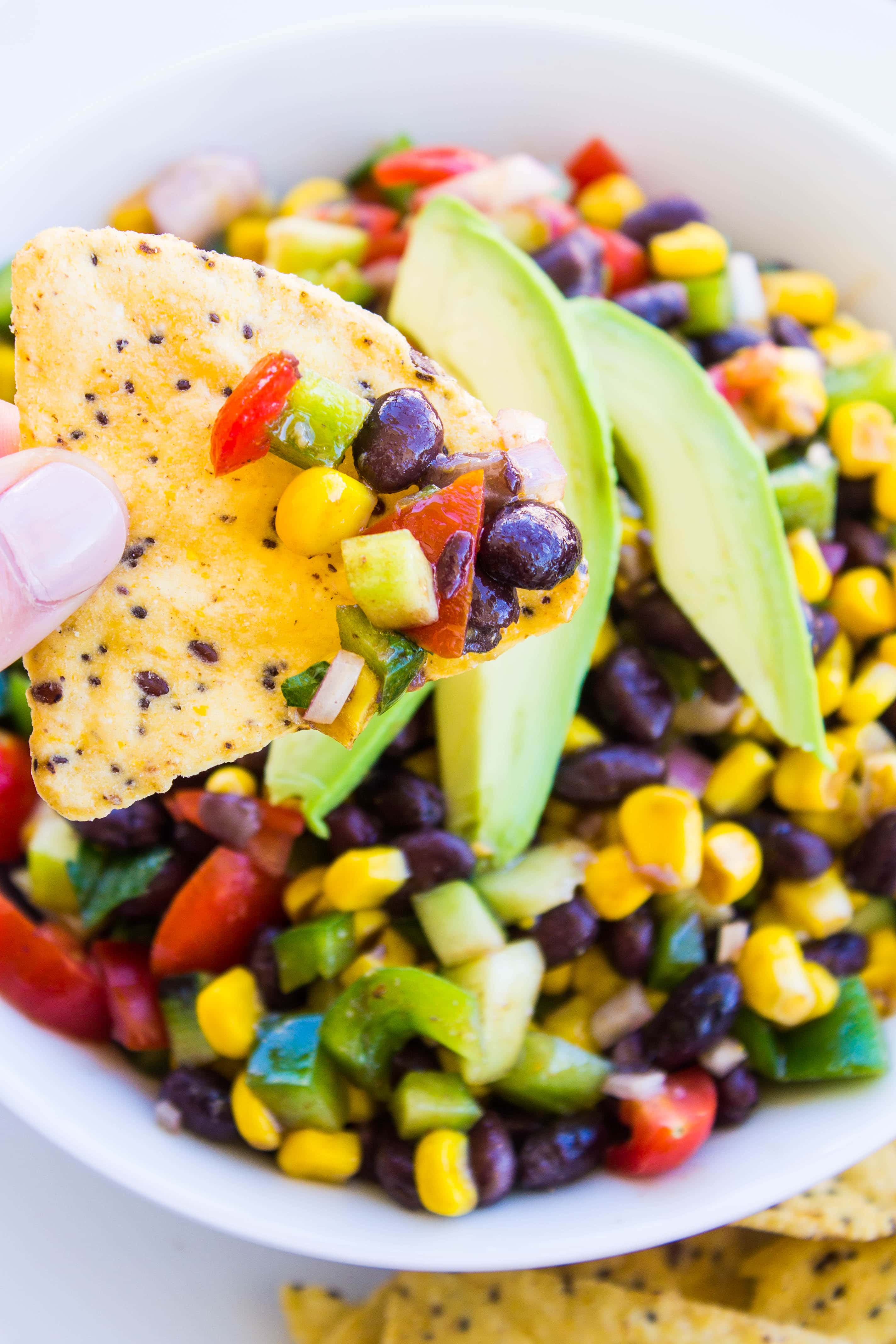 This recipe reminds me of a salsa- you can almost use it for anything! Add a few scoops to your chicken, steak, bake potato, or just enjoy as is. I prefer to dip extra salty tortilla chips in this dip, they make the perfect match. You just need to try it for yourself! I like to let my 'caviar' sit in the fridge for about 30 minutes after mixing so the dressing can absorb into all of the fresh ingredients. This is also a great way to use up any leftover veggies you are trying to get rid of! You're welcome.

See the step-by-step video below: