Last Updated on March 17, 2021 by Kathryn Donangelo
These are the best Homemade Cinnamon Rolls in the world! Soft, fluffy and easy for anyone to make. Swirled with a delicious, gooey cinnamon sugar filling and topped with a classic cream cheese cinnamon roll frosting!
PIN Homemade Cinnamon Rolls to try later!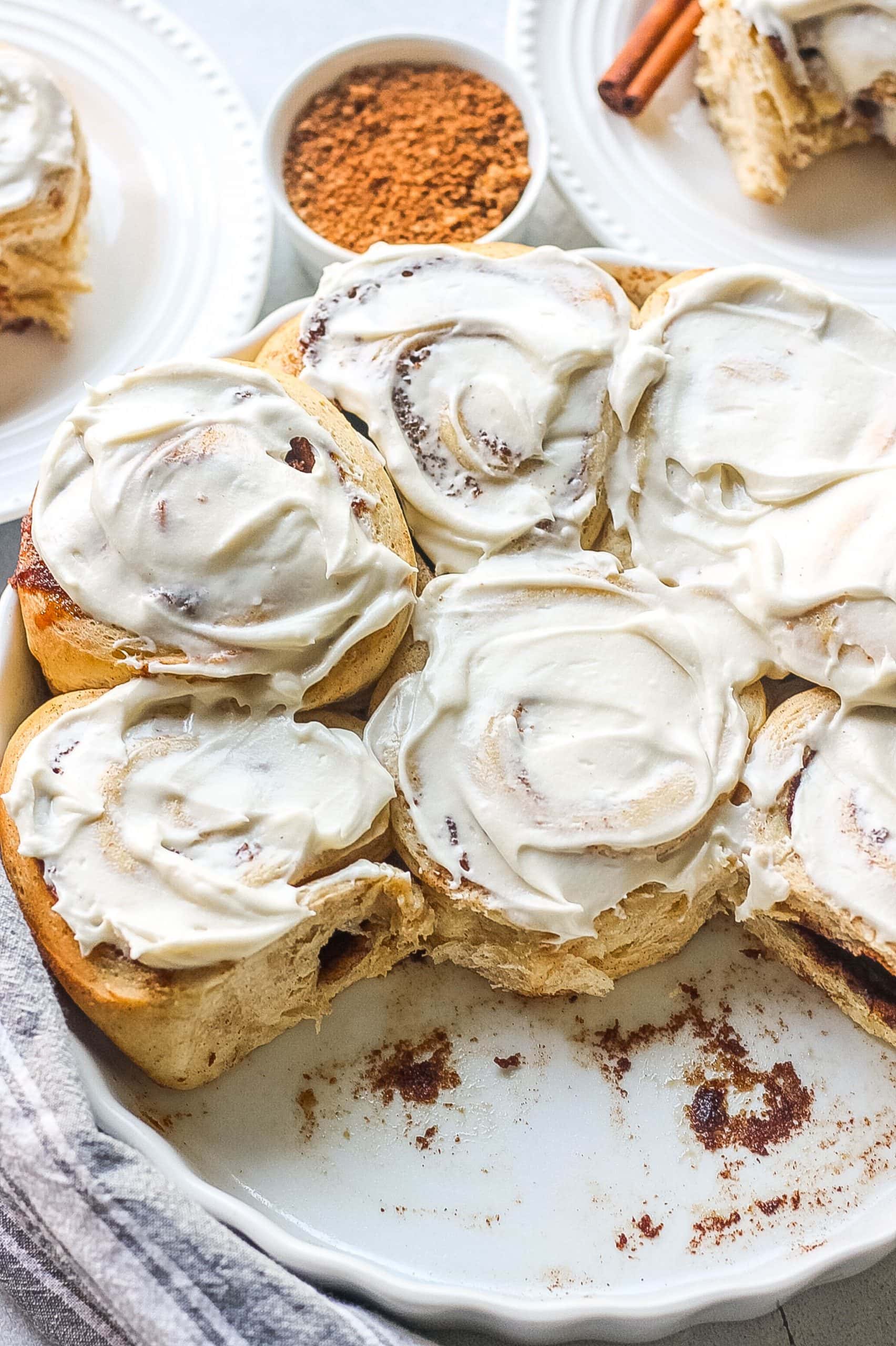 These Homemade Cinnamon Rolls are made with the fluffiest dough that has hints of cinnamon because you can't have enough cinnamon in these rolls! The dough is rolled up and swirled in the gooiest filling and then topped with a light and fluffy cream cheese frosting.
If you're cinnamon roll obsessed like I am, do yourselves a favor and make my Cinnamon Roll Bake and Cinnamon Roll Oatmeal Bake.
Cinnamon Rolls are my all-time favorite breakfast and dessert and these rolls are by far the best I've made! These Homemade Cinnamon Rolls are so delicious and incredibly easy to make! You don't need to be a genius to make these because they require minimal work!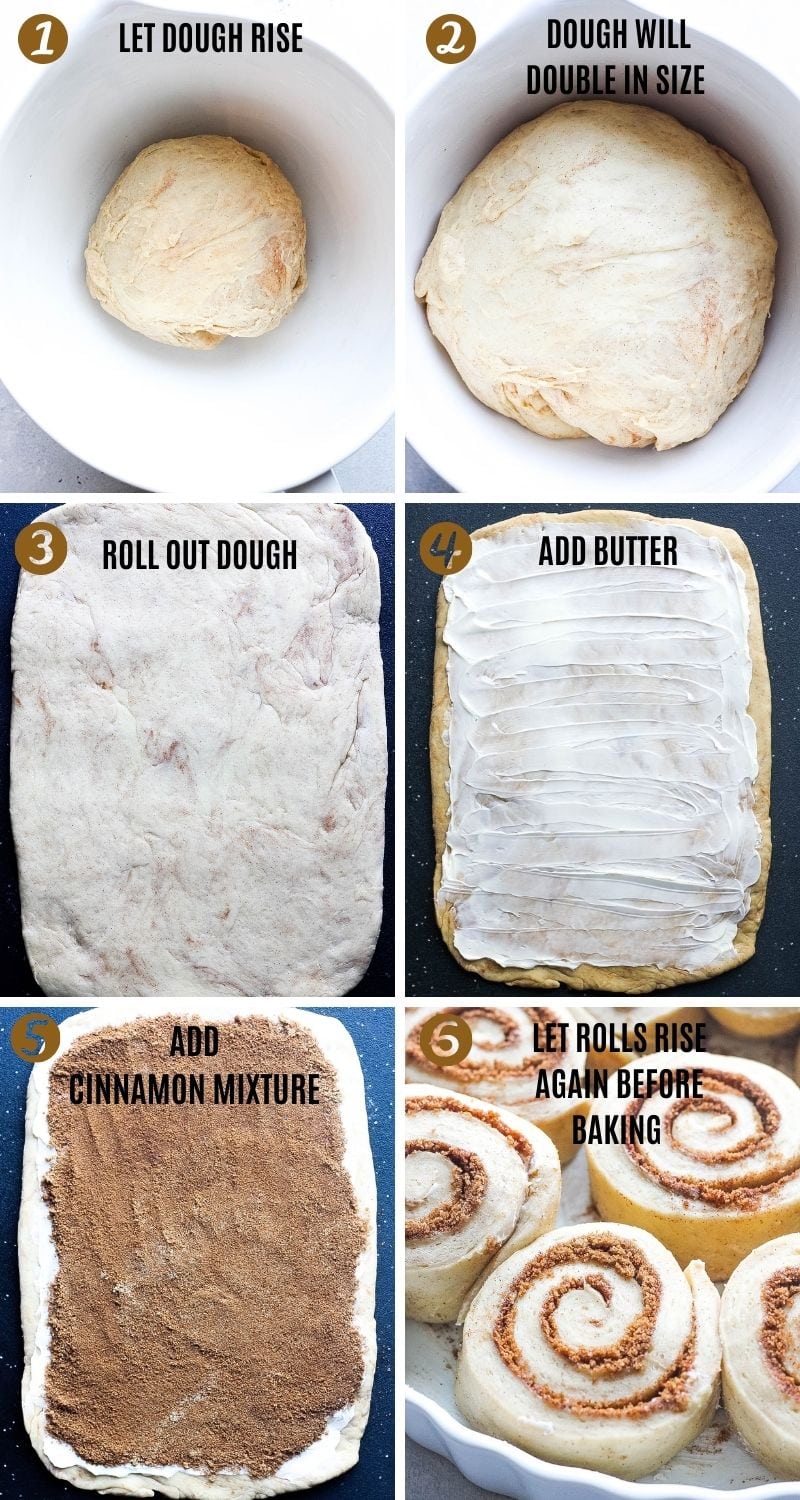 These easy Homemade Cinnamon Rolls make a delicious breakfast for Christmas morning, a birthday, Holiday brunch or any day that you are craving a good old fashioned cinnamon roll!
I top each fluffy cinnamon roll with a classic cream cheese frosting that is super light, airy and creamy. You just can't have the cinnamon rolls without it!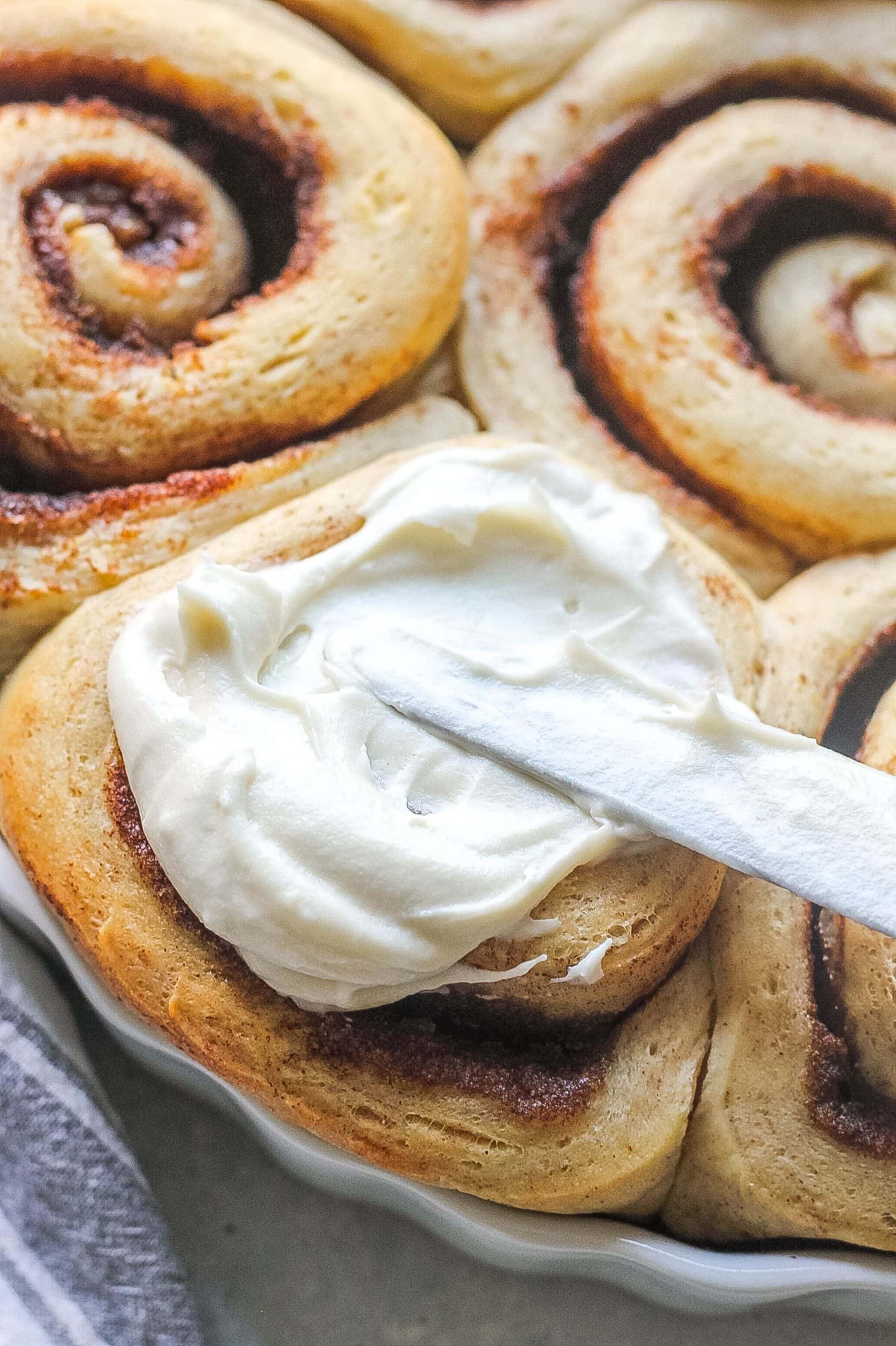 There's nothing better than the smell of fresh cinnamon rolls baking in the oven, especially when they are made from scratch and super easy to make.
HOW TO MAKE THE BEST HOMEMADE CINNAMON ROLLS
Lots of cinnamon: There is a lot of cinnamon in this recipe because it makes this recipe perfect. I even add cinnamon to the dough and extra in the filling.
Frost the cinnamon rolls immediately: the frosting on the cinnamon rolls will slightly melt into the rolls making them extra delicious and gooey! They will be perfect.
Yeast: This recipe calls for double the standard amount because it makes these rolls extra fluffy!
Let the rolls get cozy in the baking pan: let the rolls touch on all sides of the baking dish. When they rise for the second time they should get so puffy they touch- this will ensure that all of the centers and sides are nice and soft. Making them gooey!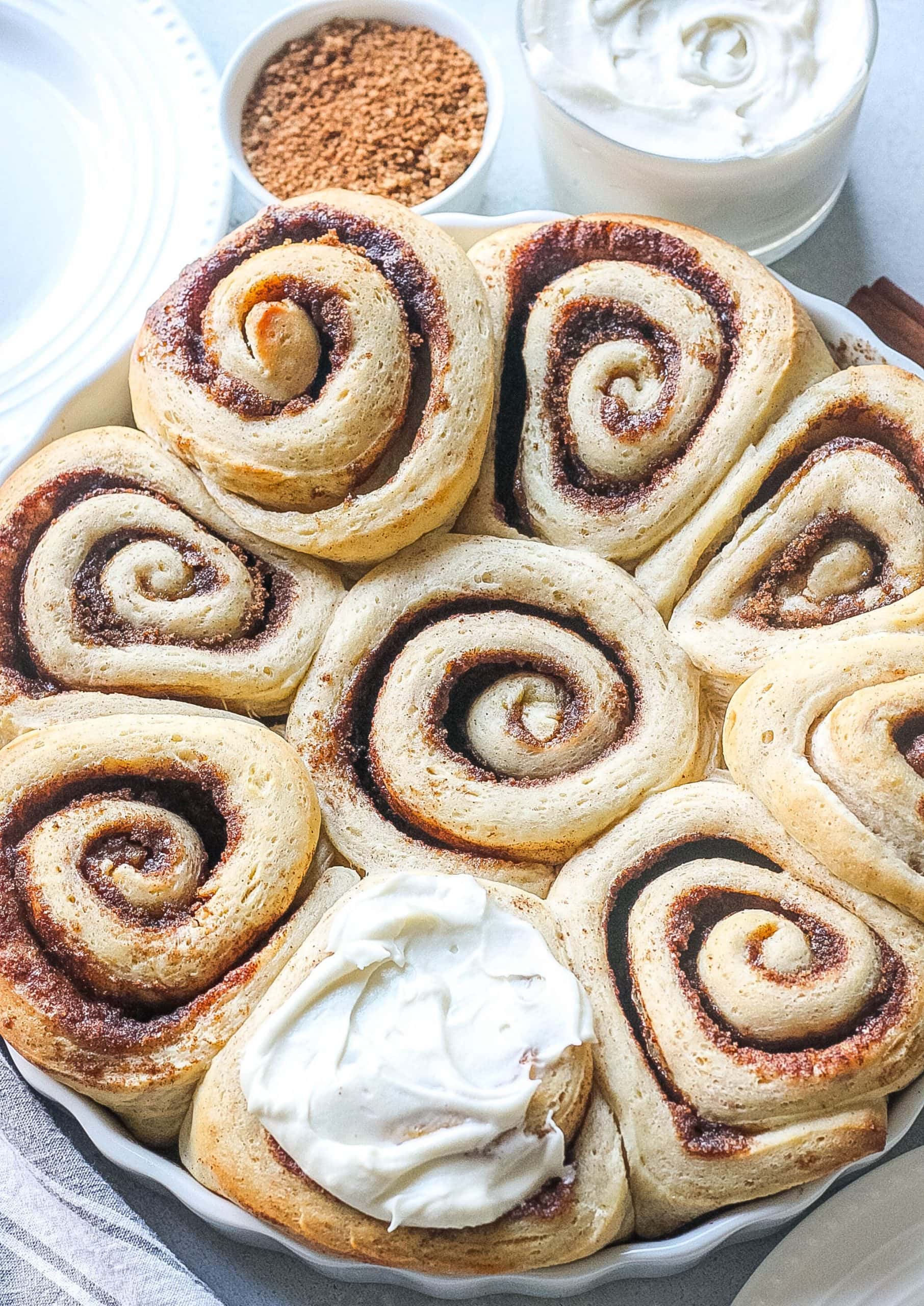 INGREDIENTS
Milk
Quick rise or active yeast
Sugar
Egg + egg yolk
Butter
Bread flour
Salt
Brown sugar
Cinnamon
INGREDIENTS TO MAKE CINNAMON ROLL FROSTING
Cream cheese
Butter
Powdered sugar
Vanilla extract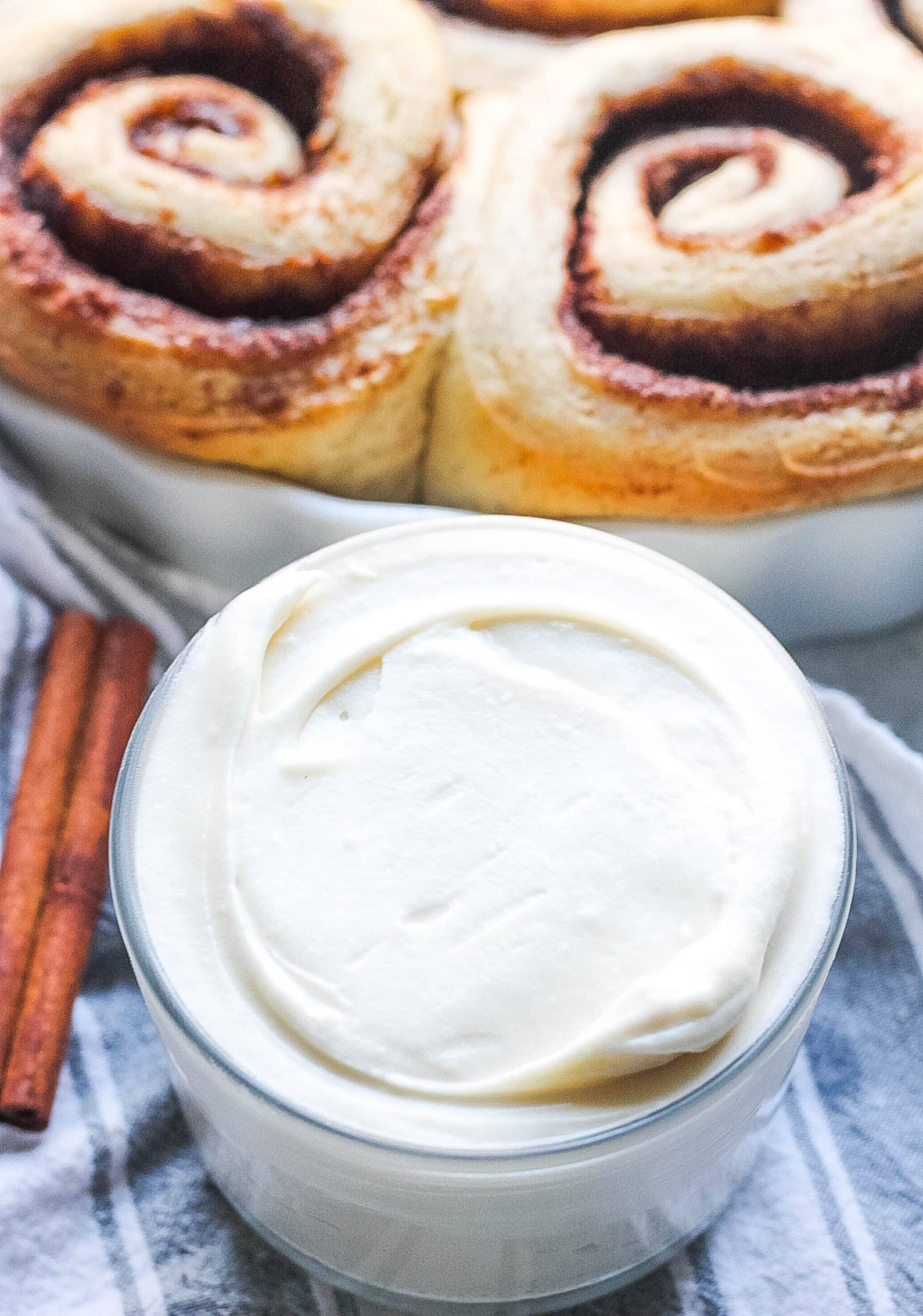 HOW TO MAKE EASY HOMEMADE CINNAMON ROLLS
Make the dough: the key to making these cinnamon rolls extra fluffy is the yeast. The other ingredients are standard and you probably already have them in your kitchen. It's important to make sure the yeast is activated into the dough by kneading the dough (mentioned in step 2 of recipe instructions).
Knead the dough: this will allow the yeast to activate and the dough to rise and become fluffy. You can use a stand mixer or your hands (make sure your muscles are ready to work).
Let the dough rise: you can't skip this step!
Roll the dough out: you'll need a rolling pin to do this.
Add the filling: make sure the filling doesn't leak out when rolling, if it does gently press it back into the dough. Trust me you want all that delicious filling!
Form the rolls and let them rise again: time to make your pretty cinnamon swirls and let them get puffy again before baking.
Bake, frost and serve! the best part!
MAKE THESE EASY CINNAMON ROLLS THE DAY BEFORE
If you want to save a few hours during the day, you can make these cinnamon rolls the day or night before.
After completing steps 1-5, cover the baking pan that your sliced rolls are in and place them in the refrigerator.
When you are ready to bake the cinnamon rolls, remove cinnamon rolls from the oven and bring them to room temperature so they can rise for the second time. Make sure to cover them with a warm damp towel.
Once they are at room temperature bake accordingly to the instructions in the recipe.
To bring the cinnamon rolls to room temperature: leave them on the counter for 30-45 minutes before baking.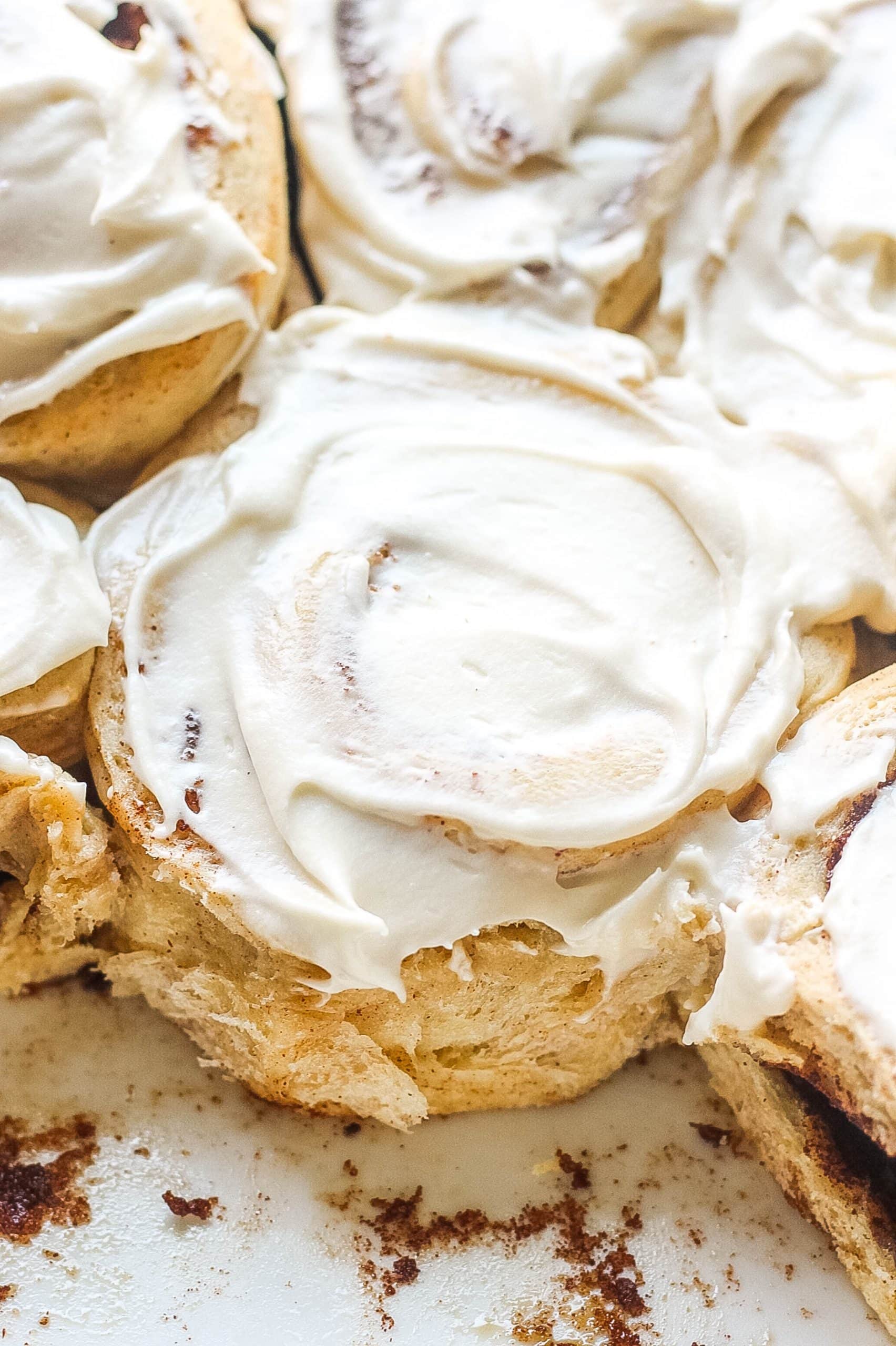 HOW TO FREEZE
Tightly wrap the assembled cinnamon rolls, completing steps 1-5. Cover the cinnamon rolls in the baking pan with plastic wrap, foil or a lid.
Place the cinnamon rolls in the freezer up for up 2 months max.
When ready to bake, remove the cinnamon rolls from the refrigerator and let them come to room temperature overnight. They will need to complete the second rise. Place a warm damp towel over the rolls when they rise for the second time.
Bake according to the recipe instructions and make the frosting.
LEFTOVERS
These Cinnamon Rolls make great leftovers for the next morning! Simply cover the cinnamon rolls with plastic wrap or transfer them to an airtight container and store them at room temperature for 2-3 days. If you want to store them longer, place them in the refrigerator for up to 6 days. Reheat in the microwave or oven on 350 degrees F for a few minutes.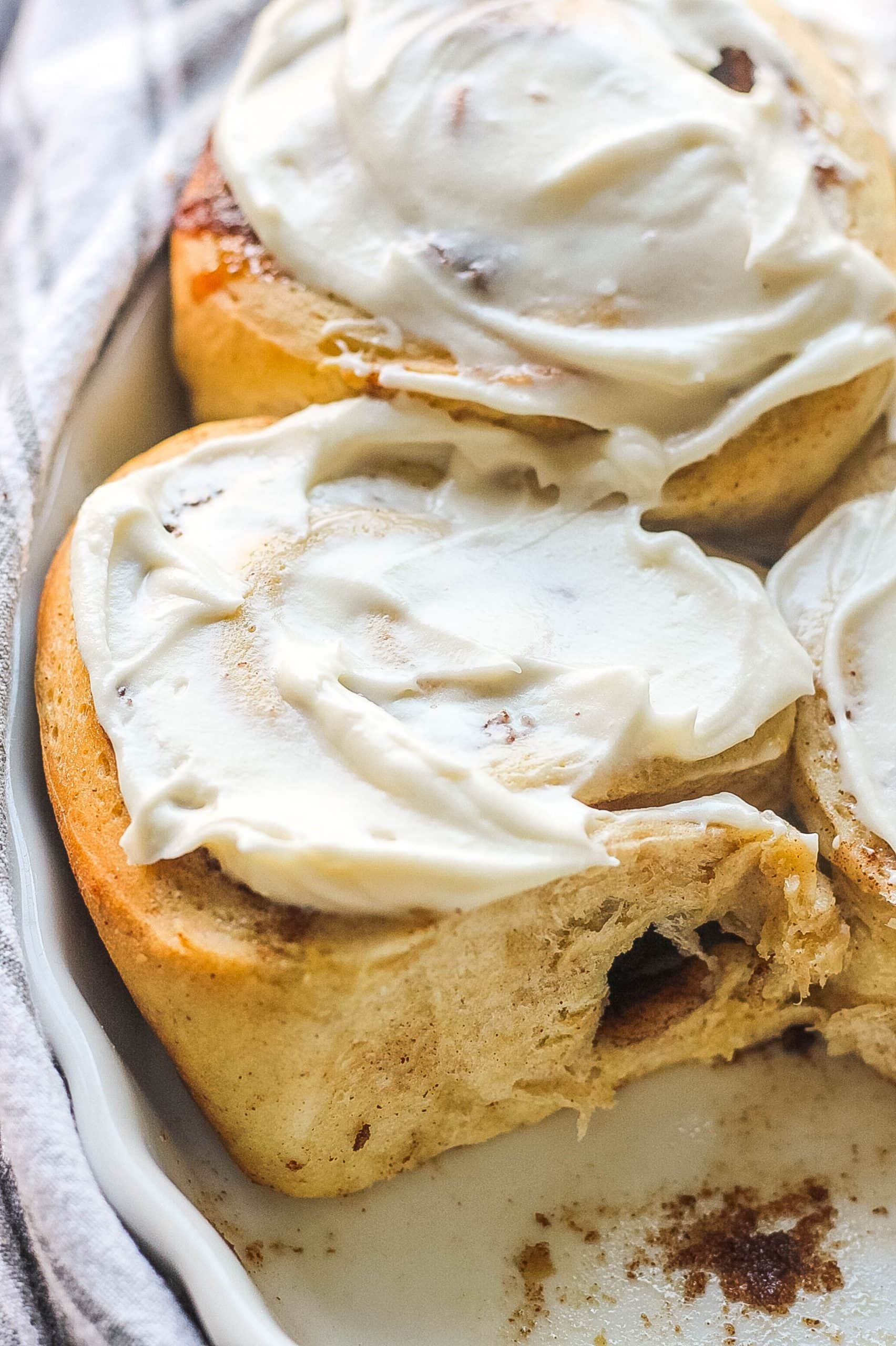 LOOKING FOR OTHER FAVORITE BREAKFAST OR BRUNCH RECIPES? TRY THESE!
CAN'T GET ENOUGH?
Subscribe and I'll send all my newest and FREE recipes to your inbox! You can also keep up with me on Pinterest, Instagram, and Facebook. If you make this recipe, please let me know how it turned out! Leave a comment below and share a picture on Instagram so I can see and feature you!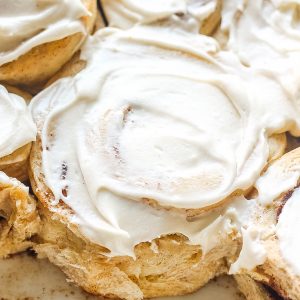 Homemade Cinnamon Rolls
These are the best Homemade Cinnamon Rolls in the world! Soft, fluffy and easy for anyone to make. Swirled with a delicious, gooey cinnamon sugar filling and topped with a classic cinnamon roll frosting!
Print
Pin
Rate
Ingredients
For the dough
3/4

cup

warm milk; whole or 2% (110 degrees F)

2

1/4 ounce packages

quick rise or active yeast

1/4

cup

granulated sugar

1

whole

egg; room temperature

1

egg yolk; room temperature

1/4

cup

unsalted butter; melted

3

cups

bread flour; plus more for dusting

3/4

tsp.

salt

1

tsp.

ground cinnamon
For the cinnamon roll filling
1/4

cup

brown sugar (light or dark)

2

Tbsp.

ground cinnamon

1/4

cup

unsalted butter; softened
For the cream cheese frosting
4

oz.

cream cheese; softened

3

Tbsp.

unsalted butter; softened

3/4

cup

powdered sugar

1/2

tsp.

vanilla extract
Instructions
Warm milk to around 110 degrees F. Make sure it isn't too hot and it should feel like warm bath water. I highly recomend using a food thermameter. Transfer the milk to a bowl of a stand mixer and add yeast. Whisk together until combined and then add sugar, egg, egg yolk and butter. Mix until well combined.

Add the flour, salt and cinnamon to the dough and mix in with a wooden spoon until dough begins to form. Place the mixing bowl on the stand mixer and knead the dough with a dough hook for about 8 minutes until a dough ball is formed, scrape down the sides of the bowl a few times. The dough will be slightly sticky but shouldn't stick to your hands. If it is too sticky add 2 tablespoons of flour. If you don't have a stand mixer you could use your hands and knead the dough on a well-floured surface.

Transfer the dough ball to an oiled bowl, cover with a warm damp towel and let dough rise for an 1 - 1 1/2 hours, or until it has doubled in size. The time will vary depending on the humidity and temperature in your home. To make your towel warm, place the damp towel in the microwave for 30 seconds.

After the dough has doubled in size, transfer to a well-floured surface and roll out to about 14x9 inch rectangle. Spread softened butter over the dough. Mix together the brown sugar and cinnamon in a small bowl and then sprinkle the mixture over the buttered dough. Gently press the cinnamon sugar mixture down with your hands into the buttered dough.

Tightly roll up the dough, starting at the 9 inch side. Cut into 9-10 even rolls and place the rolls on a lightly greased 9x9 baking pan or round 9 inch cake pan. Cover the rolls again and place a warm damp towel on top. Let rise for another 30-45 minutes. They will get a little puffy and rise a bit.

Preheat oven to 350 degrees F. Bake cinnamon rolls for 20-25 minutes or until just slightly golden brown on the edges. You want to under-bake them a little so they stay soft and gooey in the middle.

While the cinnamon rolls are cooling, add all of the frosting ingredients together and beat with an electric mixer until smooth, light and fluffy. Spread the frosting over cinnamon rolls and serve immediately. Enjoy!
Notes
*Make sure to check the blog post on all of my recipe notes, tips, tricks and more information about this recipe!