When the weather gets chilly, a big bowl of hot soup is my kind of meal. I love soup, all kinds of soup..especially hearty minestrone. Now that Fall is right around the corner, I am wanting to try out more soups with my crock pot so stay tuned! Usually I add pasta to some of my soups but I found cooked lentils (a healthier alternative) at Trader Joe's and thought they could be an exceptional addition to this pot of soup–and it was! My Nana makes the best soups and I grew up eating her soups often. She has inspired me to make my own, so here I am trying out new recipes. Cooking big pots of soup is a great way to get plenty of vegetables. It's also a great way to experiment and try out new vegetables that you normally wouldn't opt to try. One serving of this soup is low in calories, high in protein and high in fiber! Your body will thank you for this. Make sure to take the time to make this healthy pot of goodness! You will be happy that you did! #TheRecipeRedux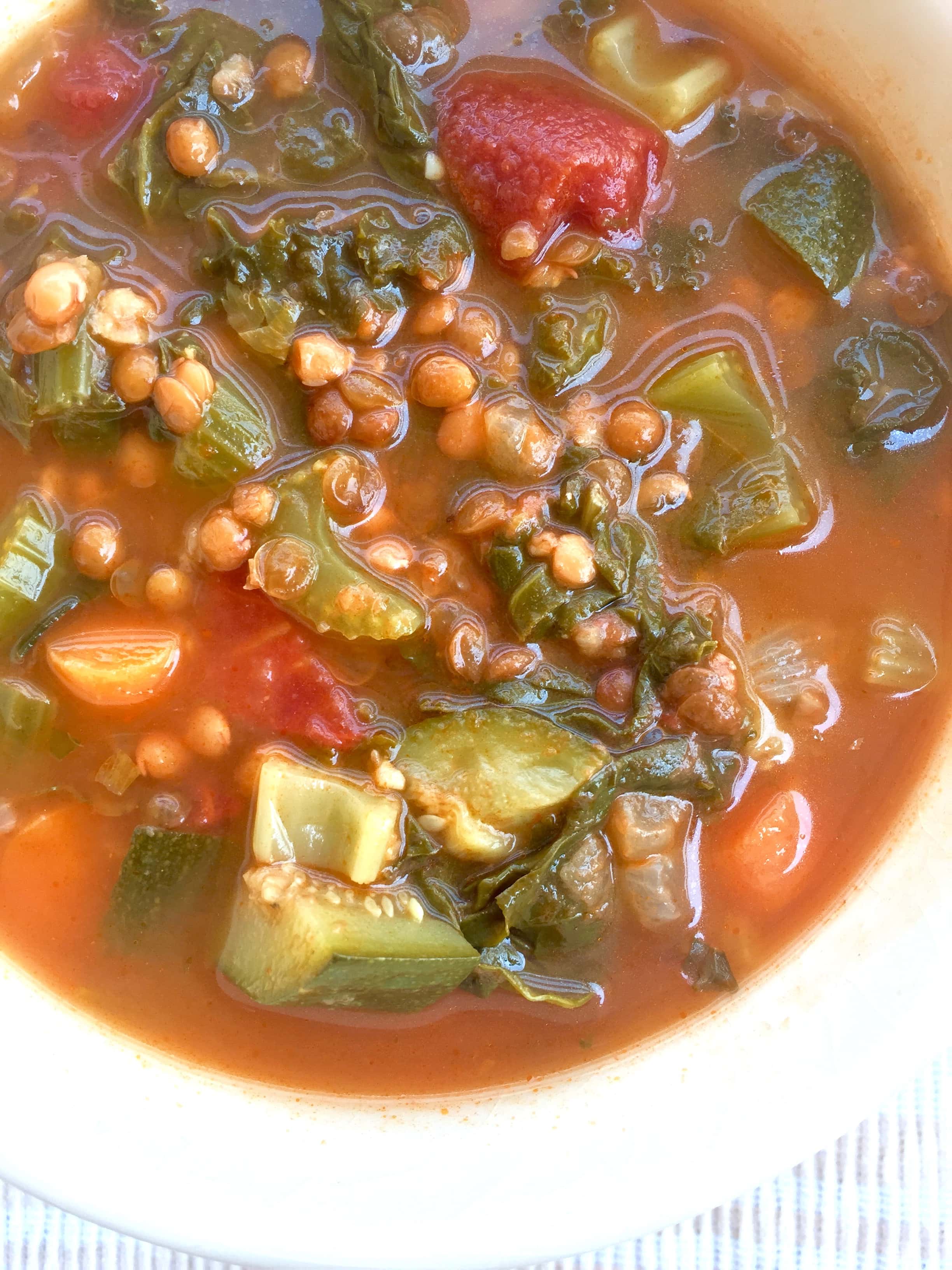 Ingredients
1 Tbsp olive oil
1 yellow onion; peeled and chopped
2 cloves garlic; peeled and minced
3 carrots; peeled and diced into 1/4-inch pieces
3 celery stalks; sliced into 1/4-inch pieces
1 zucchini; diced into 1/4-inch pieces
2 cups canned low-sodium, diced tomatoes or whole tomatoes (including liquid or fresh tomatoes)
1 cup cooked lentils (I buy my cooked lentils from Trader Joes)
6 cups vegetable stock or chicken stock
4 cups kale; washed and chopped into 1/4-1/2-inch pieces
Instructions
Put a soup pot on the stove over medium-high heat. When the pot is hot, add the oil, chopped onions and garlic--cook about 7 minutes until golden.
Add carrots, celery and zucchini and cook about 10 minutes until slightly tender.
Add tomatoes, lentils, vegetable or chicken stock and bring to a boil over high heat. Turn the heat down to low, cover and cook 20 minutes.
Add the kale and cook an additional 20 minutes. This soup makes great leftovers and you can even freeze extra leftovers for up to a few months! Enjoy!
http://kathrynskitchenblog.com/hearty-minestrone-lentil-soup/
Copyright Kathryn's Kitchen Blog

Reader Interactions