Last Updated on November 11, 2020 by Kathryn Donangelo
"This post has been sponsored by Garofalo® Pasta . All thoughts and opinions are my own."
Creamy Chicken Alfredo Pappardelle is made with a homemade classic alfredo sauce! This meal comes together in just minutes and is extra creamy and cheesy!
PIN Creamy Chicken Alfredo Pappardelle to try later!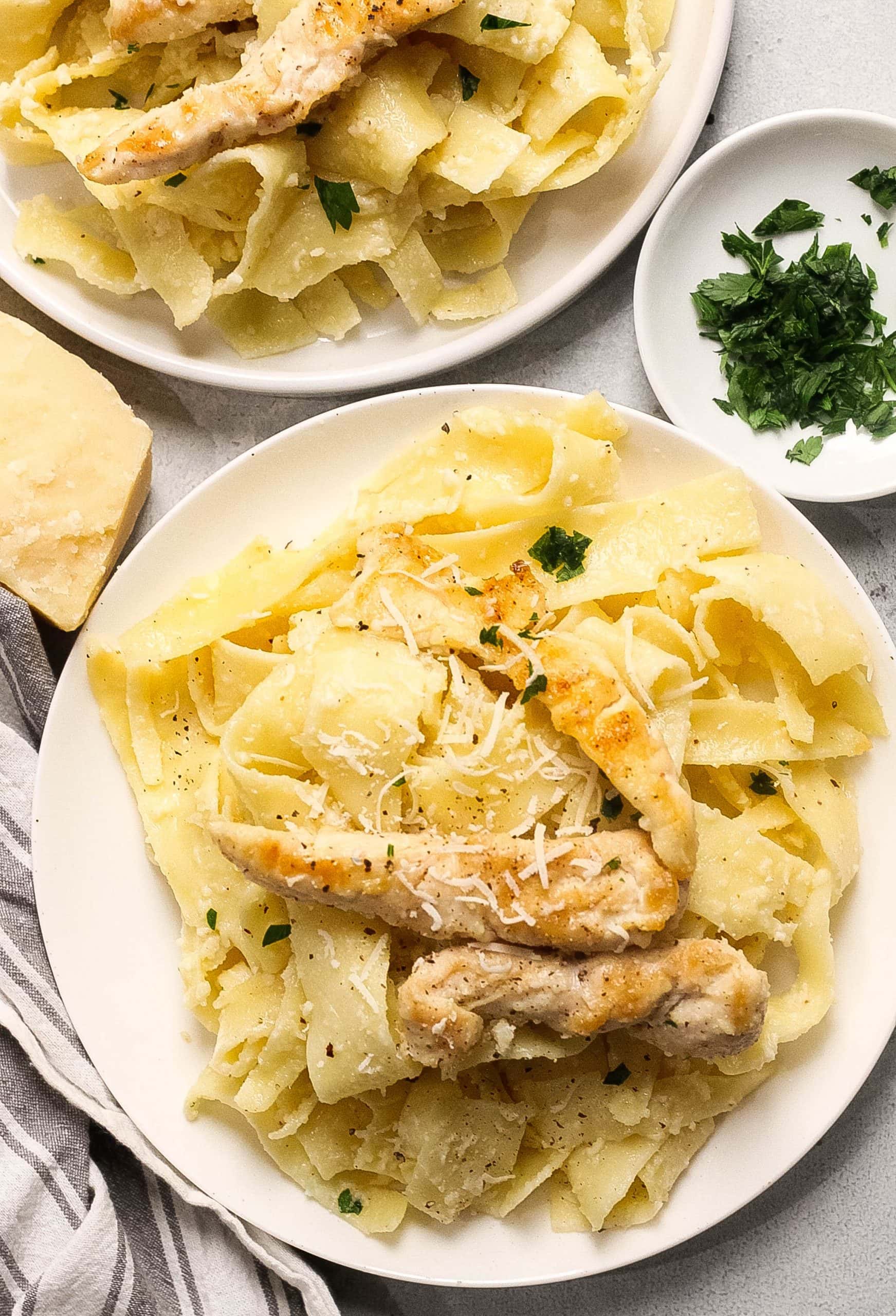 I love a good, homemade authentic pasta without actually making it from scratch. I found Garofalo® No. 1-35 Pappardelle Nido at my local Safeway and I'm so glad I did, because this pasta was perfect for my homemade creamy Alfredo sauce.
This Creamy Chicken Alfredo Pappardelle recipe is a true authentic one and you can tell from the first bite. My Dad owns two Italian restaurants here in Monterey, CA (Cafe Fina and Domencio's on the Wharf) so he actually gave me this authentic recipe. My family is from Italy so we know a true authentic pasta sauce when we taste one! He made it very clear that the Alfredo sauce must resemble melted ice cream in order for it to be perfect and I also added that in the notes.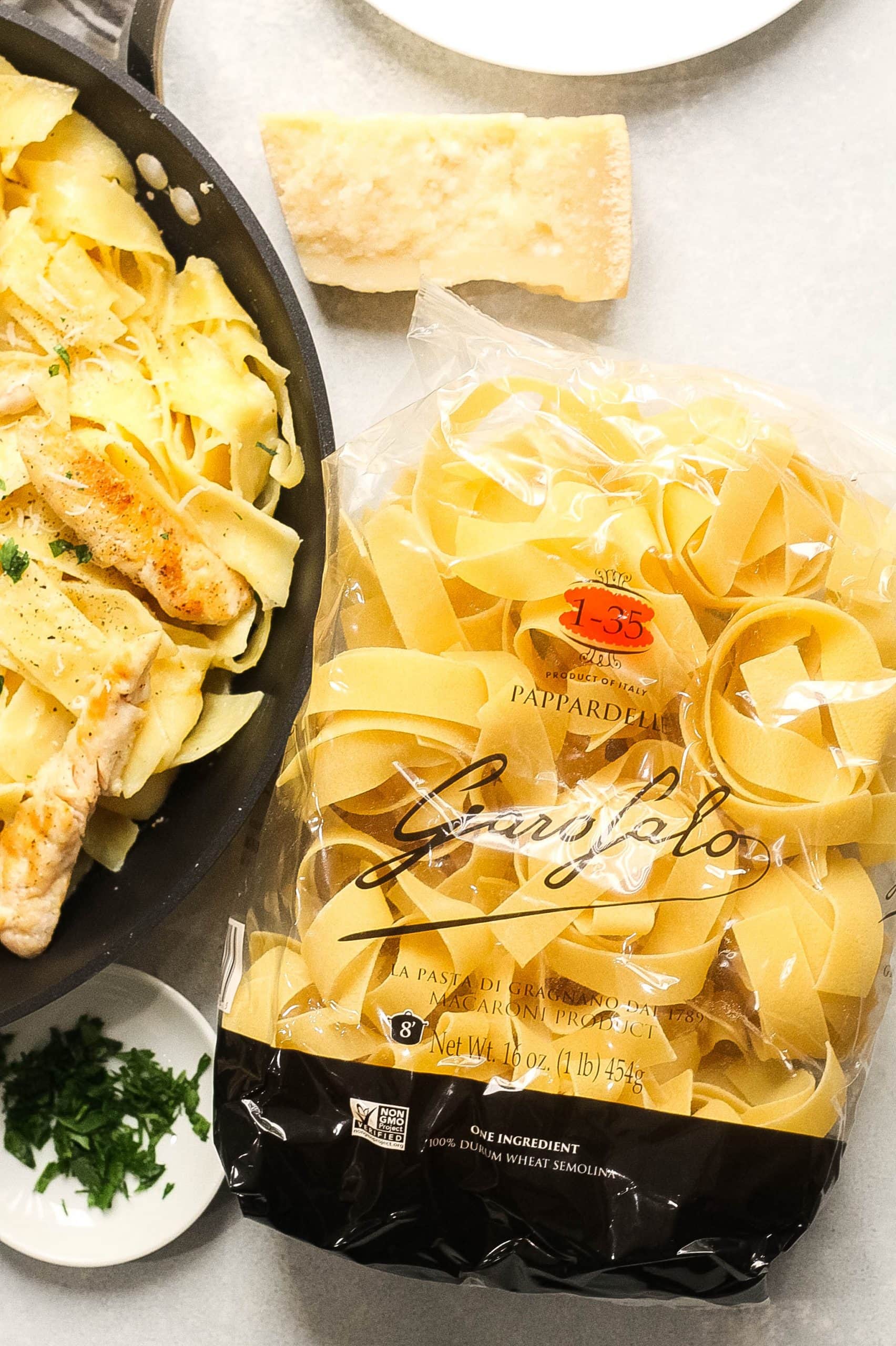 Safeway is always my go-to grocery store, and I can always rely on Safeway when I get our weekly grocery needs. Want to save a few bucks?! Check out this awesome coupon offer- make sure to download the Safeway mobile app to get it!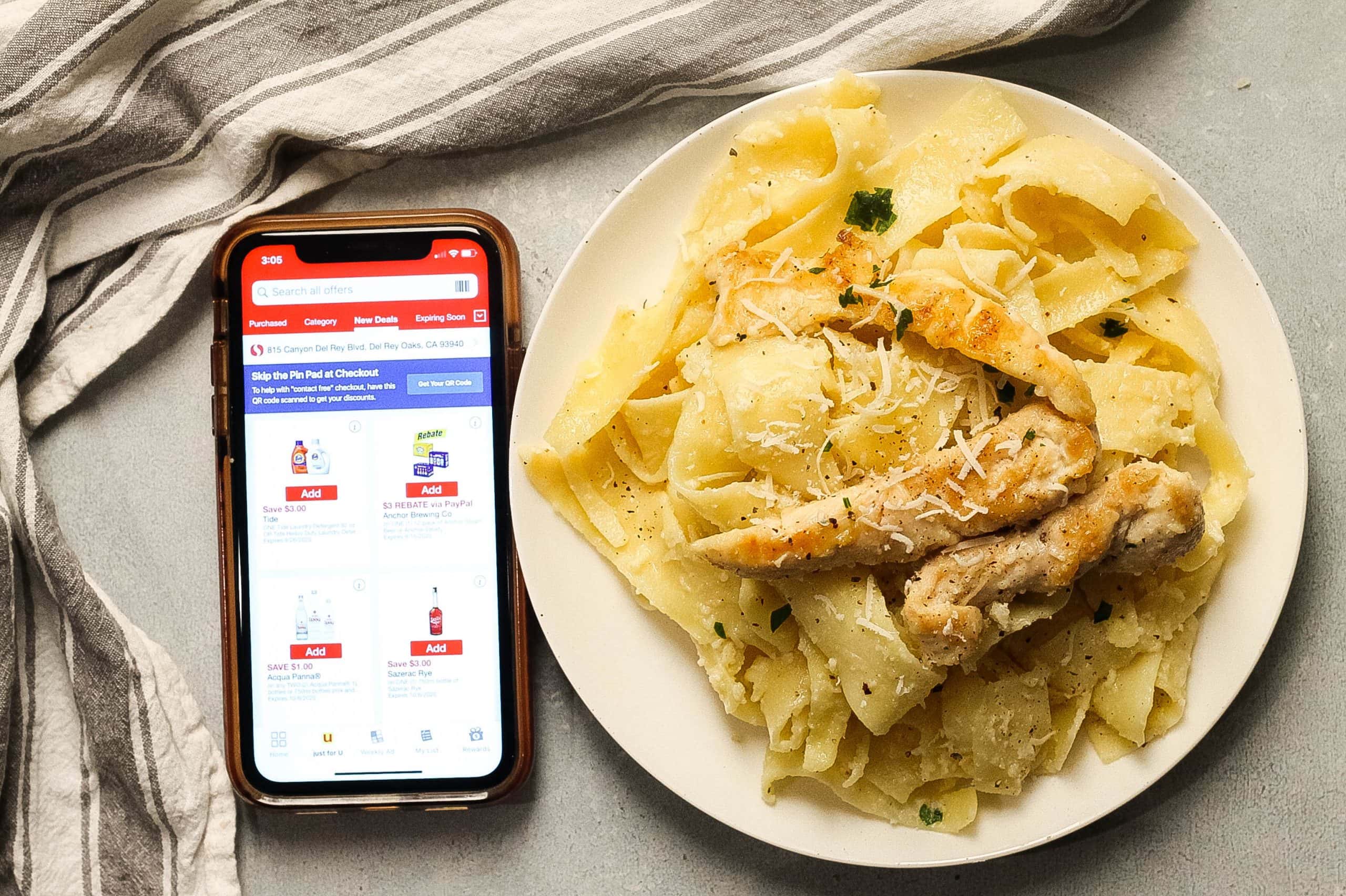 Some other reasons why I love Garofalo is because Garofalo was established in 1789 in Gragnano, the homeland of pasta. It holds the longest history in pasta – Pasta Garofalo is more than 200 years old. Their pasta is gourmet, all made in Italy, and superior quality. They also use 100% of the highest-quality durum wheat semolina, so it's not a surprise why their pasta tastes divine!
I've never been to Italy (yet!), but I could only imagine how authentically delicious pasta tastes there. After trying Garofalo's pappardelle, I am confident that their product is what pasta is truly supposed to taste like.
This Alfredo sauce is so creamy and cheesy, you will be hooked on this recipe! The pappardelle noodles absorb the richness of Alfredo sauce, and the seasoned grilled chicken makes this meal wholesome and protein-packed. You could also make this meal vegetarian by omitting the chicken.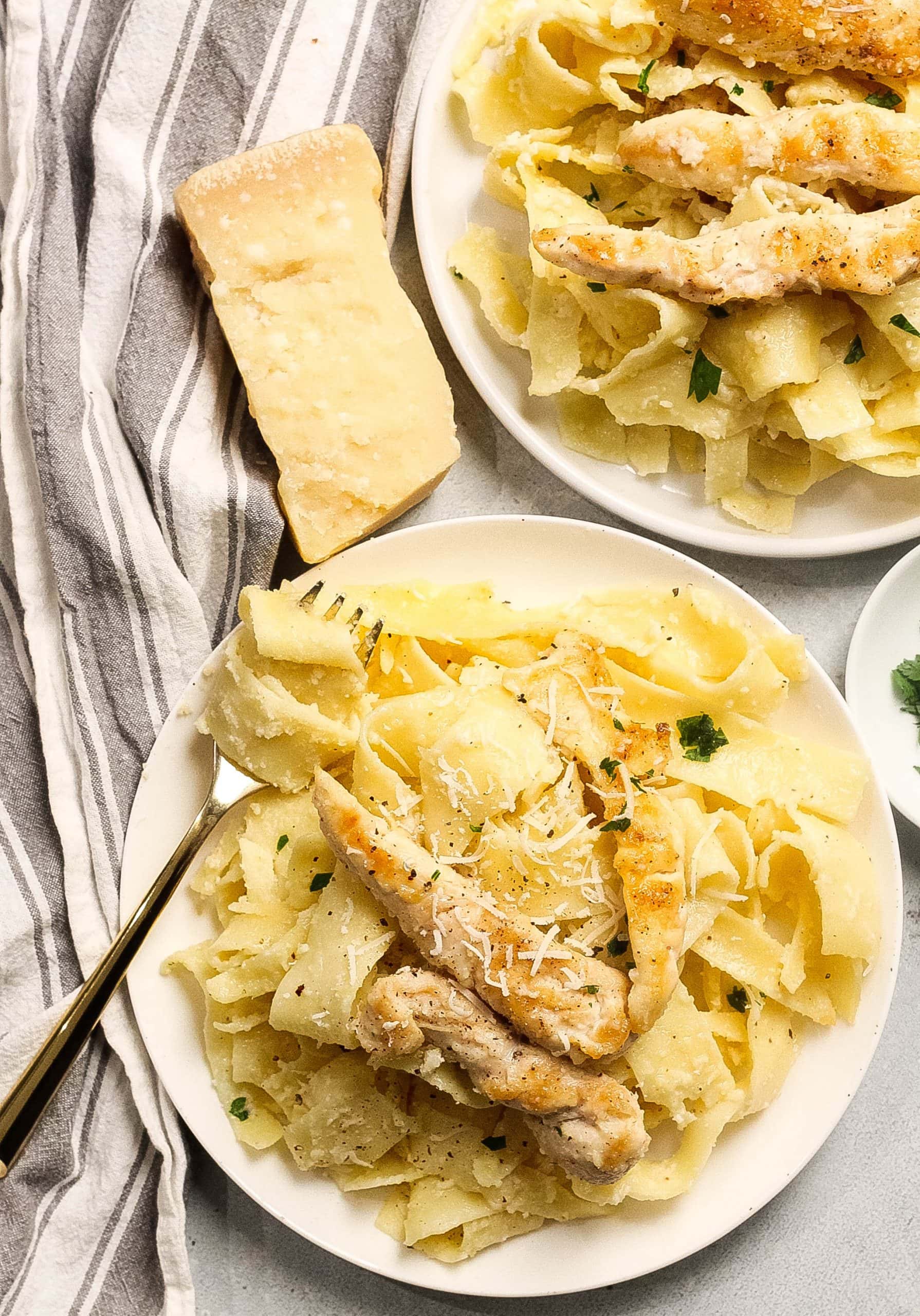 The creamy Alfredo sauce thickens as it cools, it's truly magical. It's amazing how delicious a sauce can be with only a few ingredients.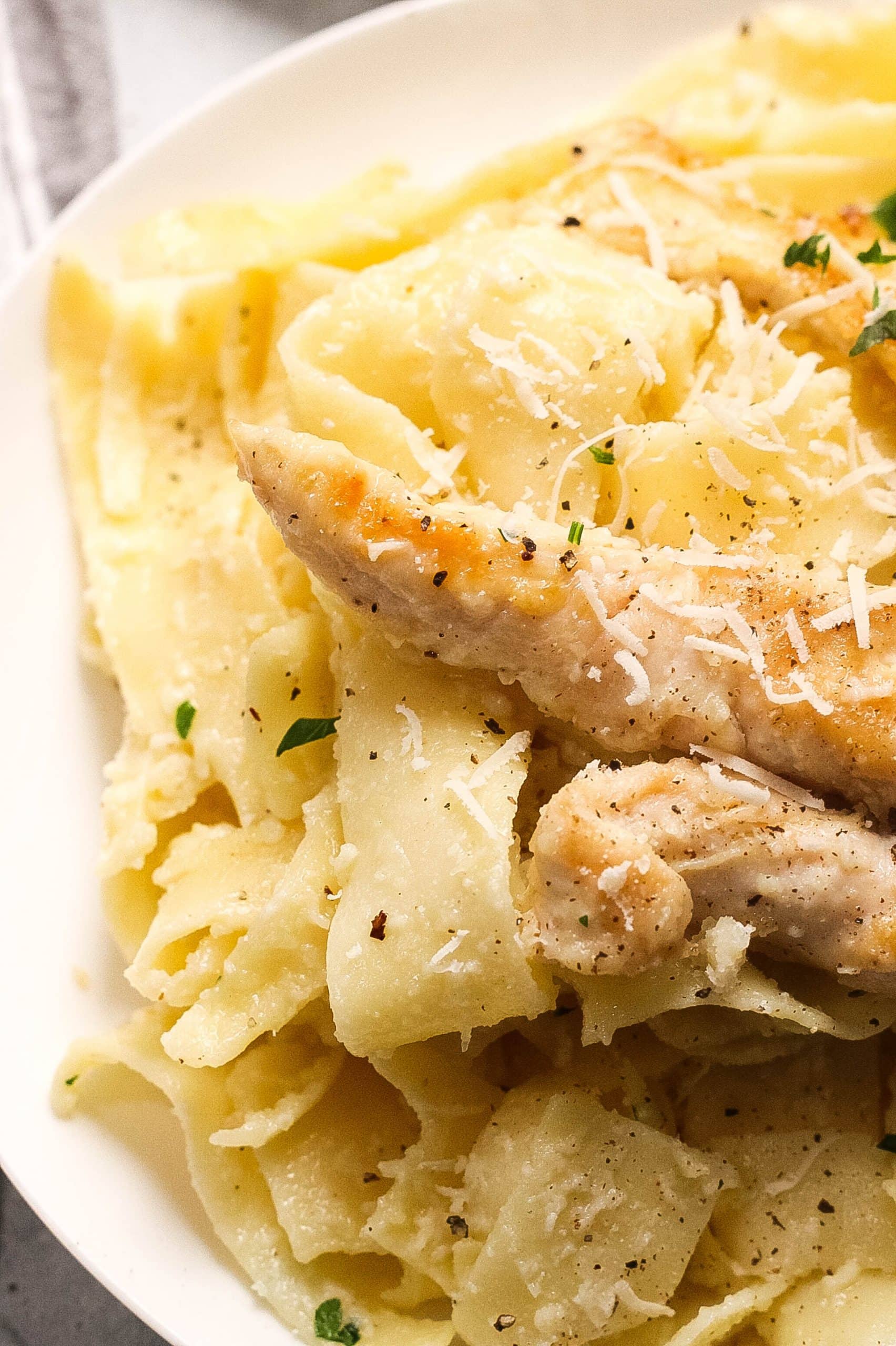 I loved using Garofalo's Pappardelle pasta for this recipe because the wide noodles are very absorbent and sturdy, making it perfect for this thick and creamy Alfredo sauce. Pappardelle noodles are flat and large, similar to a fettuccine.
INGREDIENTS NEEDED TO MAKE CREAMY CHICKEN ALFREDO PAPPARDELLE
Garofalo® No. 1-35 Pappardelle Nido
Olive oil
Chicken tenders
Salt + pepper
Unsalted butter
Heavy cream
Parmesan cheese
Nutmeg
Parsley
HOW TO MAKE CREAMY CHICKEN ALFREDO PAPPARDELLE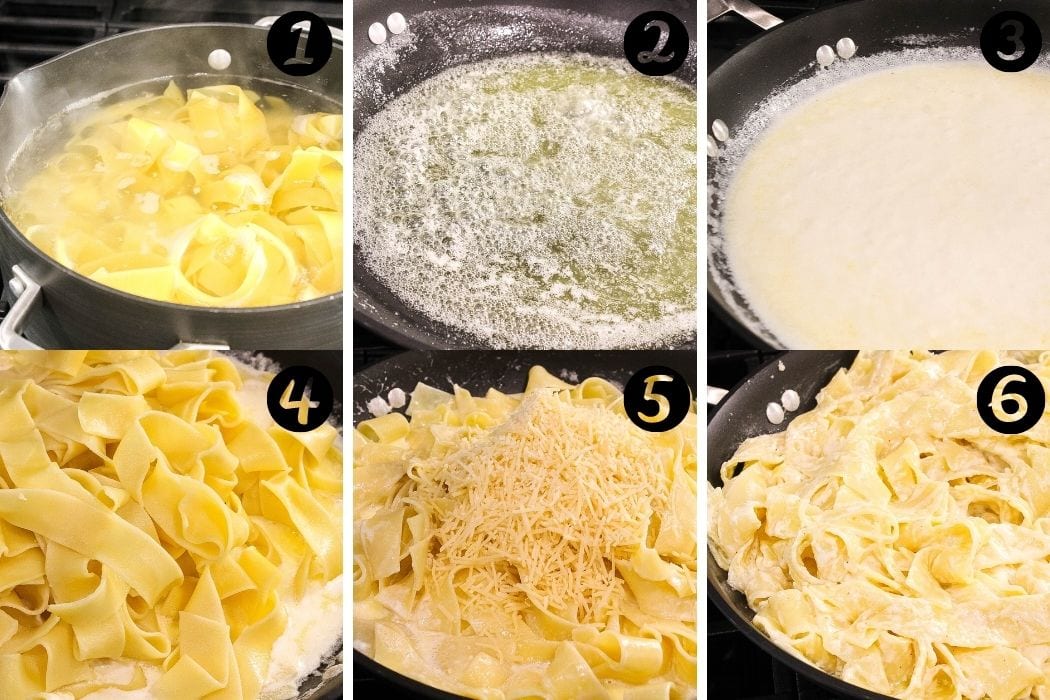 To make the grilled chicken
Cut each tender in half through the center to create two pieces- about 1/2 inch thick. Lightly season both sides with salt and pepper.
Heat a large skillet or grill over medium heat and lightly coat with nonstick cooking spray or olive oil once heated. Add the chicken and cook for about 5 minutes. Flip over and cook until the internal temperature reaches 160 to 165º F about 5 more minutes, turn off the heat and let rest until ready to add to the pasta.
To make the Alfredo sauce and pasta
Bring a large pot of water to a boil, and salt generously. Add the pasta and cook according to package directions. The pasta will be al dente- tender but still slightly firm. Drain and toss with oil to prevent the pasta from sticking.
Add the butter to a large pan or skillet and melt for about 3 minutes, stirring occasionally. Be sure not to let the butter brown. Once melted add the cream and bring to a simmer and stirring frequently over medium heat. Scraping the sides and bottom of the pan to make sure the cream does not curdle.
Reduce the heat to low and add the pasta and gently toss to coat. Add the remaining 1/2 cup of cream and Parmesan to the Alfredo sauce and continue to coat. Then add the nutmeg, salt, and pepper to taste and toss the pasta mixture until the sauce thickens, about 2 minutes. *The Alfredo sauce should resemble melted ice cream at this point.
Add the chicken, garnish with chopped parsley, serve and enjoy.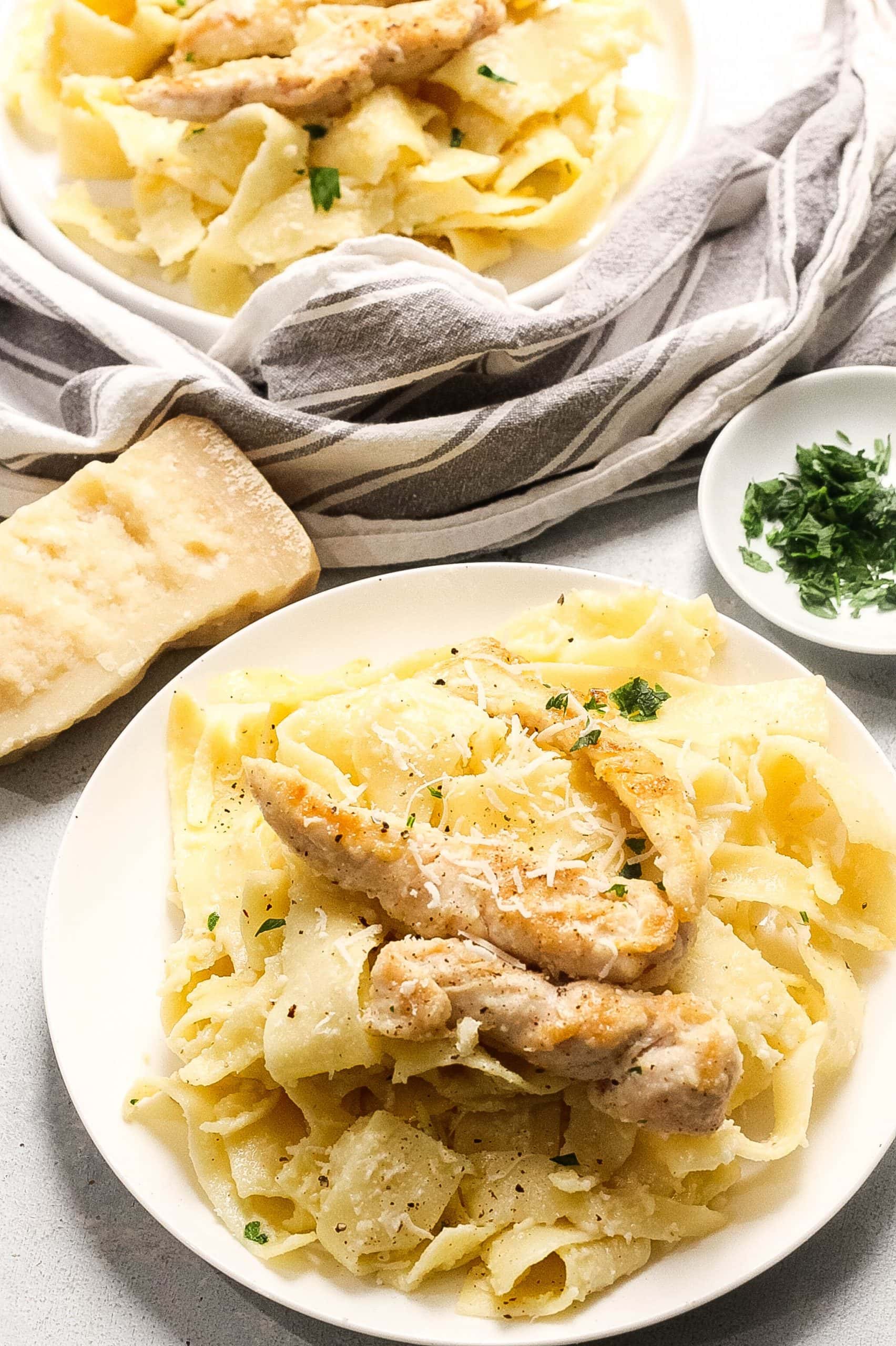 LEFTOVERS
You can store leftover Chicken Alfredo pasta in an airtight container in the refrigerator for up to 4 days. To reheat, microwave for a few minutes or heat in a frying pan until pasta is warmed.
CAN'T GET ENOUGH?
Subscribe and I'll send all my newest and FREE recipes to your inbox!  You can also keep up with me on Pinterest, Instagram, and  Facebook. If you make this recipe, please let me know how it turned out! Leave a comment below and share a picture on Instagram so I can see and feature you!