Last Updated on June 10, 2020 by Kathryn Donangelo
"This post has been compensated by Inmar Intelligence and its advertiser. All opinions are mine alone. #MyMazolaMarinade"
This Teriyaki Chicken Salad is a lunch and dinner favorite! Made with juicy marinated teriyaki chicken, lettuce, veggies, and other goodies! A clinical study showed Mazola Corn Oil reduces cholesterol 2x more than extra virgin olive oil. To learn more about this claim, visit Mazola.com.
PIN Teriyaki Chicken Salad to try later!
I love recipes that are fresh, light, easy to make, and that could be enjoyed for lunch or dinner. This Teriyaki Chicken Salad is a crowd pleaser and is perfect to bring to a BBQ, shower, birthday, or any occasion!
It's grilling season! This is the perfect recipe to make this summer so get ready to start up your grills! I marinated my chicken in a super easy and homemade teriyaki sauce made with Mazola® Corn Oil. It's a perfect choice especially for summer grilling and all the BBQs to come!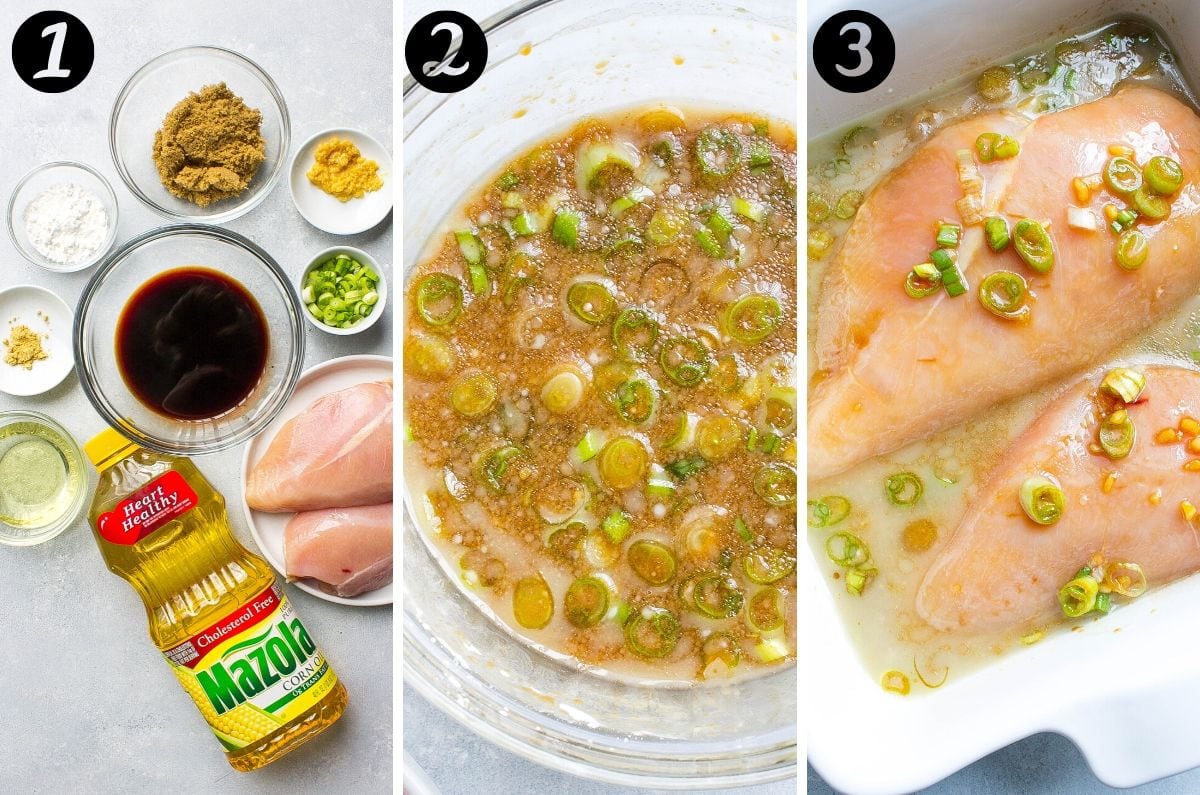 This homemade teriyaki sauce is made in minutes and takes this chicken to the next level. You can marinade the chicken for an hour up to overnight depending on how much time you have. Once it's marinaded it takes minutes to put this salad together!
You can grill your chicken on an outdoor or indoor grill. The cooking time may vary depending on which grill you cook the chicken on.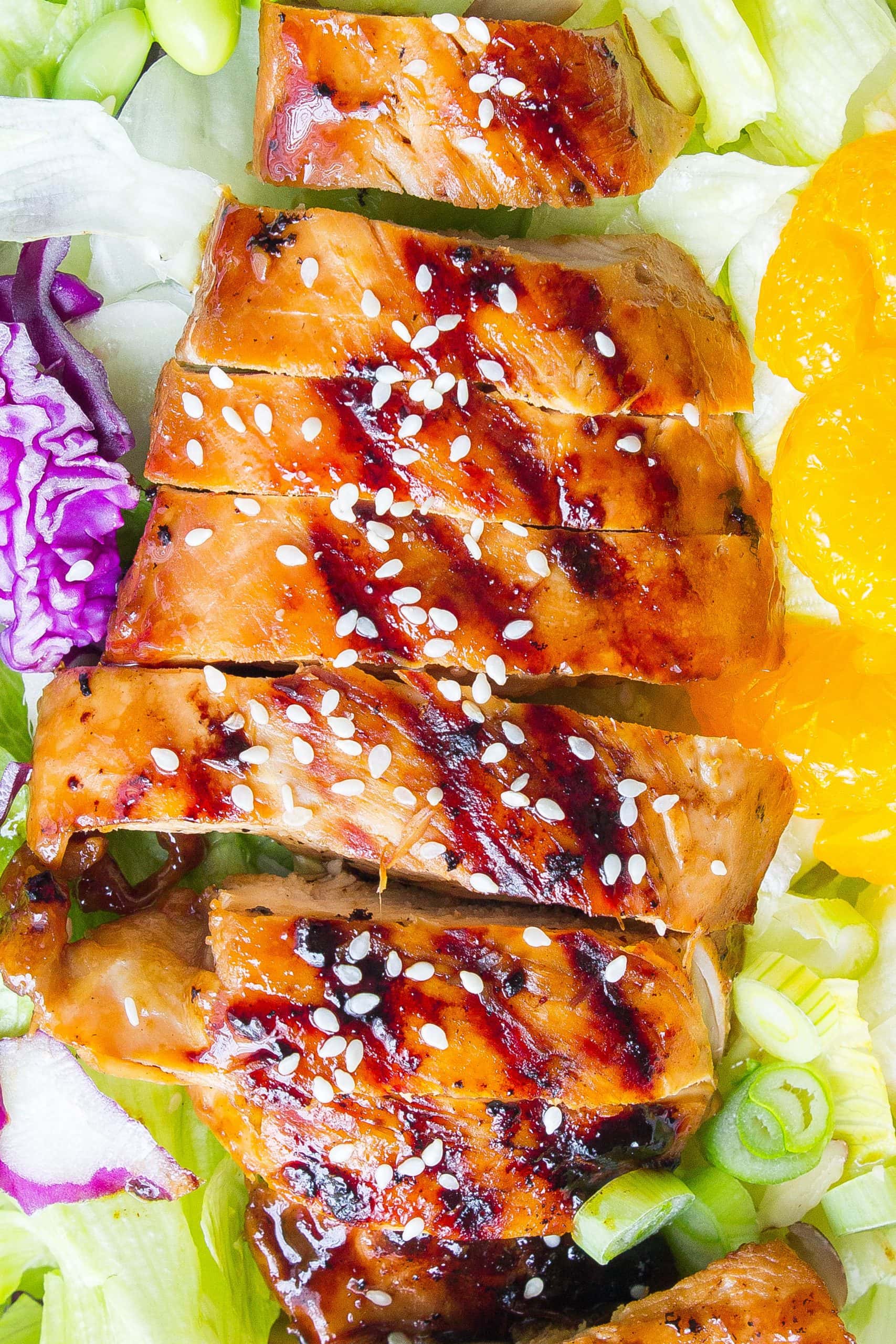 Some of my favorite ingredients to add on the top of this salad is cabbage, edamame, mandarin oranges, sliced almonds, green onions. The possibilities are endless and you can add your favorites! Some other topping ideas to add are sliced celery, shredded carrots, sliced cucumber, sliced bell peppers and avocados.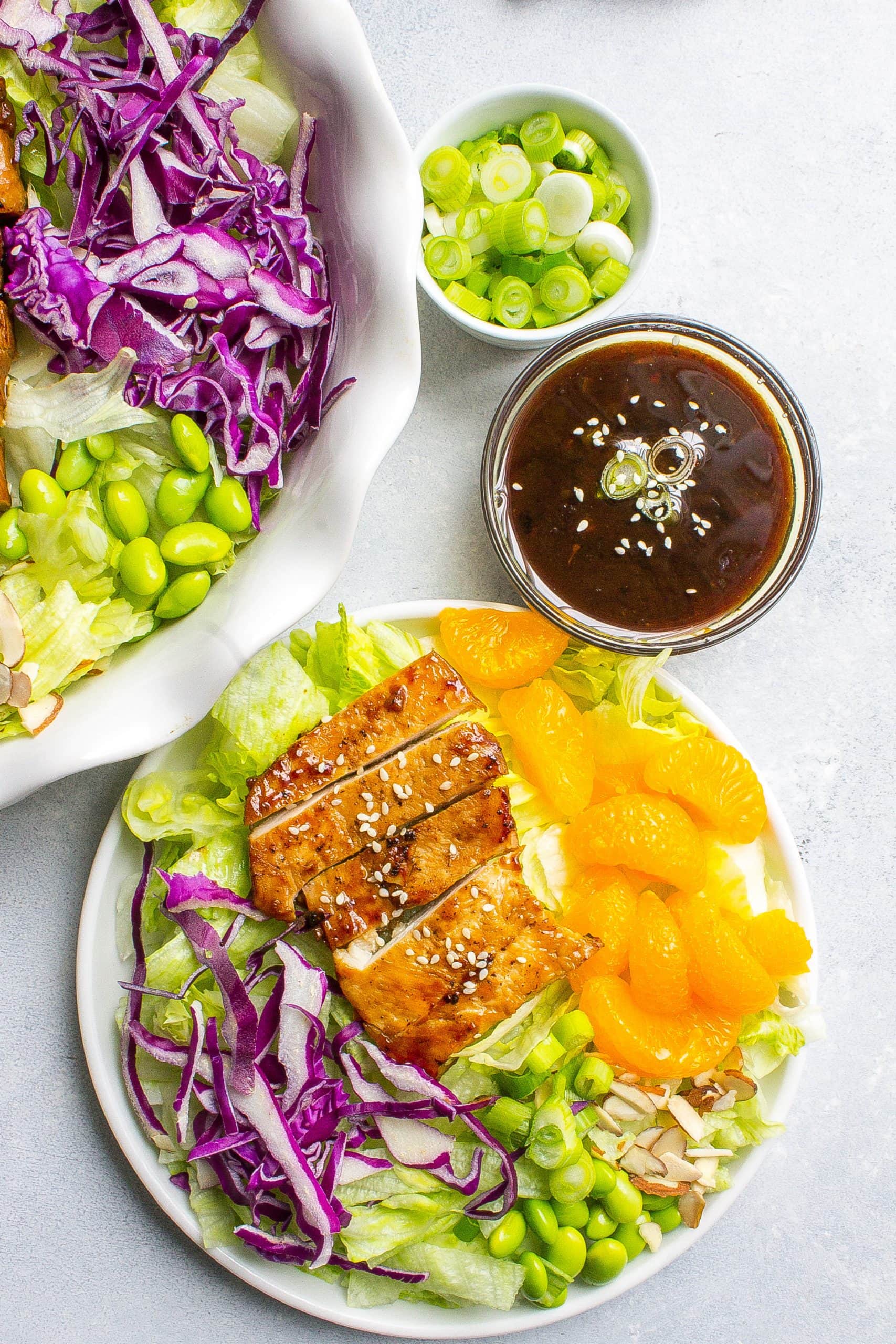 INGREDIENTS TO MAKE THIS TERIYAKI CHICKEN SALAD
Lettuce: I use either chopped Iceberg or Romaine.
Red cabbage: you can also use green cabbage. Red cabbage is slightly more peppery and green cabbage is sweeter in flavor.
Edamame: these little beans gives this salad a little sweetness and nuttiness.
Mandarin oranges: I love the sweet and juicy flavor they add to this salad. It is very complimentary to this salad.
Sliced almonds: for some crunch! You can also use other sliced nuts.
Green onions: adds extra flavor.
INGREDIENTS TO MAKE THE TERIYAKI MARINADE
Mazola Corn Oil
Reduced-sodium Soy sauce
Rice wine vinegar
Brown sugar
Ground ginger
Corn starch
Garlic
Green onions

WHY I LOVE MAZOLA CORN OIL
Mazola Corn Oil is a heart-healthy* cooking oil and creates marinades that make great-tasting food because it has a neutral taste that lets the natural flavor of your food stand out.
It's an all-purpose, cholesterol free cooking oil that is smart heart-heathy choice for your family. Variety of uses include baking, grilling, sautéing, stir frying, or mixing up a marinade or dressing. Check out my easy Avocado Greek salad that is made with Mazola Corn Oil!
Mazola has a high smoke point (450˚ F), great for grilling and stir frying at high temperatures.
Mazola Corn Oil has more cholesterol-blocking plant sterols than other cooking oils* – 4x more than olive oil, 3x more than vegetable (soybean) oil, and 1.3x more than canola oil. Clinical studies indicate that when consumed as part of a diet low in saturated fat and cholesterol, plant sterols can help reduce the absorption of cholesterol in the gut.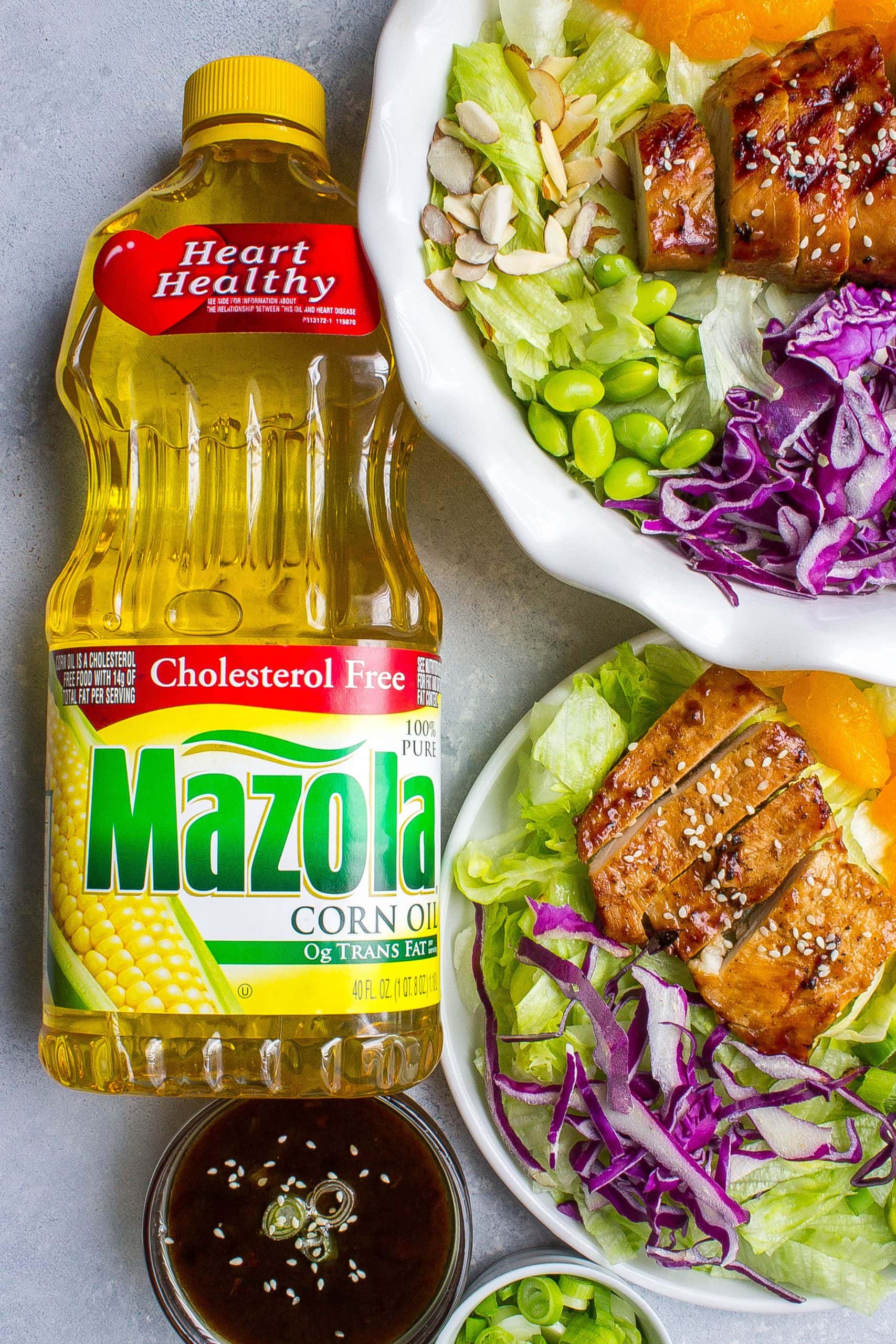 I think it's easy to say that the best part about this salad is the teriyaki sauce! It's so good I use this sauce as the salad dressing for this recipe. The juicy chicken is so tender and flavorful you will be hooked on this recipe, especially when its topped with a spoonful of teriyaki sauce!

LOOKING FOR OTHER SALAD IDEAS? TRY THESE!
CAN'T GET ENOUGH?
Subscribe and I'll send all my newest and FREE recipes to your inbox!  You can also keep up with me on Pinterest, Instagram, and  Facebook.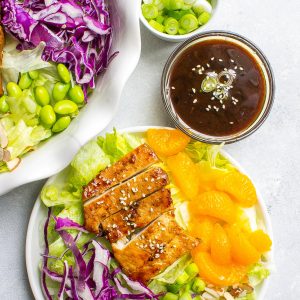 Teriyaki Chicken Salad
This Teriyaki Chicken Salad is a lunch and dinner favorite! Made with juicy marinated teriyaki chicken, lettuce, veggies, and other healthy goodies! 
Print
Pin
Rate
Ingredients
For the Salad
1.5

lbs.

chicken breasts; you can also use boneless skinless thighs

1/2

head

iceberg lettuce; roughly chopped

1

cup

red cabagge; shredded

1/4

cup

edamame beans

1

11 oz. can

mandarin oranges; drained

1/4

cup

sliced almonds

3

Tbsp.

green onions; sliced

sesame seeds; for garnish
For the Teriyaki Chicken Marinade
3/4

cup

Reduced-sodium soy sauce

1/3

cup

Mazola® Corn Oil

1/2

cup

Brown sugar

3

Tbsp.

rice wine vinegar

1

Tbsp.

Corn starch

2 1/2

tsp.

Ground ginger

4

cloves

Garlic; minced

2

whole

Green onions; sliced
Instructions
To make the Teriyaki Marindate
In a medium bowl, whisk together all of the ingredients until combined. Pierce the chicken breasts (or thighs) with a fork a few times and place in the bowl. Make sure to coat the chicken and flip it a few times in the marinade. Cover with plastic wrap and marinade in the refrigerator for a least an hour to overnight.
To make the Teriyaki Chicken Salad
Preheat grill to medium heat. Brush the grill with oil and add the marinated chicken to grill. Cook and turn occassionally until the chicken is completely cooked through reaching the internal temperature of 165 degrees F. I highly recommend using a thermometer to ensure chicken is fully cooked. The chicken will take about 15-20 minutes to cook completely- depending on the thickness of your chicken.

Remove the chicken from the grill and slice. Add the rest of the teriyaki marinade to a frying pan (or you can simply add it to your indoor grill). Let the marinade simmer until it turns into a sauce. It will take about 1-2 minutes. Remove from heat and add to a small bowl for serving.

To assemble salad, place the lettuce in a large bowl or serving platter. Top with sliced chicken, red cabbage, edamame, mandarin oranges, almonds and green onions. Garnish with sesame seeds.

Spoon the teriyaki dressing on top of the salad and enjoy!
Notes
You can grill your chicken on an outdoor or indoor grill. The cooking time may vary depending on which grill you cook the chicken on. 
*See Mazola.com for more information on the relationship between corn oil and heart health.