Last Updated on
If I had to describe this pizza it would be, AMAZING. There is just no way you can go wrong with this. I haven't had the best experience cooking with jalapenos but this sounded too good not to try and it came out perfectly. This is so easy to make it totally tastes just like a jalapeño popper in a pizza! As mentioned in the recipe  below, crispy bacon pieces would be a great addition to this pizza!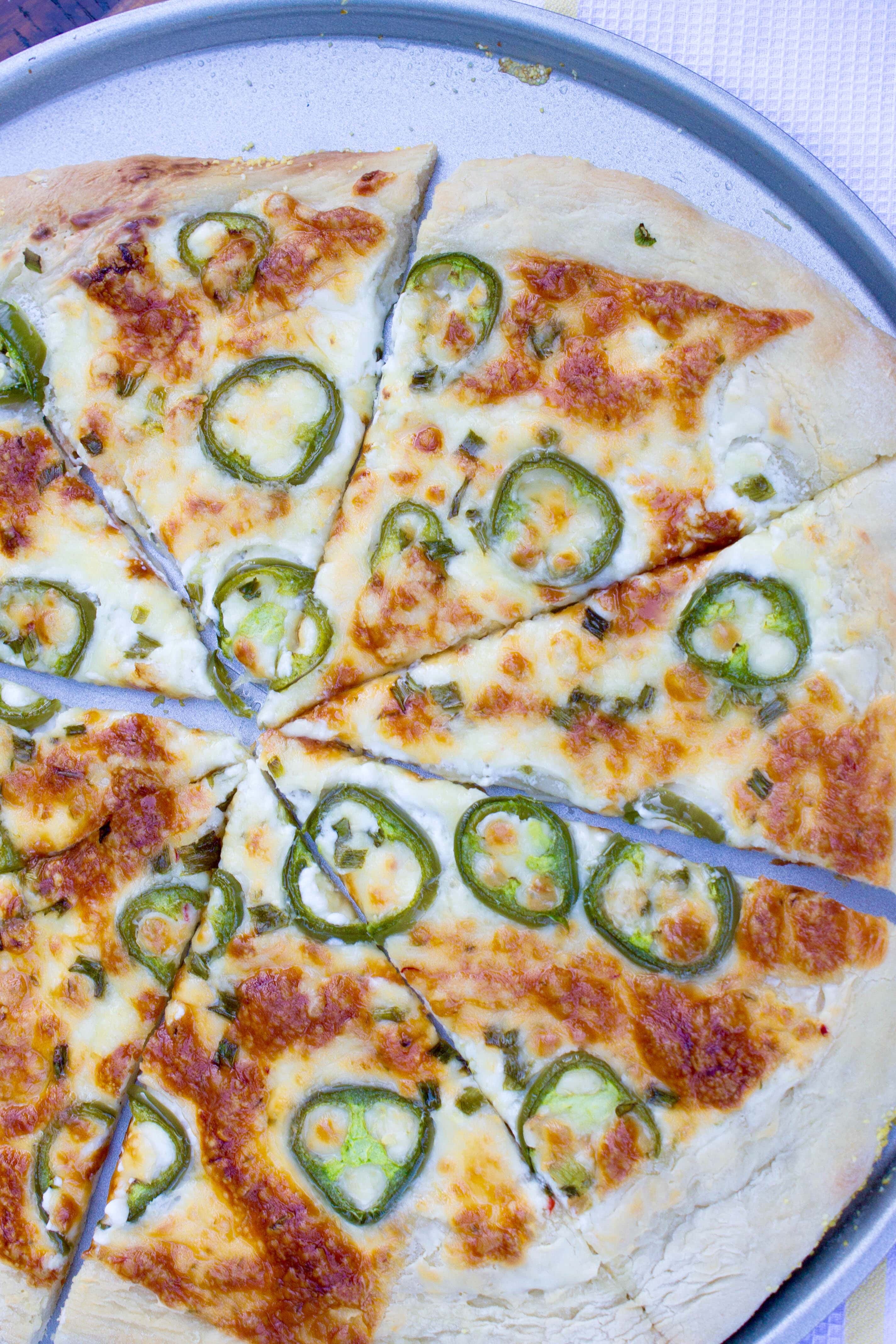 Spicy and cheesy pizza with a jalapeño popper twist. Two favorites in one bite!
Ingredients
1 ball of pizza dough; homemade or store bought
2 jalapenos; sliced and seeds remove (unless you want it extra spicy)
1 Tbsp extra virgin olive oil
2 Tbsp yellow corn meal
6 ounces of cream cheese; softened
1 tsp garlic powder
1 tsp onion powder
1/2 tsp salt
1/2 tsp black pepper
1 1/2 cups grated Monterey Jalapeno Jack Cheese
5-7 large slices of Havarti cheese
1 Tbsp fresh chives; sliced
Instructions
Preheat oven to 450 degrees F. Lightly coat a pizza pan or baking sheet with olive oil. Work the pizza with your hands to form a pizza dough about 10 inches in diameter. Transfer to pan and sprinkle cornmeal to the bottom of the pizza/baking dish (this will make the bottom and edges crispy).
In a small bowl add garlic powder, onion powder, salt, and pepper to cream cheese until combined.
Spread the cream cheese over pizza dough evenly. Leave about 3/4-1 inch of a border. Add havarti slices, then sprinkle shredded jack cheese, top with jalapenos, and chives.
Place in oven and bake for 15-20 minutes of until golden brown.
*if you love bacon, I highly reccomend adding freshly chopped bacon to the top of these for an extra deliciousness!
https://kathrynskitchenblog.com/jalapeno-popper-pizza/
Copyright Kathryn's Kitchen Blog