How to Make a Cheese Plate
As an Amazon Associate, I earn from qualifying purchases. Read the full disclosure here.
A cheese plate is perfect for an appetizer, party or date-night in! Filled with all kinds of Italian meats, cheeses and other necessary goodies! I'm going to show you how to make a small and large size along with alternative options.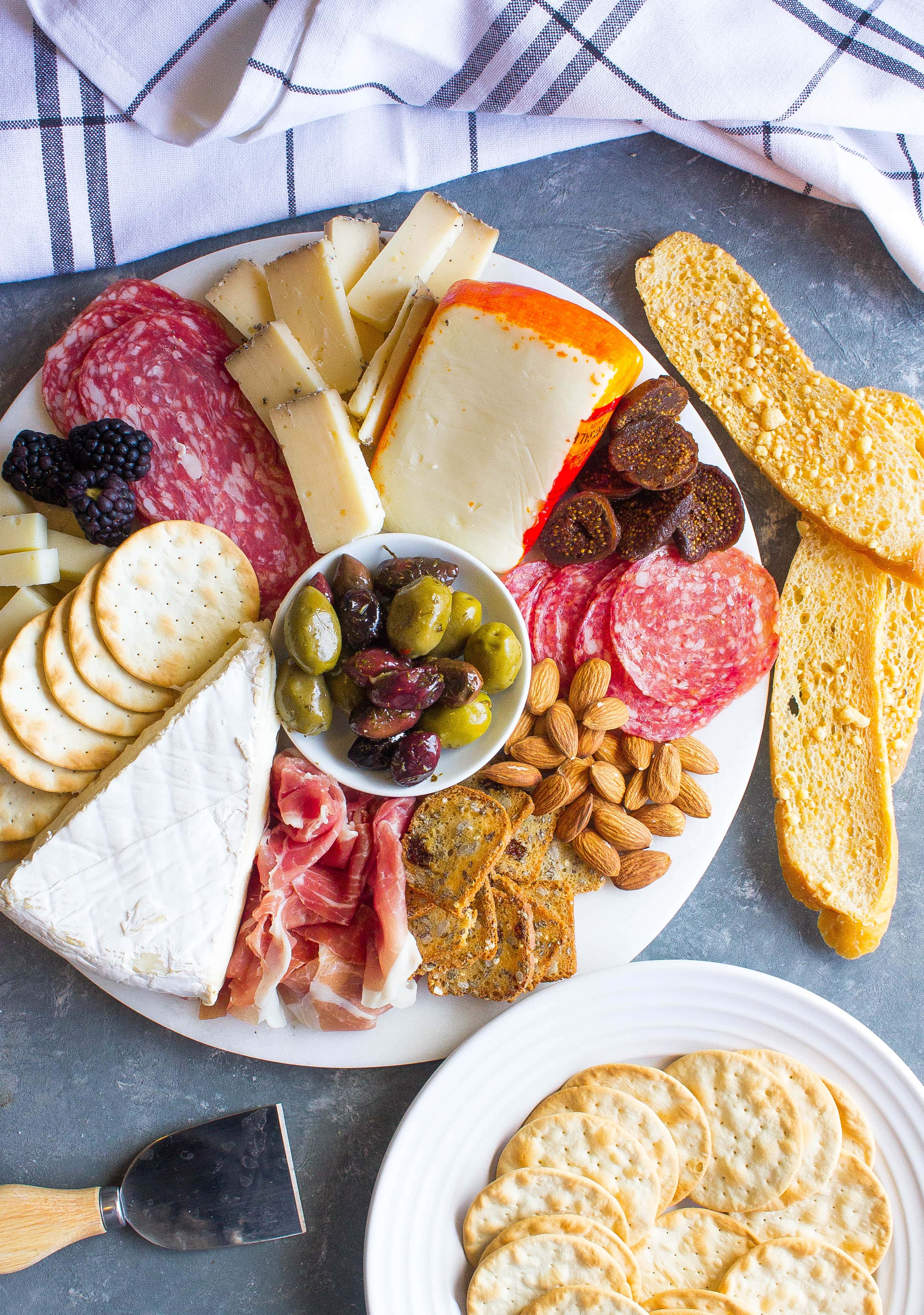 Pin
This cheese plate can feed 4-6 people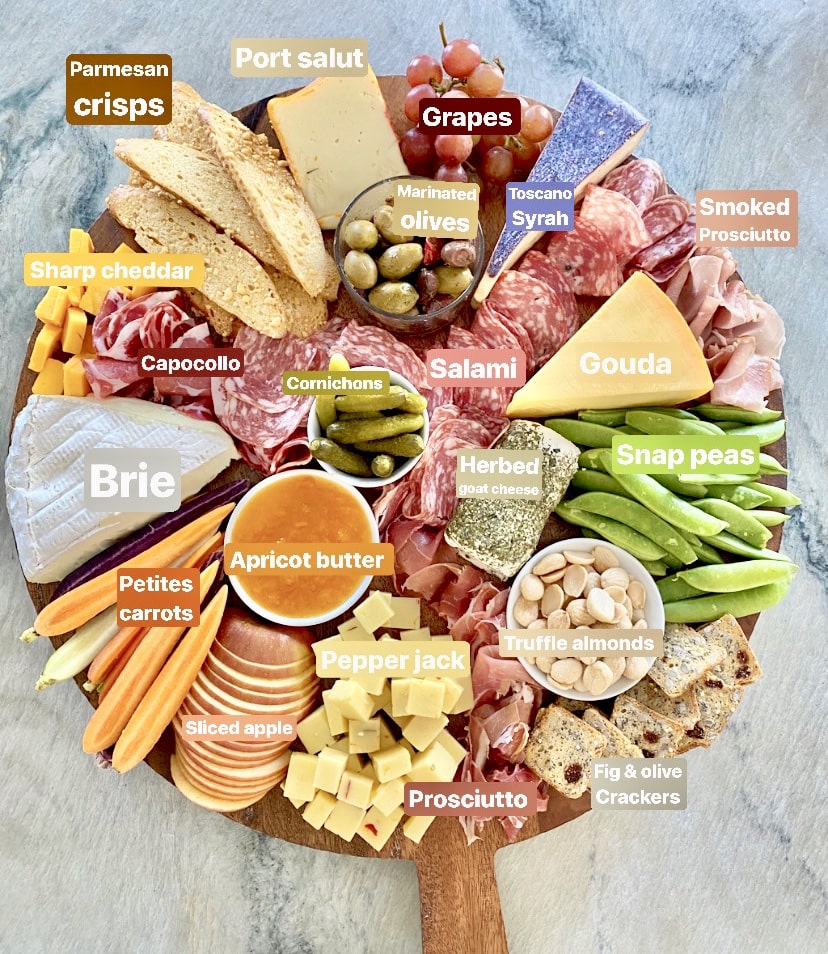 Pin
This cheese plate can feed 6-10 people
I would much rather have a cheese plate over any other meal, dessert, appetizer, anything. This is my ultimate favorite and luckily my husband loves it too so I don't have to eat it alone 😉 We received a bunch of super neat platters and kitchen gadgets from our wedding so a cheese board was in order. Although you totally can eat this as a meal, this makes an awesome appetizer for a small to large gathering.
I'm going to tell you some of my favorite ingredients to use and how you can make this smaller cheese plate!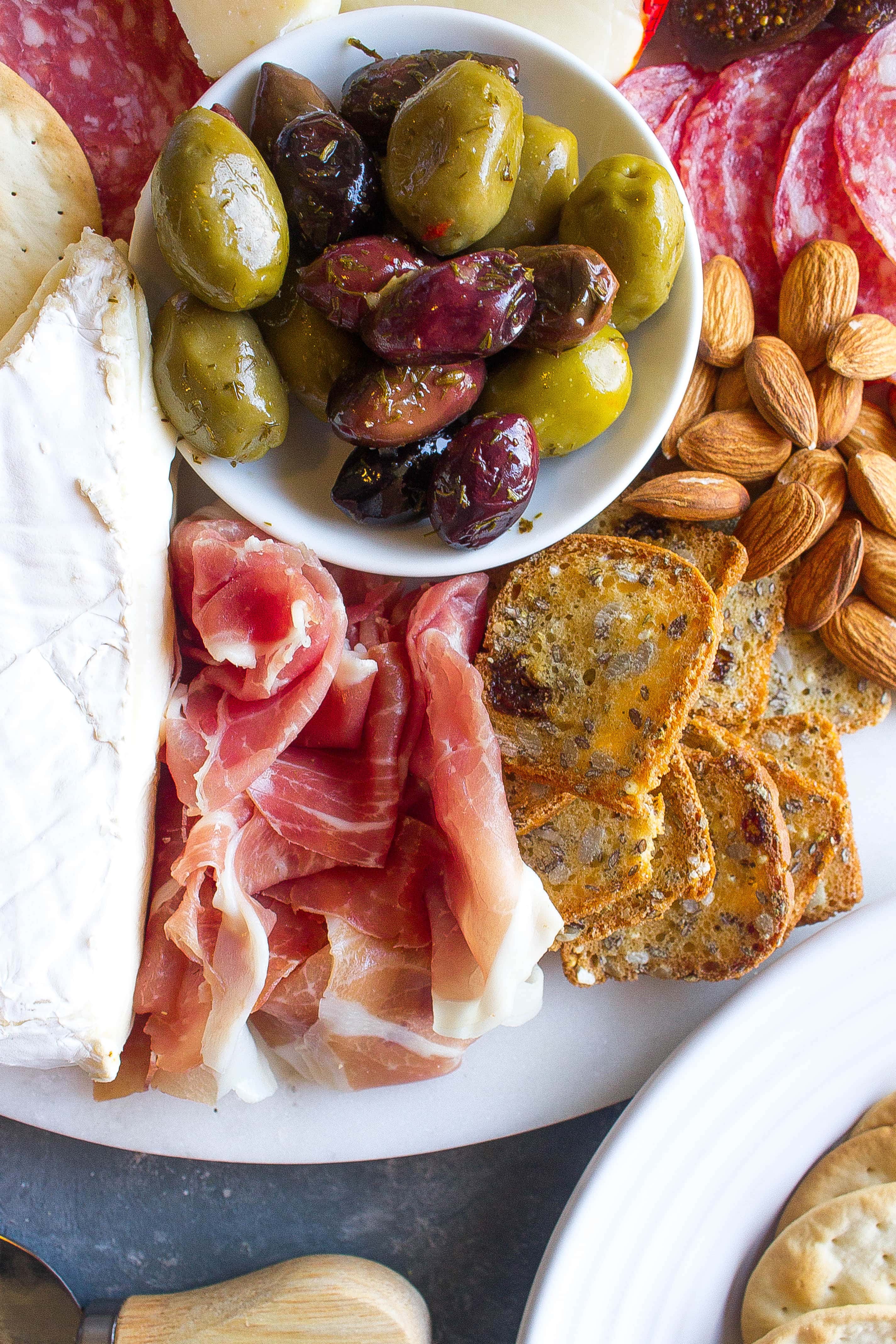 Pin
Here are some other epic alternatives I use as well. I typically like to use 2-4 cheeses, 2-3 meats, 2-3 different cracker assortments, 1 fresh fruit option, 1 dried fruit option, 1 type of nut. This certainly all depends on the size of your plate or board. If you have more room, add more! The more, the merrier 🙂
Soft Cheese
camembert, goat cheese, blue cheese or gorgonzola, fresh mozzarella or burrata
Hard Cheese
sharp white cheddar, smoked gouda, manchego, parmigiano reggiano
Meats
mortadella, coppa, chorizo, capocollo
Fresh Fruits
strawberries, blueberries, cherries, apples, figs, grapes
Dried Fruits
apricots, peaches, cherries, blueberries, pears
Nuts
walnuts, macadamia nuts, pistachios, hazelnuts, pecans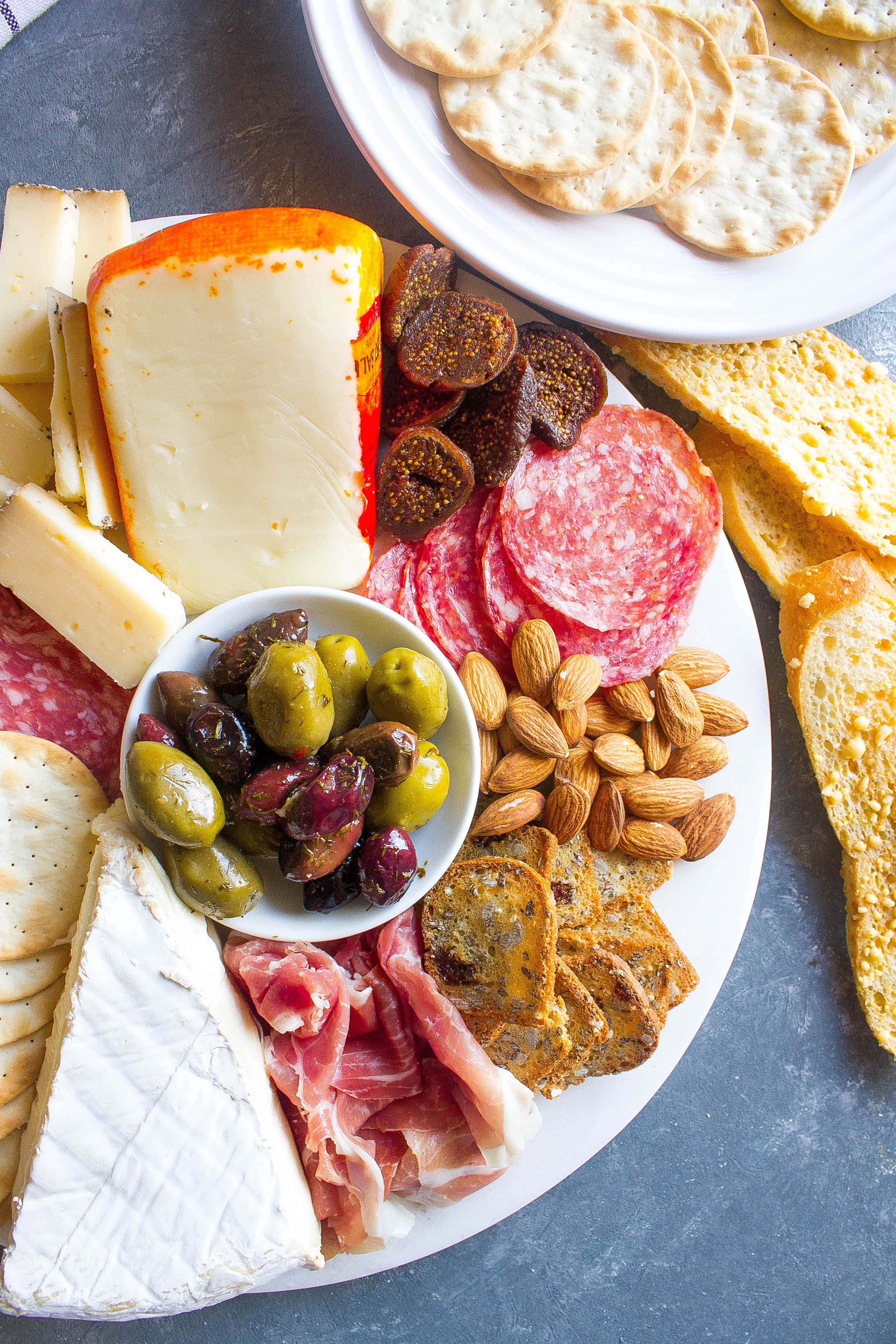 Pin
These are the exact ingredients I used to make this smaller cheese plate. This is not an advertisement or sponsored, I bought all of my ingredients at Trader Joe's because I love their cheese selection!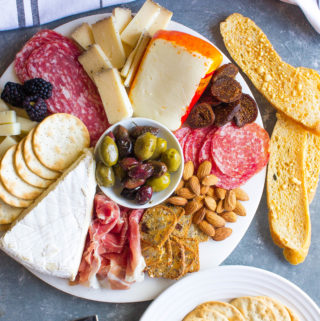 How To Make a Small Cheese Plate
A cheese plate is perfect for an appetizer, party or date-night in! This cheese plate has all kinds of Italian meats, cheeses and other necessary goodies!
Print
Pin
Rate
Ingredients
Soft Cheeses
Port Salute Cheese

Triple Cream Brie cheese
Hard Cheeses
Toscano cheese with black pepper

Gruyere cheese
Meats
prosciutto

spicy soppressata

salami
Extra Goodies
olives

dried fruit; I used dried figs

nuts; I used almonds

fresh fruit; I used blackberries
Crackers
Carr's crackers

Fig & Olive Crisps

Parmesan Crisps
Instructions
Simply start by placing the bigger items on your cheese board first. I arranged the cheeses and small bowls (for the olives) first. Use more small bowls to add dips or spreads if you have the space! I love to have an assortment of hard and soft cheeses. Also, a variety of color and shapes of the cheeses are appealing to the eye as well!

Next, add the meats and crackers- you can fold or lay the meats down by the cheeses.

Fill in the extra spaces with fruits and nuts- I like to add a variety of dried and fresh fruits. Enjoy!
If you love cheese and salami as much as I do try these recipes: Antipasto Salad and Classic Italian Pasta Salad.