Last Updated on May 16, 2022 by Kathryn Donangelo
This Glazed Buttermilk Donut Cake is everything you dream about in a dessert! Imagine a lightly glazed giant old fashioned buttermilk donut in a cake form.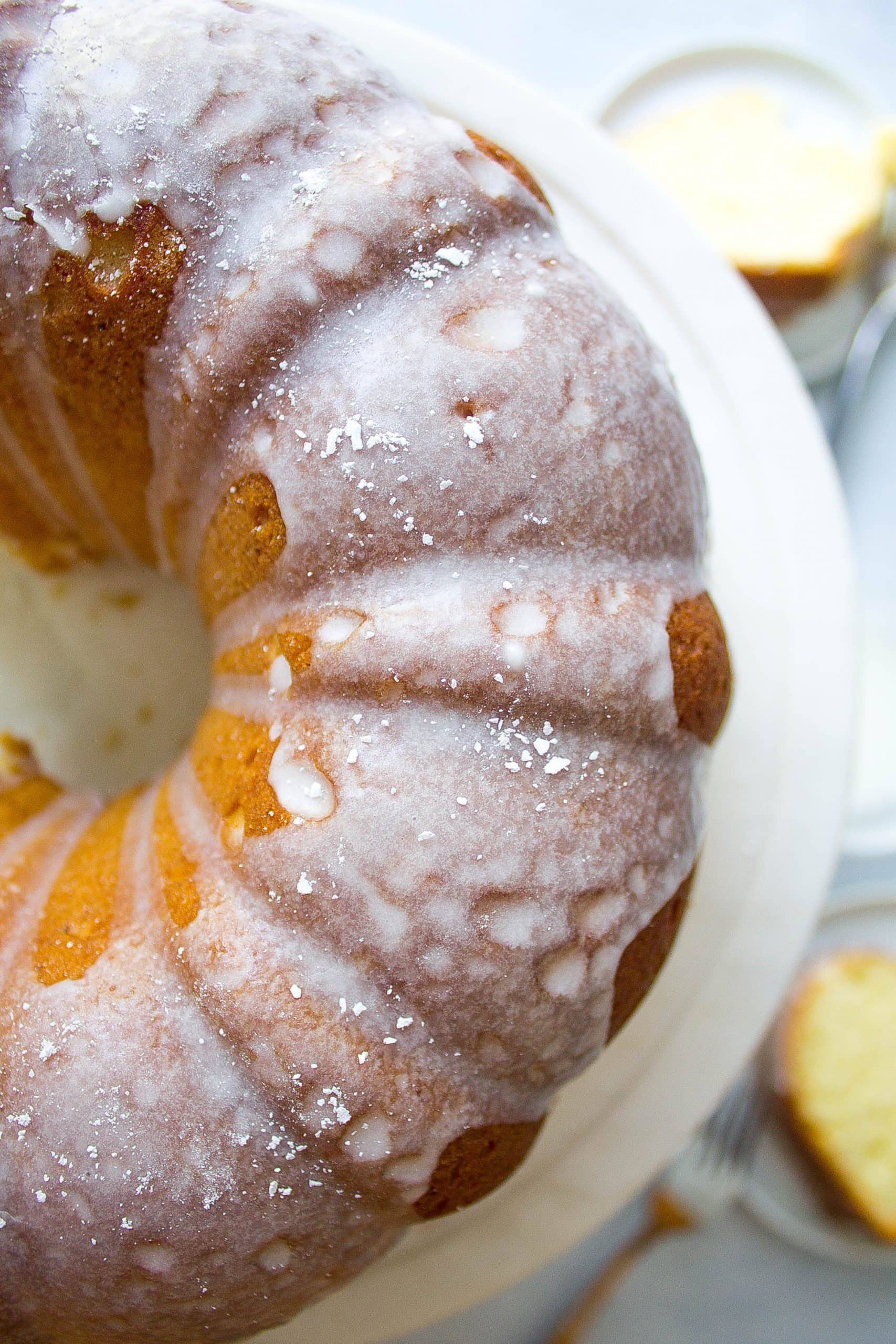 I think its safe to say that fresh donuts are hard to beat. This Glazed Buttermilk Donut Cake recipe will be on your favorite dessert list, guaranteed. What's better than a donut? This donut cake! A perk from this cake is your house will smell amazing when it's baking.
This Glazed Buttermilk Donut Cake is SO much easier to make than homemade donuts. Kids and adults will be hooked on this! My mind was blown when I first made this cake because there is so much to love about donuts and cake. This is like a ginormous homemade donut that I can't get enough of.
Be sure to try my Cinnamon Sugar Donut Bites, Baked Donuts recipe with a chocolate icing or Baked Pumpkin Spice Donuts!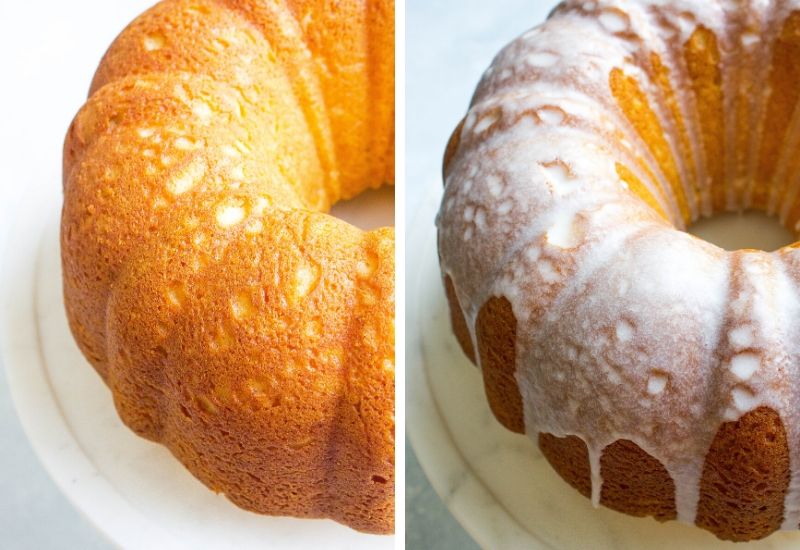 This dessert is seriously unforgettable. I mean, who could forget a cake that tastes like a donut? This cake is moist like a classic pound cake and has all the flavors of an old-fashioned buttermilk donut. This recipe is a perfect addition to your morning coffee, brunch menu, Holiday dessert, birthday breakfast (add sprinkles to the top), and dessert for basically any day!
TIPS FOR MAKING THE BEST GLAZED BUTTERMILK DONUT BUNDT CAKE
Make sure to generously spray cooking spray or butter on every inch of the bundt pan. You want to make sure the cake does not stick when you remove it from the pan.
I like to glaze the cake while it is still warm so some of the glaze could absorb into the cake- this makes it extra delicious.
After spooning in the cake batter into the bundt pan firmly tapping the pan 4-6 times on the counter to remove any air bubbles.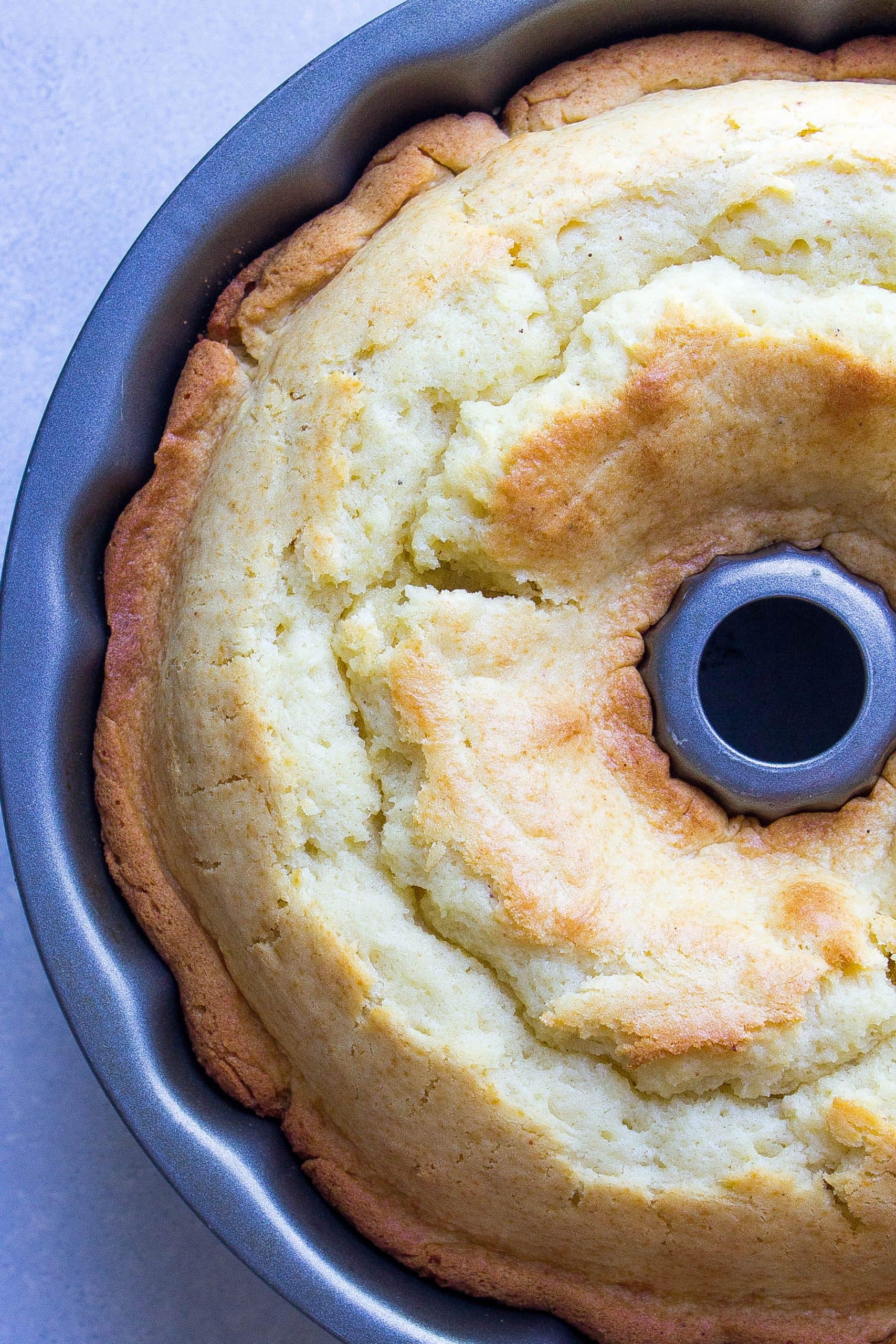 WHAT MAKES THIS DONUT CAKE TASTES LIKE A DONUT?
In case you are wondering, it's the nutmeg!! You can see the tiny fine specs of spice in the cake if you look closely. I add a whole teaspoon of this wonderful spice to this recipe, which makes this taste just like a donut. Ground nutmeg gives donuts their distinctive "donut" flavor and the nutmeg in this cake enhances this recipe to the next level.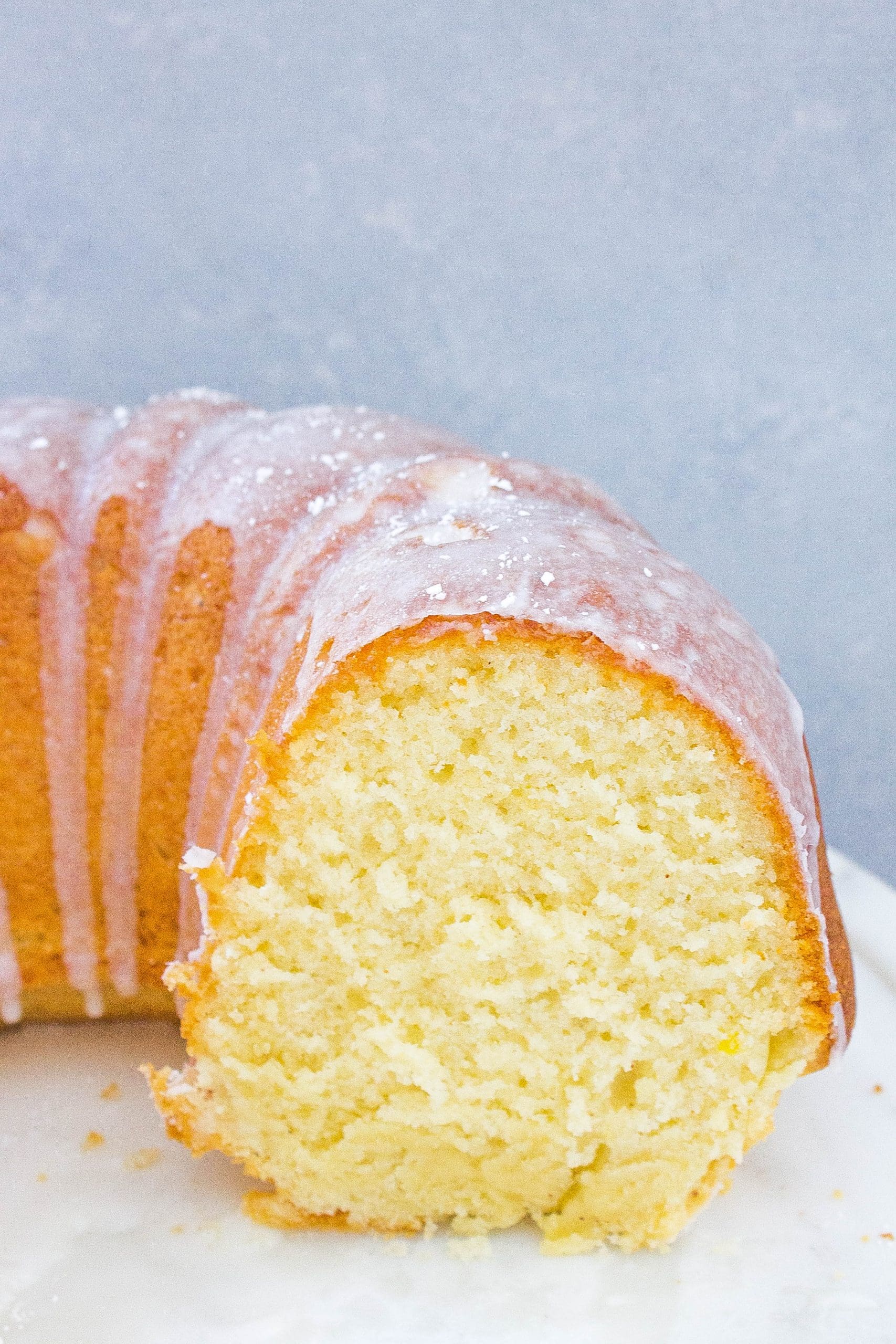 The best part of this cake besides it tasting exactly like a donut is the nutmeg and light glaze. You can certainly add more glaze if you prefer more but I think the light glaze is the perfect glaze to cake ratio for this recipe. Some of the glaze soaks into the outer layer of the cake and makes it even more moist. Another awesome reason why this cake is amazing is it's made with standard ingredients that you probably already have at home.
HOW TO MAKE HOMEMADE BUTTERMILK
If for whatever reason you don't have buttermilk at home you can make it from scratch! Simply pour 1 cup of regular milk (this could be whole or low-fat) into a liquid measuring cup and add 1 tablespoon of lemon juice or white vinegar. Stir together and let the milk sit for 10 minutes or until it starts to curdle.
You can also make quick homemade biscuits with this buttermilk trick!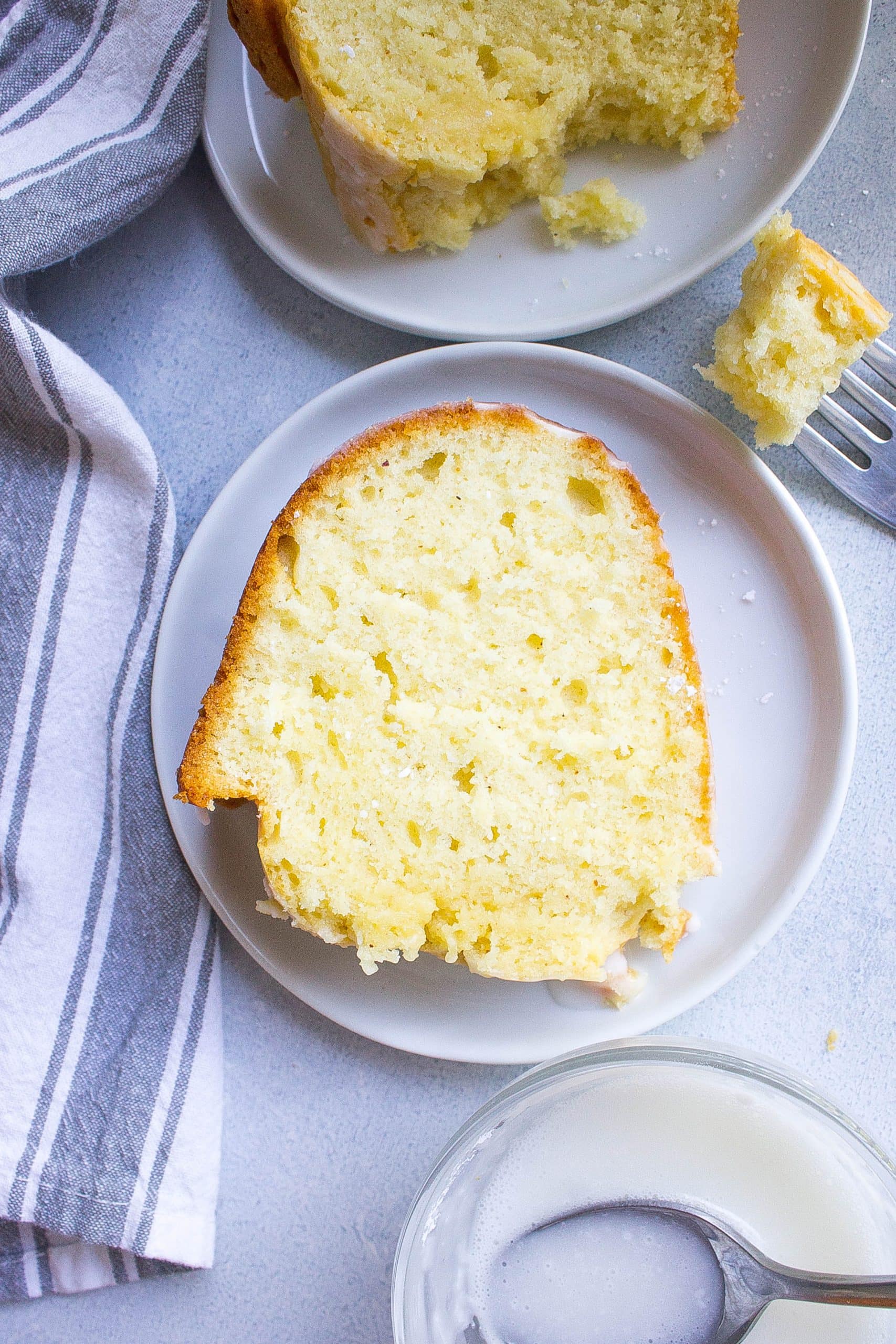 I love any reason to bake a bundt cake! This is the best way to bake this cake since the bundt pan has a hole in the middle and is reminiscent to a real old-fashioned buttermilk donut. This cake just wouldn't be the same if you baked it in regular baking pan.
LEFTOVERS
Store leftovers in a cool and dry area for up to 5-7 days. I recommend storing in an airtight container or over tightly with plastic wrap.

INGREDIENTS TO MAKE THIS BUTTERMILK DONUT CAKE
Sugar
Butter
Eggs
Vanilla extract
All-purpose flour
Baking powder
Baking soda
Nutmeg
Buttermilk
INGREDIENTS FOR THE DONUT CAKE GLAZE
Powdered sugar
Heavy whipping cream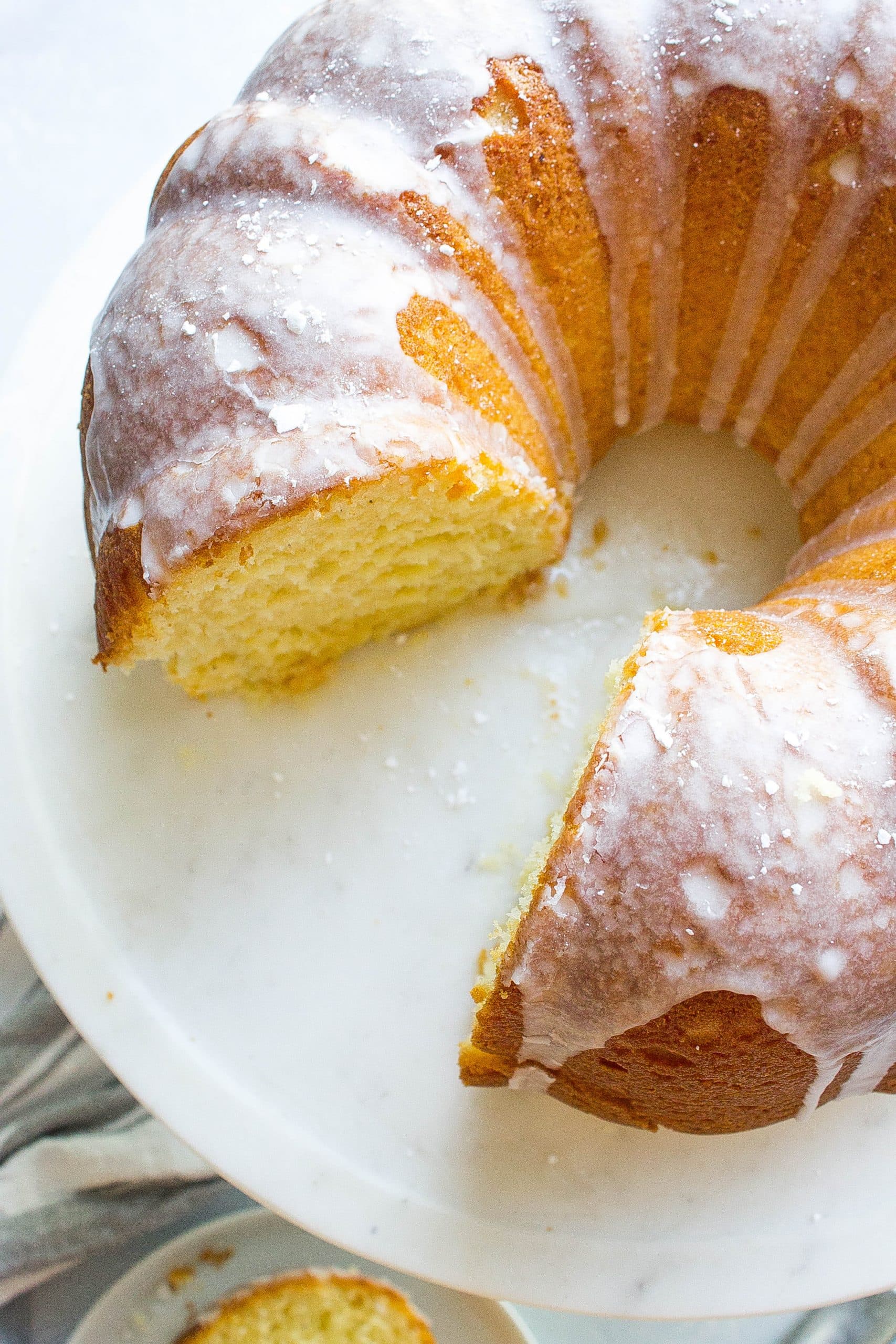 LOOKING FOR OTHER DELICIOUS DESSERT RECIPES? BAKE THESE!
CAN'T GET ENOUGH?
Subscribe and I'll send all my newest and FREE recipes to your inbox! You can also keep up with me on Pinterest, Instagram, and Facebook.

Happy baking everyone!!!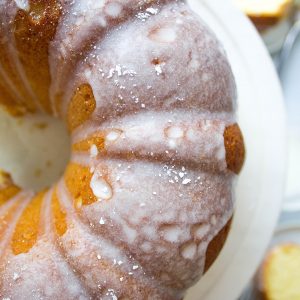 Glazed Buttermilk Donut Cake
This Glazed Buttermilk Donut Cake is everything you dream about in a dessert! Imagine a lightly glazed giant old fashioned buttermilk donut in a cake form.
Print
Pin
Rate
Ingredients
For the donut cake
1 1/2

cup

granulated sugar

1

cup

butter; salted

4

large

whole eggs; at room temperature

2 1/2

tsp.

vanilla extract

3 1/2

cups

all-purpose flour

2

tsp.

baking powder

3/4

tsp.

baking soda

1

tsp.

ground nutmeg

1

cup

whole buttermilk
For the glaze
2

cups

powdered sugar

3-4

Tbsp.

heavy whipping cream
Instructions
Preheat the oven to 350 deggress F. With a stand or hand mixer, beat sugar and butter on medium-high speed until combined and fluffy- about 3 minutes. Be sure to stop in between to scrape down the sides of the bowl.

Add eggs in one at a time, stiring in between each egg. Add in vanilla extract and beat until combined.

In a medium bowl, whisk together flour, baking powder, baking soda, and nutmeg. Gradually add 1/2 cup of flour mixture at a time to the butter mixture alternating with 1/4 cup of buttermilk at a time. Beat together on low speed until each increment is combined.

Grease a bundt pan liberally with butter or nonstick baking spray. Spoon the cake batter into prepared bundt pan and be sure to firmly tap the bundt pan on the counter 4-6 times to release any air bubbles.

Bake the cake for 50-55 minutes depending on your oven. To check to see if the cake is fully cooked, insert a toothpick in the center of the cake. If it comes out clean, the cake is fully cooked. Let the cake cool in pan on a wire rack for 10 minutes.

While the cake is still cooling, carefully and gently invert cake out of pan on a serving platter. Sine the cake is still warm, some of the icing will absorb into the cake.

Line foil pieces around the cake by gently lifing the outter perimeter of the bundt cake to insert foil underneath- the foil only needs to be touching the edge. I use about four 5-6 inch pieces of foil to go around the whole cake. This will catch any excess glaze that drips off the cake.

Whisk together powdered sugar and heavy cream until smooth. Add more powdered sugar if the glaze is too watery. Drizzle the glaze over the cake and let sit to set for 15-20 minutes. Remove the foil and enjoy!