Last Updated on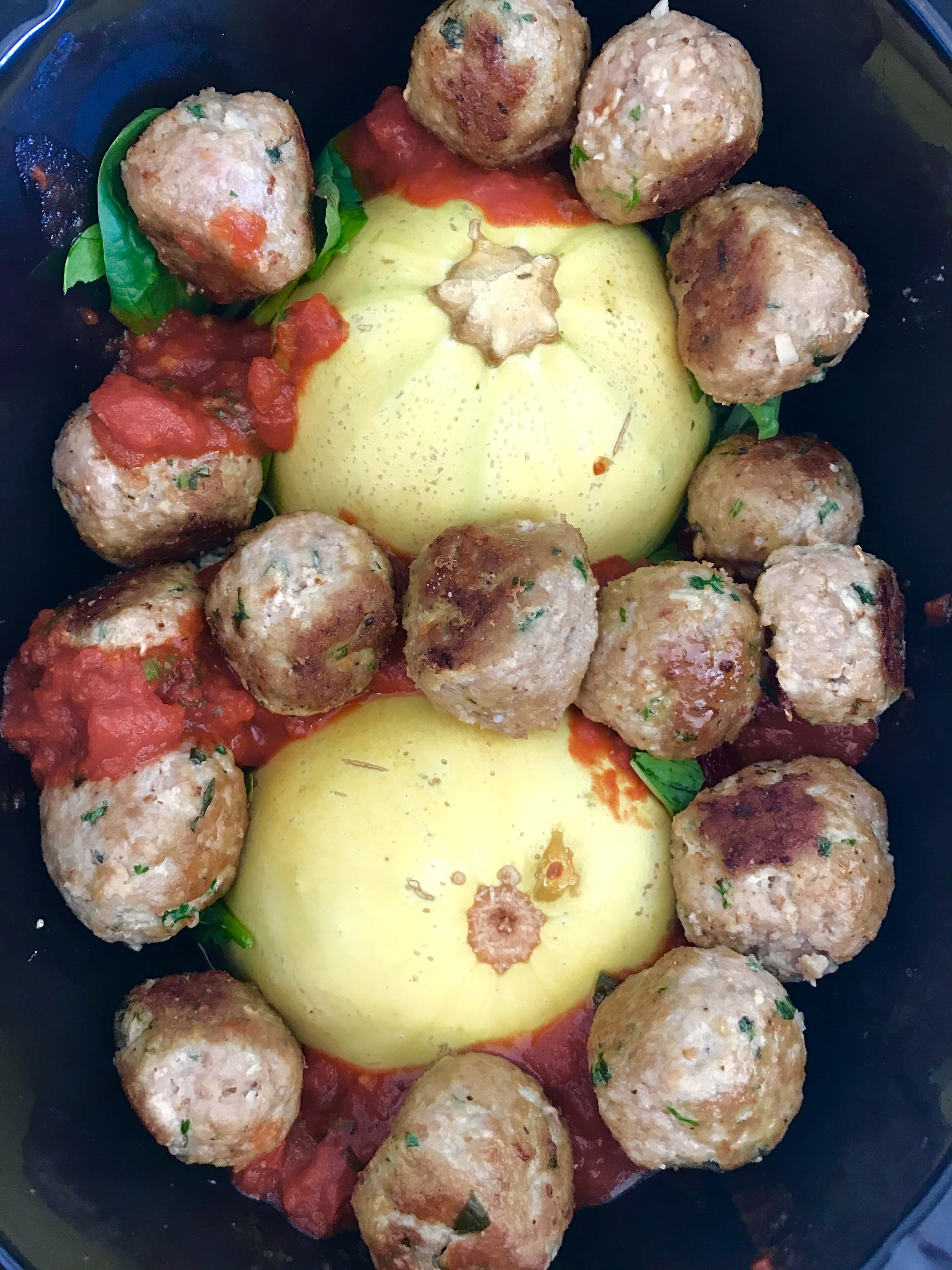 I have been looking into low-carb recipes lately especially since I bought a Spiralizer. It really has inspired me to cut back on meals that are carb-friendly..I love the feeling of coming home from work and dinner is already made, thanks to my crock-pot! I have been trying to make more use out of it because it is so much easier to use than we all think. I guess I have been timid to use my crock-pot because I haven't used it much. I can count the meals I've made with it on one hand so I am trying to get more practice out of it. Fall is quickly approaching us and you can bet I will be whipping up some comforting soups from my crock-pot by then! Just like all of us food bloggers, I have a Pinterset board full of crock-pot recipes that I have accumulated and I'm looking forward to trying them out!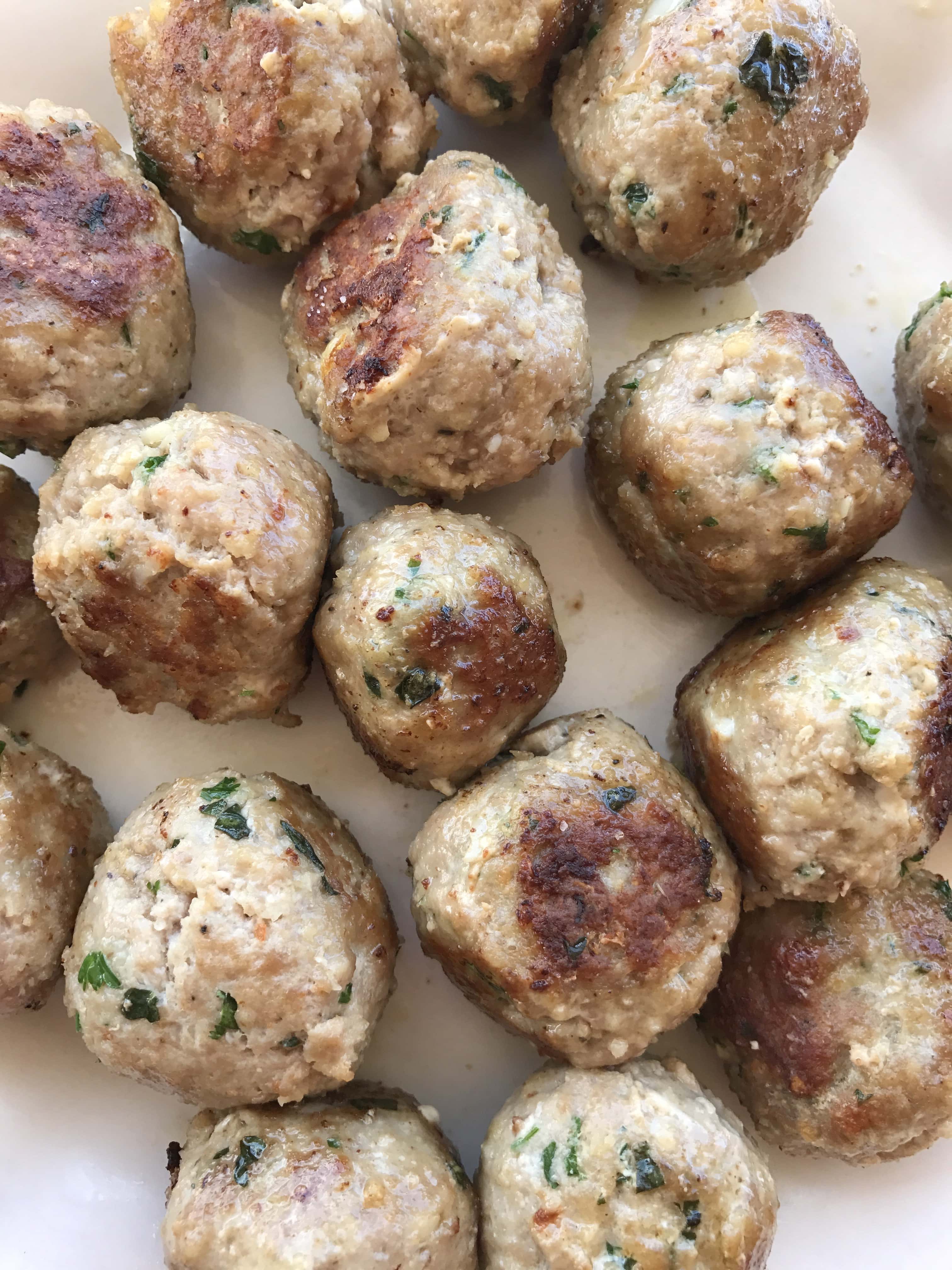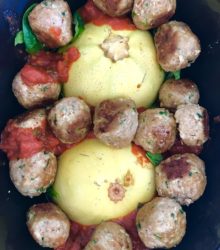 Crock-Pot Spaghetti Squash & Turkey Meatballs
Looking for tasty, low-carb and wholesome dinner to be ready when you get home? Here you go! All thanks to the crock-pot and this easy recipe.
Print
Pin
Rate
Ingredients
1

small-medium spaghetti squash

About 4-5 cups of marinara sauce

approx. 1 jar

2

Tbsp.

olive oil

Sprinkle of salt and pepper

Meatballs: makes about 14-16 mini meatballs about the size of a golf ball

Ground Turkey meat

2

cloves

of garlic; minced

½

cup

breadcrumbs

1

whole egg

½

tsp.

salt

½

tsp.

black pepper

½

tsp.

onion powder

¼

cup

fresh parsley; roughly chopped

¼

cup

parmesan cheese; either grated or shredded
Instructions
For the meatballs: Combine all of the ingredients in a bowl, mix with your hands. If you are thinking gross- it's not..wash your hands! Your hands do the best job incorporating all of the ingredients together. Roll into about 1 ½ inch size balls.

Time to brown the meatballs! Heat olive oil in a large skillet or frying pan to medium heat. Add about half of the meatballs to the skillet; make sure none of the meatballs are touching each other. You can do this in multiple batches if you need to. Brown meatballs on all sides; about 3 minutes per side. They will brown quickly since they are mini! Remove meatballs and place on a baking sheet lined with a paper towel to drain access fat.

Pour one cup of marinara sauce and a drizzle of olive oil into the bottom of slow cooker. Slice the spaghetti squash in half around it's middle, (not from stem to end). Scoop out the seeds, and place cut-side-down into the crock-pot on the sauce. Arrange the meatballs around the spaghetti squash in the slow cooker, and top the meatballs with one more cup of marinara sauce. Cover crock-pot, and cook on low heat for 3 hours.

Once spaghetti squash is cooked, remove the spaghetti squash with tongs- it will be hot to be careful. Let cool for about 10 minutes then scoop out the insides with a fork. Pull the spaghetti squash strands apart. It will start to resemble spaghetti.

To finish, place spaghetti squash on a dish and top with meatballs and marinara sauce. Sprinkle parmesan cheese and enjoy this low-carb tasty meal!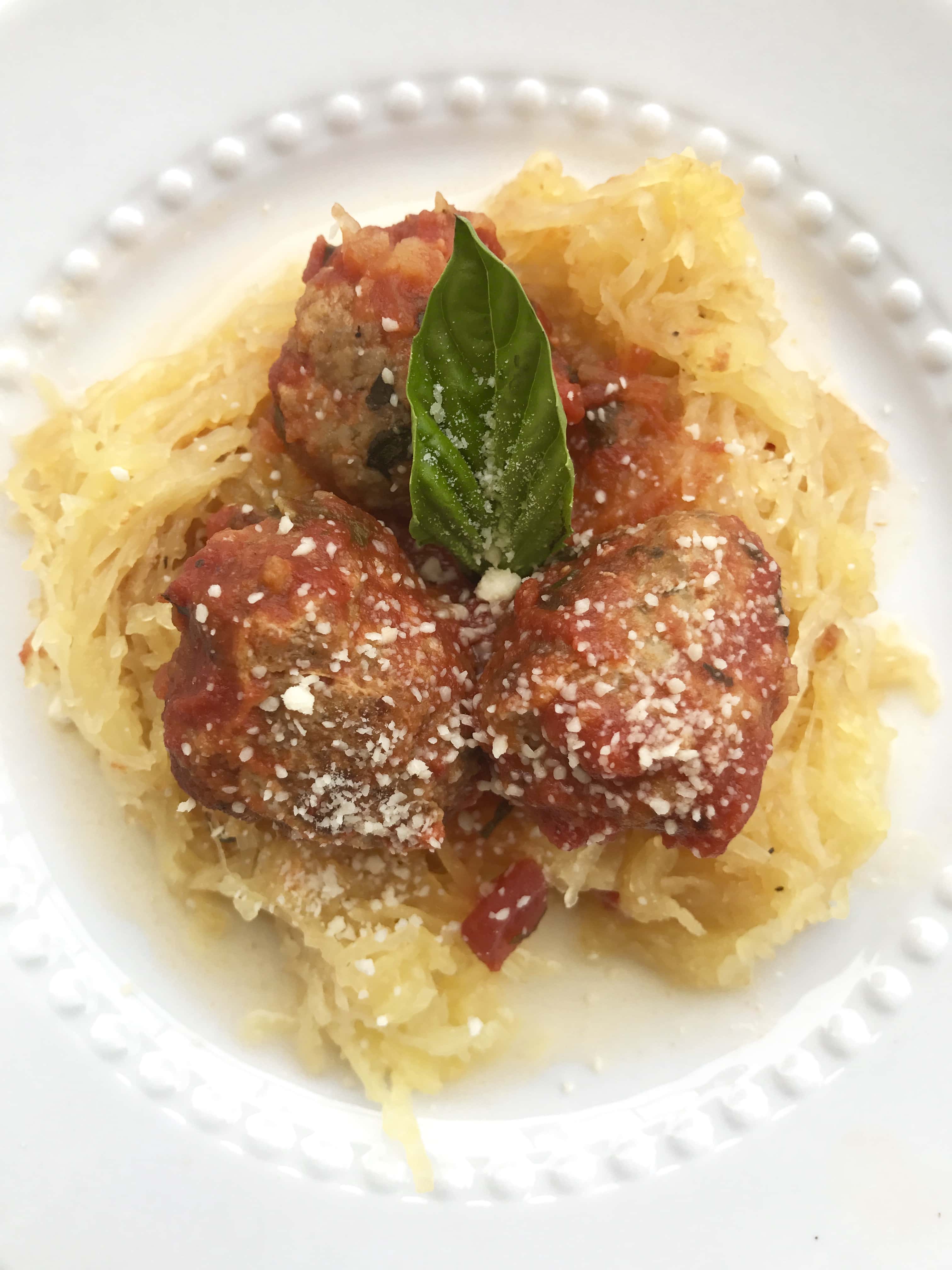 Too busy for homemade marinara sauce? No problem! It is completely OK to not make everything from scratch all the time. As much as I would love to, it can be time consuming.  I am not a fan of sauce from a jar and to be honest I have not found a jar of sauce that I like..it's just not the same as homemade marinara sauce. I can be picky with my sauces because my Nana makes the best sauce in my opinion and it's hard to come close to the taste of hers..
BUT here is a little trick I use to make a marinara sauce taste more homemade.  Add the sauce to a bowl and add 1 tablespoon of sugar, 4 fresh basil leaves roughly chopped, 1 clove of garlic minced, and a few shakes of Italian seasoning. Stir until combined and that's all. If you are not using this sauce for a crock pot recipe, be sure to warm on a saucepan so the basil and garlic can soften.