Last Updated on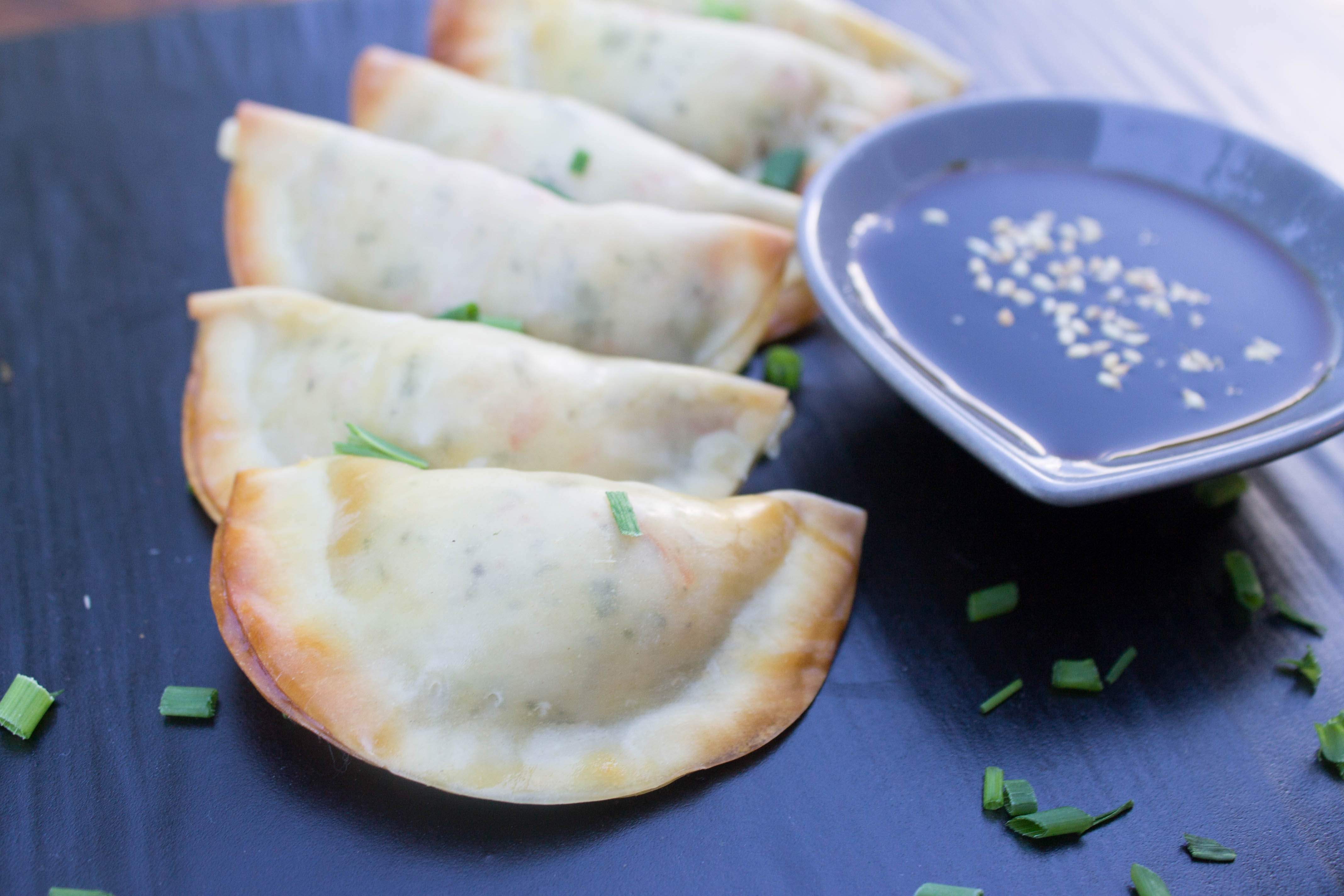 They say you should never go to the grocery store hungry..because you just shouldn't. Well I did one day and I passed by the refrigerated aisle that had wonton wrappers. I usally don't ever crave wontons but that day I sure did. I also remembered that I had cream cheese in my fridge and that's when I came up with creating this; simply by passing the seafood section where the crab is! I've only had crab rangoons a few times, and the few times I've had them they were delicious; but they were fried. I'm wanted to skip the frying part and bake them instead.  I didn't really expect them to turn out as perfectly as they did but I am sure glad I gave it a try! Dunk these into soy sauce for the perfect bite!
These crunchy on the out-side, creamy on the inside crab wontons make the perfect appetizer! They are also quick and easy to make!
Ingredients
8 ounces of low-fat cream cheese
8 ounces of immitation crab meat; chopped
1 clove of garlic; minced
2 green onions; thinly sliced
1 Tbsp chives; thinly sliced
1 1/2 tsp sesame oil
1/2 tsp soy sauce
1 tsp Worcestershire sauce
Salt and Pepper to taste
2 eggs
24 2-inch won ton wrappers (rounded shaped)
Instructions
Preheat oven to 400 degrees F. In a large mixing bow, mix together the cream cheese, crab meat, garlic, green onions, chives, sesame oil, soy sauce, worcesteshire sauce, and salt/pepper. Mix until everything is combined.
Take about 1 Tablespoon of the crab filling and place onto the center of each wonton. Beat the eggs and then brush onto the edges of the wonton. Press together with your fingers until they are sealed. Take a fork and press on the edges.
Place wontons onto a greased cookie sheet. Brush the tops of the wontons with the remaining egg wash (this will make them nice and golden). Bake for 12-15 minutes, or just until golden brown. Serve with soysauce and enjoy!
https://kathrynskitchenblog.com/baked-crab-rangoons/
Copyright Kathryn's Kitchen Blog