Last Updated on September 20, 2022 by Kathryn Donangelo
Celebrate Halloween with this fun Mummy Dogs Recipe. Delicious, kid-friendly and perfect for parties, dinner, or a snack. Made with just 4 ingredients in 25 minutes- you'll spend almost no time in the kitchen with this recipe!
If you love spooky treats, try my Mummy Rice Krispy Treats that are also easy to make.
PIN this Mummy Dog Recipe to try later!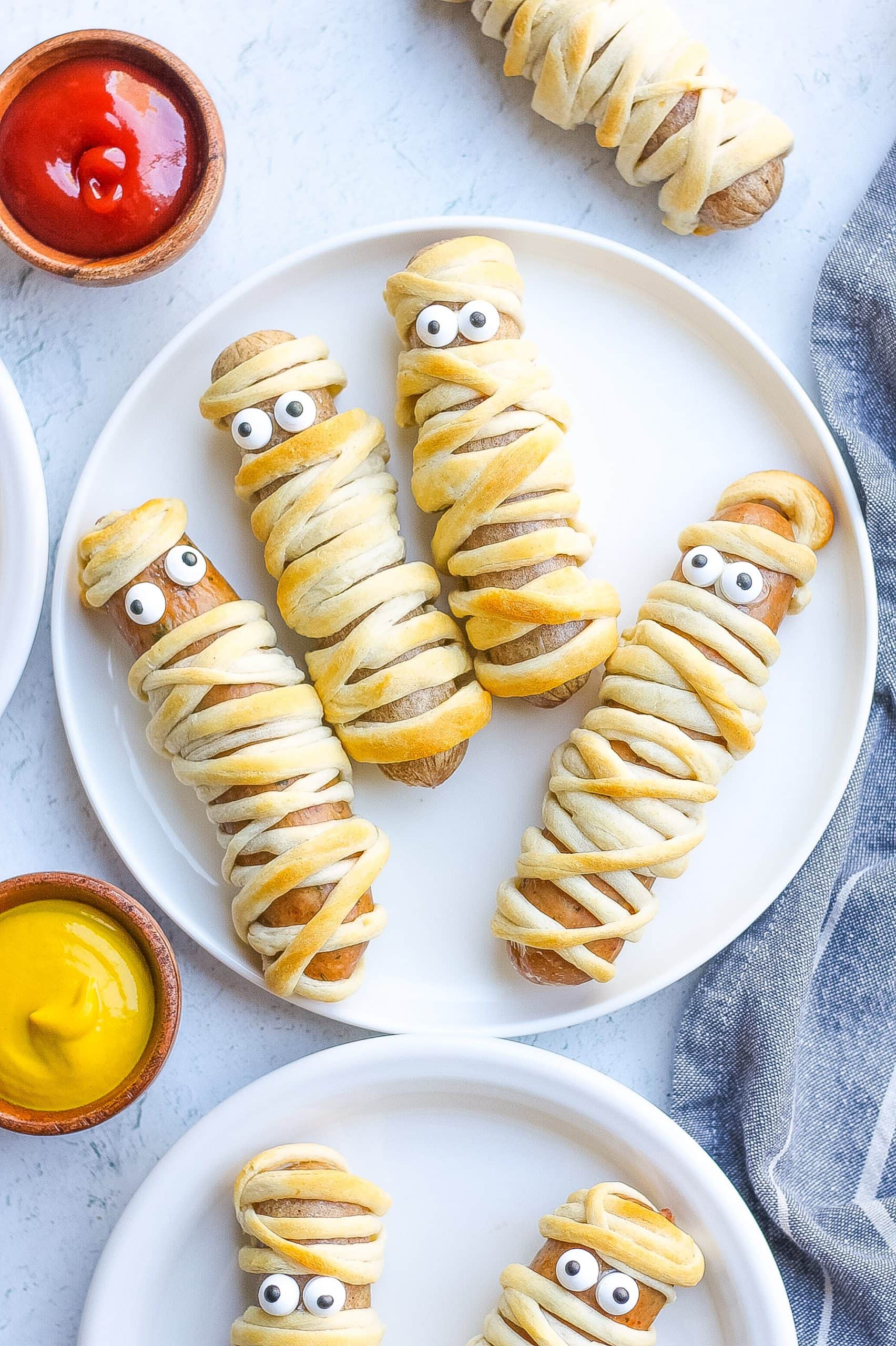 MUMMY DOGS RECIPE
These Halloween Mummy Dogs Recipe are a spookier version of pigs-in-a-blanket. Take your favorite mini sausage or hot dog and turn it into a fun, delicious, and oh-so-easy treat that even kids can help make!
These fun little mummy dogs are an adorable Halloween treat that are perfect for Halloween parties, Halloween dinner, appetizer or as a pre-trick-or-treating meal when paired with French fries and fresh fruit.
INGREDIENTS
Cooked Sausages: I used fully cooked Italian sausage but feel free to use your favorite brand or flavor of sausage. You can also use regular hot dogs instead of sausages.
Crescent Rolls Dough: I used Pillsbury buttery crescent roll dough but feel free to use any refrigerated dough you can find. See alternatives below.
Mayonnaise: You only need a dab to stick on the eyes! A dab of mustard or ketchup will also work for the eyes.
Edible candy eyes: These can be found in the baking section of most grocery stores year round but they could be moved to the seasonal section if Halloween is near. If you are unable to find edible eyes, you can make your own by adding a dab of mayo onto the mummy and then placing a poppy seed or piece of olive on top.
*you can also find these edible eyes on Amazon or Target.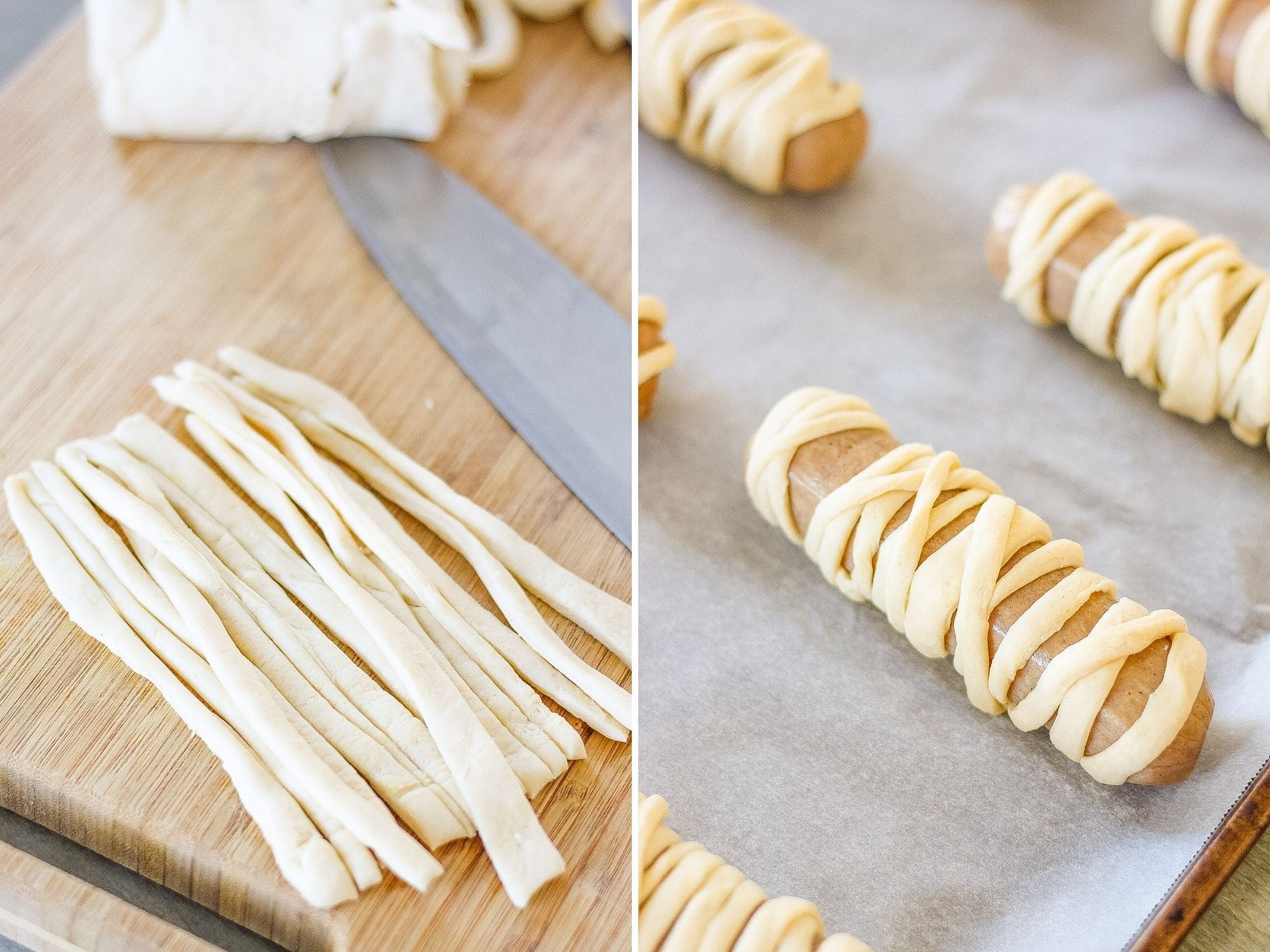 HOW TO MAKE MUMMY DOGS
STEP ONE: Pre-heat oven to 375°F. Line baking sheet with parchment paper or cooking spray and set aside.
STEP TWO: Dry sausage links with paper towel and set aside. Roll out the crescent dough sheets and pinch seams together. With a sharp knife, cut each dough sheet into thin strips.
STEP THREE: Wrap each sausage with the thin strip of dough, leaving room for the eyes, and place on a baking sheet.
STEP FOUR: Bake until golden brown. Let mummies cool for 10 minutes then dab a set of mummy eyes with mayo and place on the mummies. Enjoy!
MUMMY DOGS RECIPE VARIATIONS
Use puff pastry, biscuit dough, or pizza dough instead of crescent dough.
Feel free to use your favorite full size hot dog, turkey dogs, veggies dogs, or make these mini by using little smokies. You can also cut a regular size sausage or hot dog in half.
If you are unable to find edible eyes, use natural alternatives. You can dab mustard or ketchup for the eyes or add a dab of mayo onto the mummy and then placing poppy seeds or pieces of olives on top.
Add one eye to some mummies and two eyes to others.
Make Cheesy Mummy Dogs! Place a slice of your favorite cheese such as sharp cheddar, white cheddar, and American cheese. Place the cheese under each sausage/hot dog and wrap the crescent dough around both the sausage/hot dog and cheese. Bake according to recipe.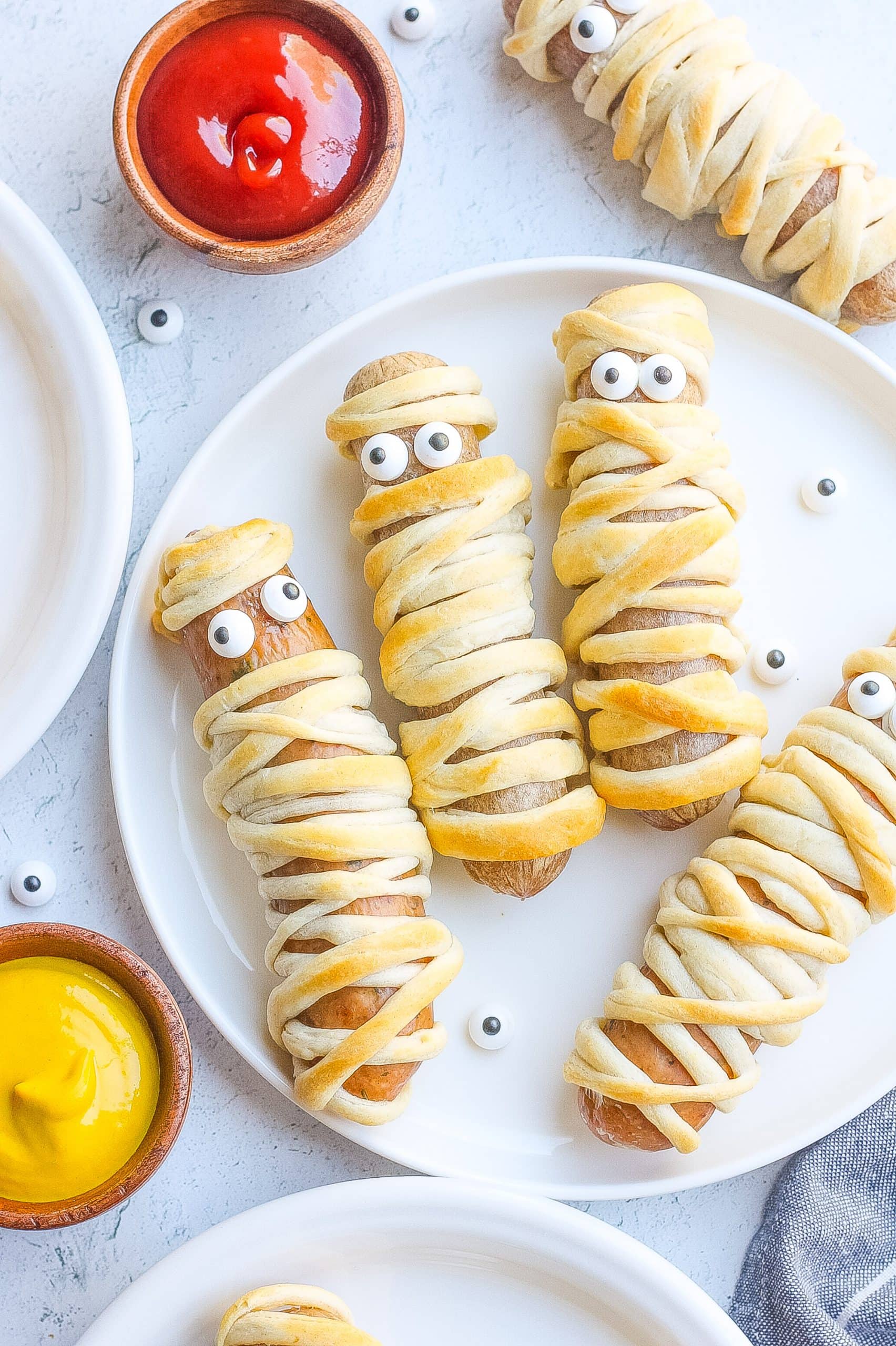 TIPS FOR MAKING HALLOWEEN MUMMY DOGS RECIPE
Use a pizza cutter to cut the dough. These mummies require the dough to be in extremely thin strips. The pizza cutter will help you attain the thin even strips you'll need.
Be sure to not over-bake. Over baking will cause the sausages/hot dogs to dry out.
Why You'll Love This Recipe
These make the perfect dinner on Halloween night. They are both cute and spooky!
Enjoy these as a finger food for your next Halloween party or pack them in your kid's lunchbox.
Kids can easily make these.
Made with simple ingredients like buttery crescent dough and your favorite type of sausage or hot dog.
A fun way to enjoy Halloween season!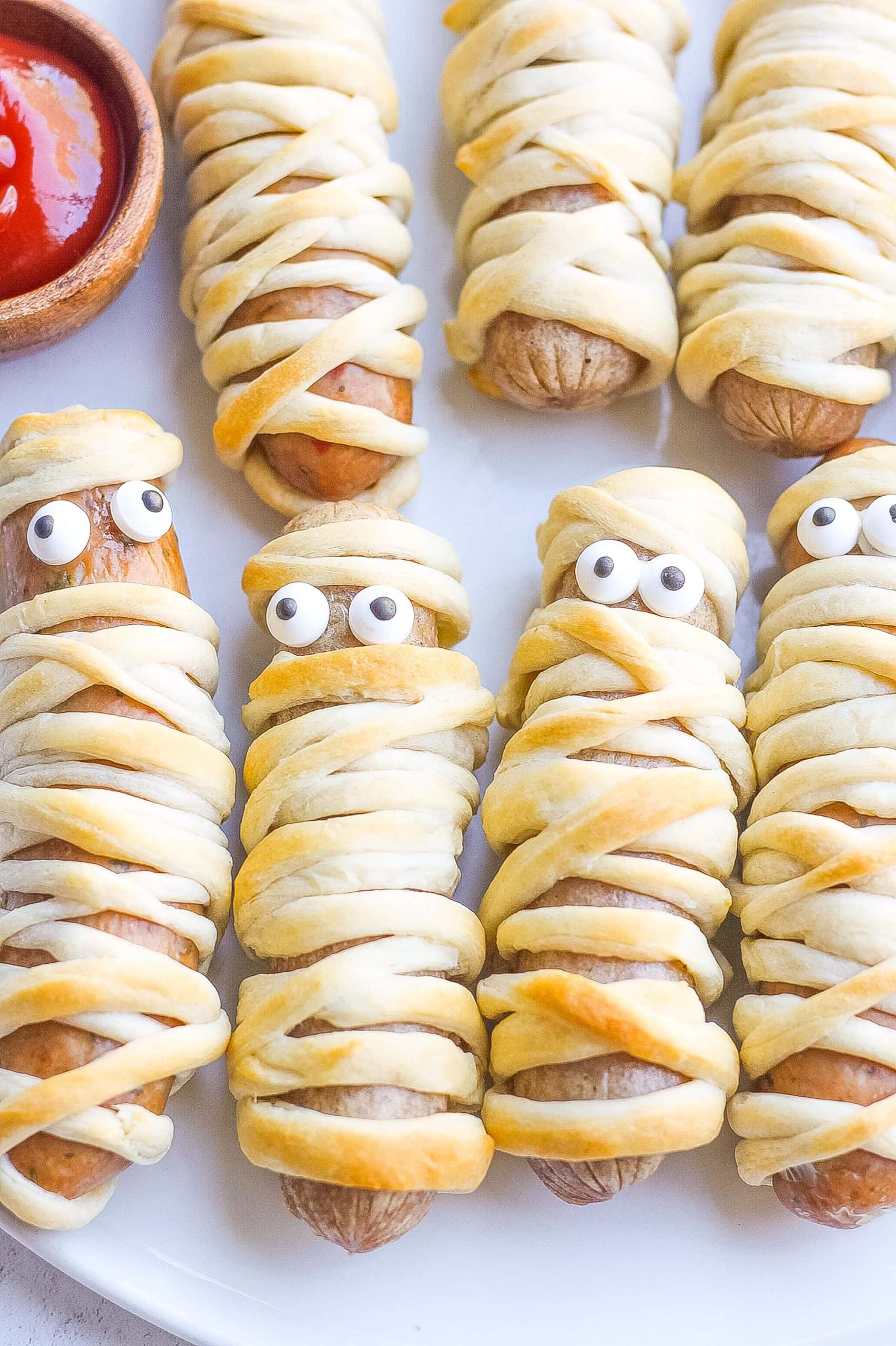 CAN I MAKE THESE MUMMY DOGS AHEAD OF TIME?
These can be made a day in advance. Prepare to step #3 on recipe card. Then store in an airtight container in the refrigerator. When ready to make, bake at 375°F until golden brown.
To freeze ahead, assemble the mummy dogs according to recipe card, place on a baking sheet and freeze. Once frozen, transfer to a freezer safe Ziploc bag or storage container. Frozen mummy dogs will keep in the freezer for up to 2 months. When ready to bake, no need to thaw. Simply place frozen mummy dogs on a baking sheet and bake for 20-25 minutes.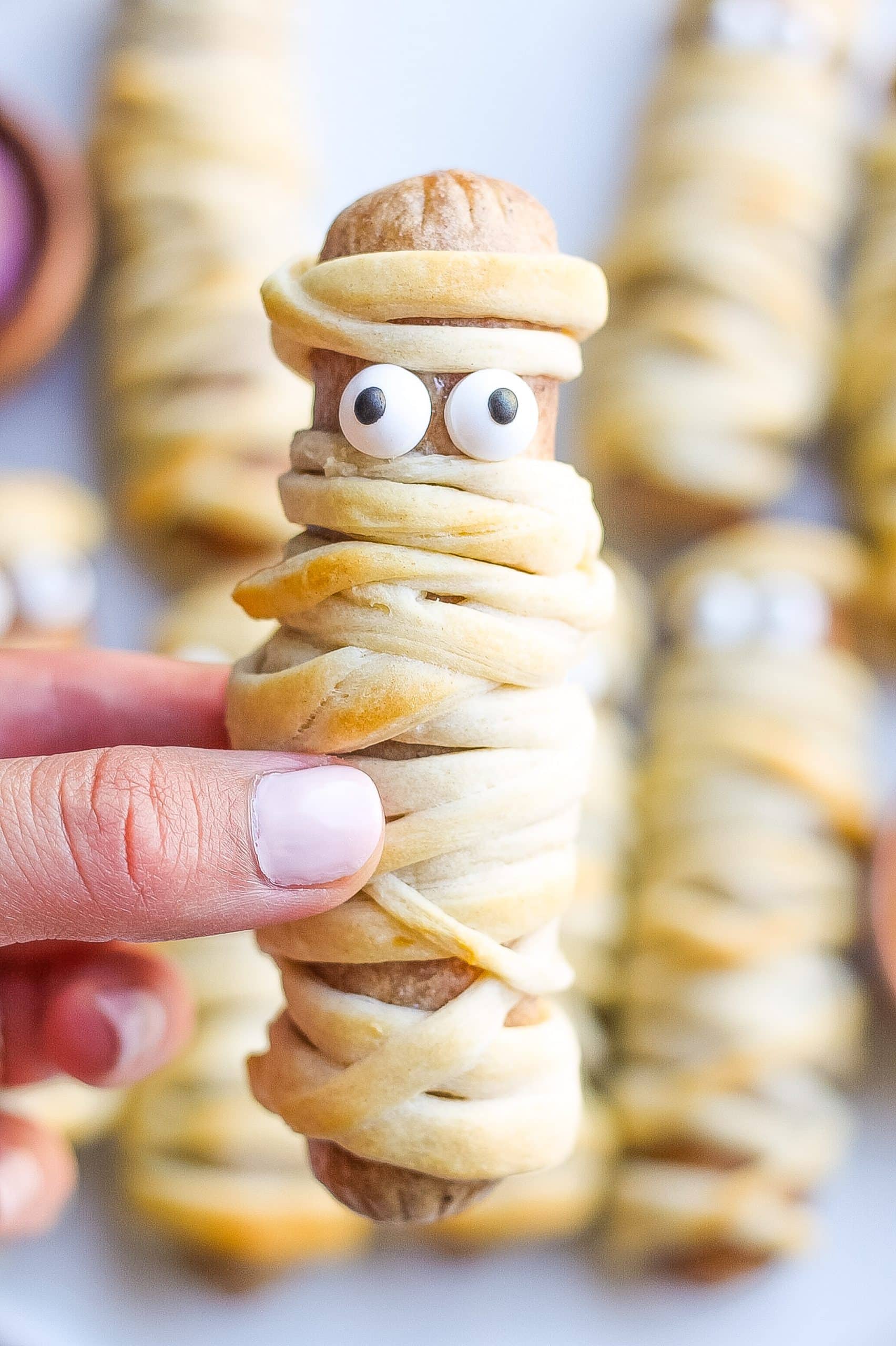 STORING LEFTOVERS
Leftover mummies make a delicious lunch or dinner the next day. You could also add them to your kids' lunch box for a spooky surprise. Store any leftover mummy dogs in an airtight container for 2-3 days in the refrigerator or in the freezer for 1-2 months.
When ready to eat, reheat in the oven at 375°F for 4-5 minutes or until heated through. You can also reheat these mummies in the microwave for 30-45 seconds.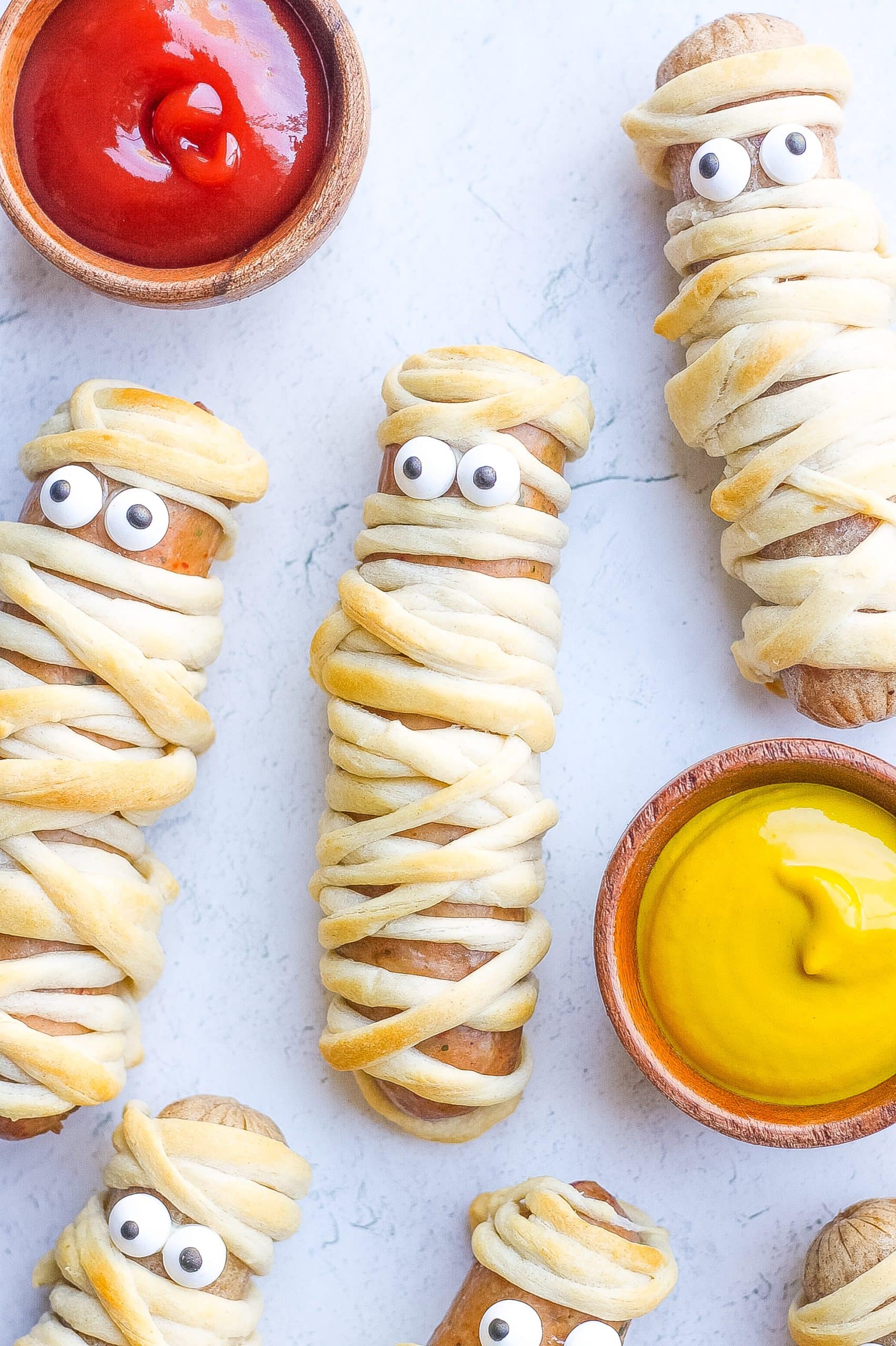 MORE HALLOWEEN RECIPES TO TRY
CAN'T GET ENOUGH?
Subscribe and I'll send all my newest and FREE recipes to your inbox! You can also keep up with me on Pinterest, Instagram, and Facebook. If you make this recipe, please let me know how it turned out! Leave a comment below and share a picture on Instagram so I can see and feature you!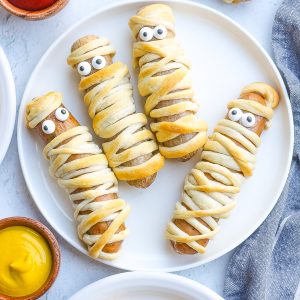 Halloween Mummy Dogs Recipe
Celebrate the holiday season with this fun Halloween Mummy Dogs recipe. They are delicious, kid-friendly and perfect for the holiday season. Make this yummy snack using just 4 ingredients in 25 minutes and serve them with your favorite dipping sauce.
Print
Pin
Rate
Ingredients
8

fulled cooked sausages or hot dogs

I used Italian, you can use any sausage flavor.

1

can crescent roll dough

1

tsp.

mayonnaise

16

edible eyes
Instructions
Preheat oven to 375 degrees F and line a baking sheet with parchment paper.

Pat the sausage links dry with a paper towel and set aside. Divide the crescent roll dough into 4. Roll out with a rolling pin and cut into 12-14 strips. Repeat with the remainder of the dough.

Wrap each sausage link with crescent dough strips to look like a mummy. Be sure to leave a little space at the top for the eyes.

Bake the mummies for 12-14 minutes, or until the crescent dough is a light golden brown. Let the mummmies cool for 10 minutes and then with a toothpick, dab each set of eyes with mayonnaise and place on the mummies. Enjoy!
Notes
Store any leftover mummy dogs in an airtight container for 2-3 days in the refrigerator or in the freezer for 1-2 months.
If you can't find the edible eyes, you can use mayonnaise and poppy seeds or mayonnaise and black olives instead for the eyes. 
You could use hotdogs instead of sausages if you prefer.
This recipe was originally published on Sept. 27, 2021. It was republished on Aug. 4, 2022, to include additional information.