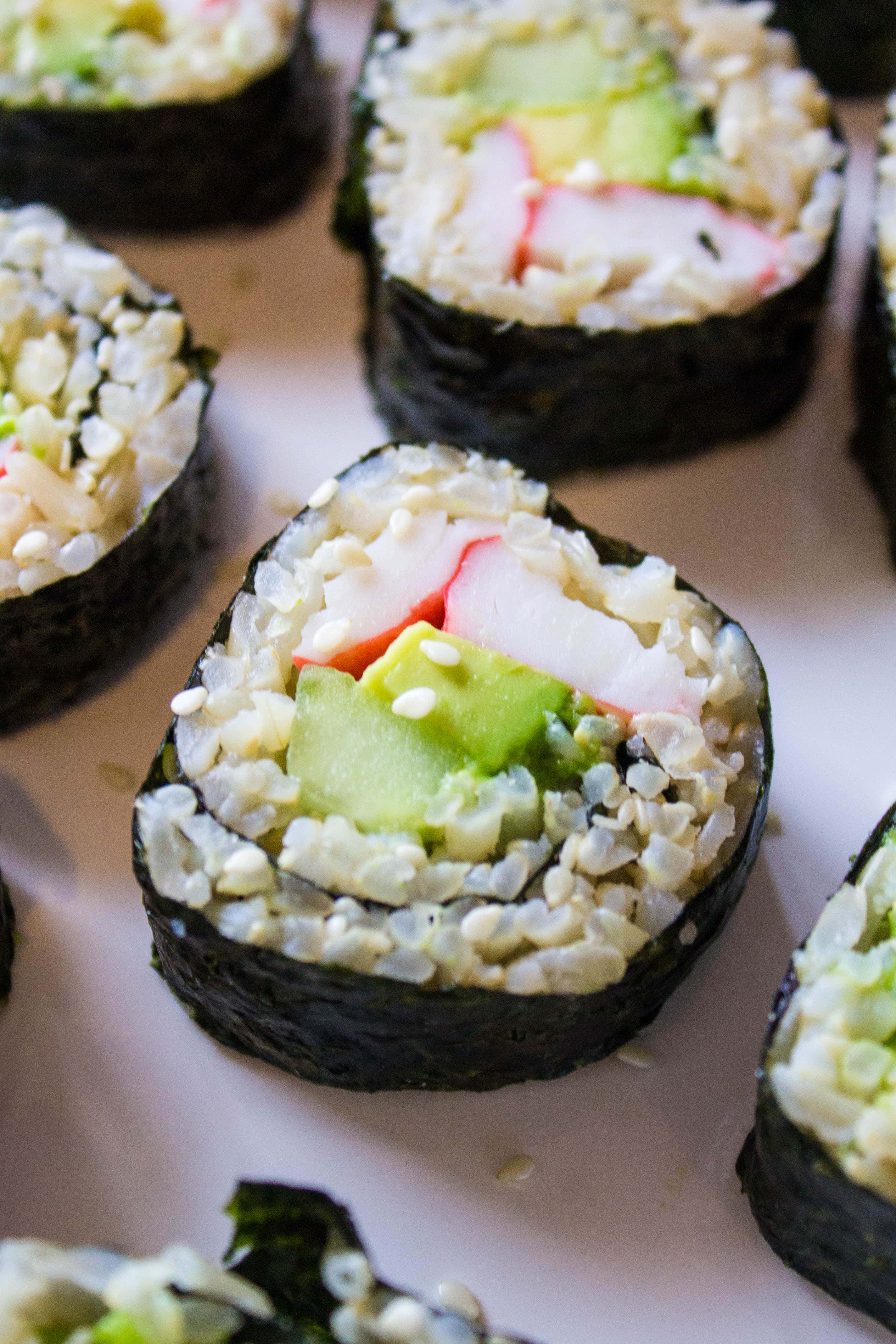 I could eat sushi pretty much everyday. I am so glad I rediscovered my sushi rolling mat I bought off Amazon a while ago. Sushi is SO easy to make at home and fun too! I am always thinking about new rolls to make at home and my favorite fillings are crab, shrimp, smoked salmon, cucumbers, and avocado- listed in no particular order.  I recently made a Veggie Roll with brown rice, you can find the video on my Insta HERE!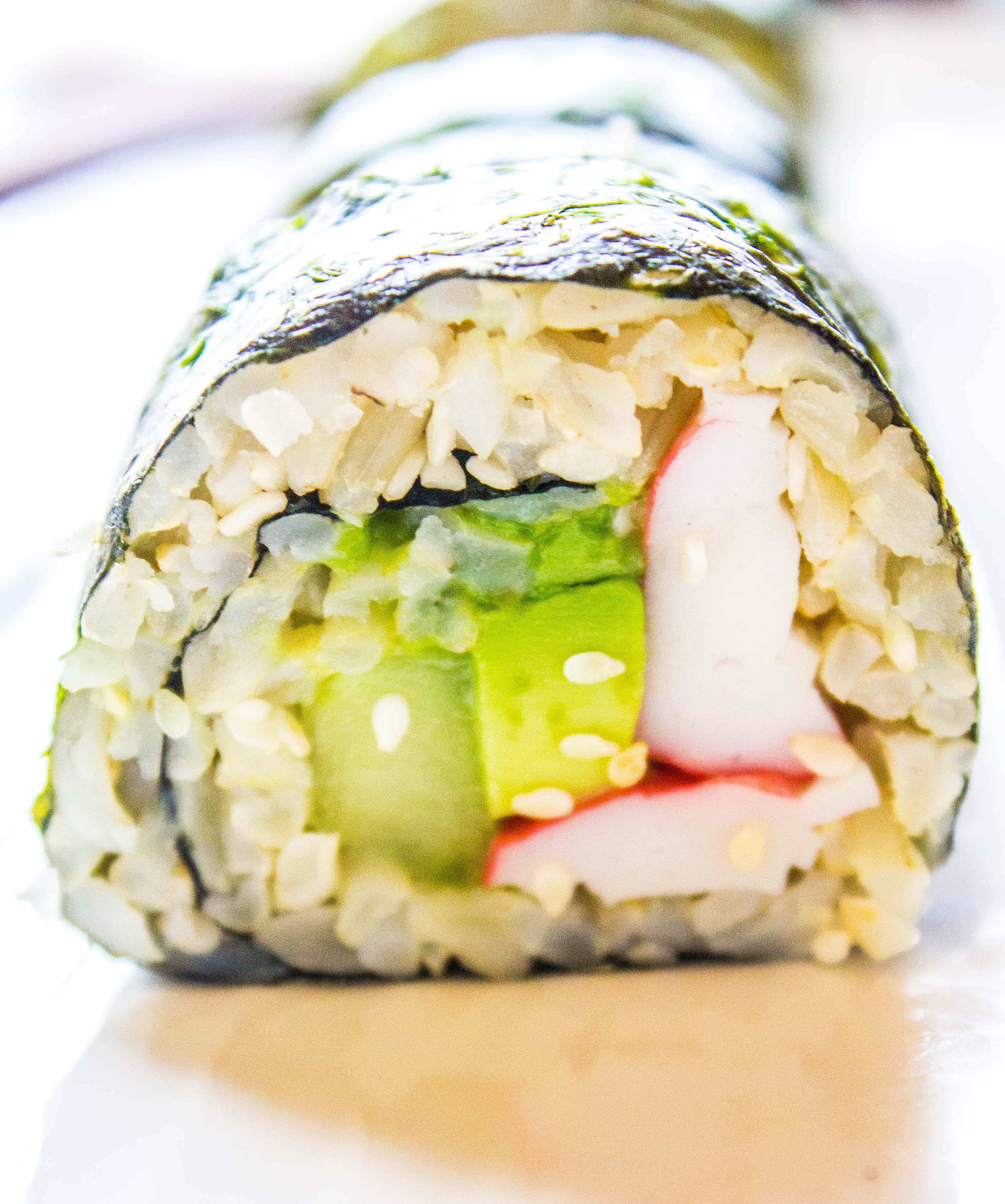 I have experimented between white rice, brown rice and quinoa for the 'starch' part and white rice is still my favorite when making homemade sushi. I have learned flavoring your rice makes a huge difference in the flavor of the sushi so it's important to not skip that step. I know some people probably think it's weird that vinegar is added to the rice but it works well. If you are in a hurry and don't have time to use the sushi rolling mat, simply cut the seaweed sheet in half and make a hand-roll! Another lesson I learned was make sure your knife is sharp when cutting your rolls. This will help tremendously so you can be sure to get perfect looking pieces .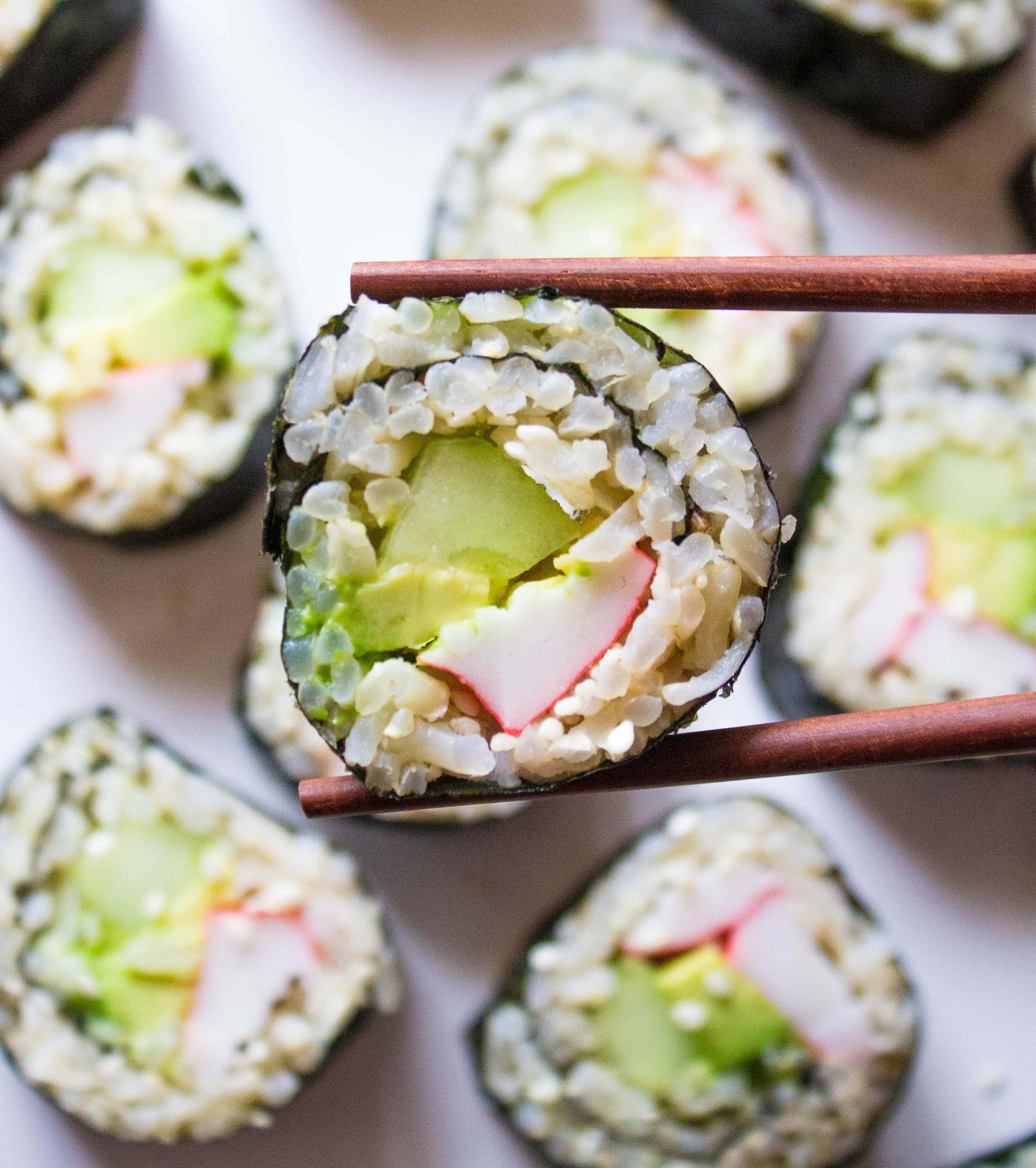 We sometimes do take-out sushi from favorite sushi places in Monterey and making it at home is just so much easier. If I want to make a meal out of it, I also will make Miso soup, steamed edamame and gyoza (aka Japanese dumplings). You can find the dumplings in pretty much any store. Trader Joe's has my favorite; pork, veggie, or shrimp filling!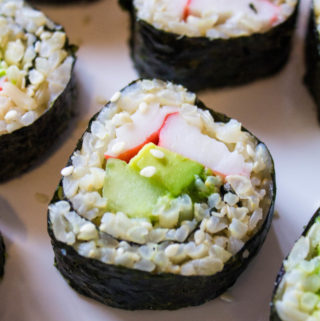 Print Recipe
The Easiest Homemade California Roll
Who knew homemade sushi would be so easy? This California roll is so simple to make and is filled with crab, creamy avocado and cucumber!
Ingredients
4

cups

of water

2

cup

of jasmine rice or short grain rice

4

Tbsp.

white wine vinegar

2

tsp.

white sugar

1

avocado; sliced

1

cucumber; sliced into thin strips; about 1/4 inch

Imitation crab sticks; cut each in half lengthwise

Seaweed sheets

Sesame seeds

Soy sauce; optional

Wasabi; optional

Ginger; optional
Instructions
Place plastic wrap on top of a sushi rolling mat about an inch extra on both ends of the mat. Set aside.

Bring water and rice to a boil in a saucepan over high heat. Reduce heat to medium-low, cover, and simmer until the rice is tender and the liquid has been absorbed, about 20 to 25 minutes. Transfer the rice to a large bowl and add rice vinegar. Stir using a wooden spoon and season with sugar. Set the rice aside and let cool for about 30 minutes.

Once the rice has been cooled, place a sheet of seaweed on the sushi mat. Spread a thin layer of rice on top of the the seaweed. In no particular order, place 2 to 3 avocado slices lined across the center, then add the cucumber slices and then the crab meat.

Using the mat as a guide, carefully roll the California roll into a tight log. Cut roll into 6 even pieces using a sharp wet knife. Repeat with remaining sheets of seaweed and filling.


Reader Interactions