Last Updated on November 13, 2019 by Kathryn Donangelo
The easiest rustic olive bread you will find! Salty olives are stuffed into a crusty rustic french bread. Homemade bread is made simple!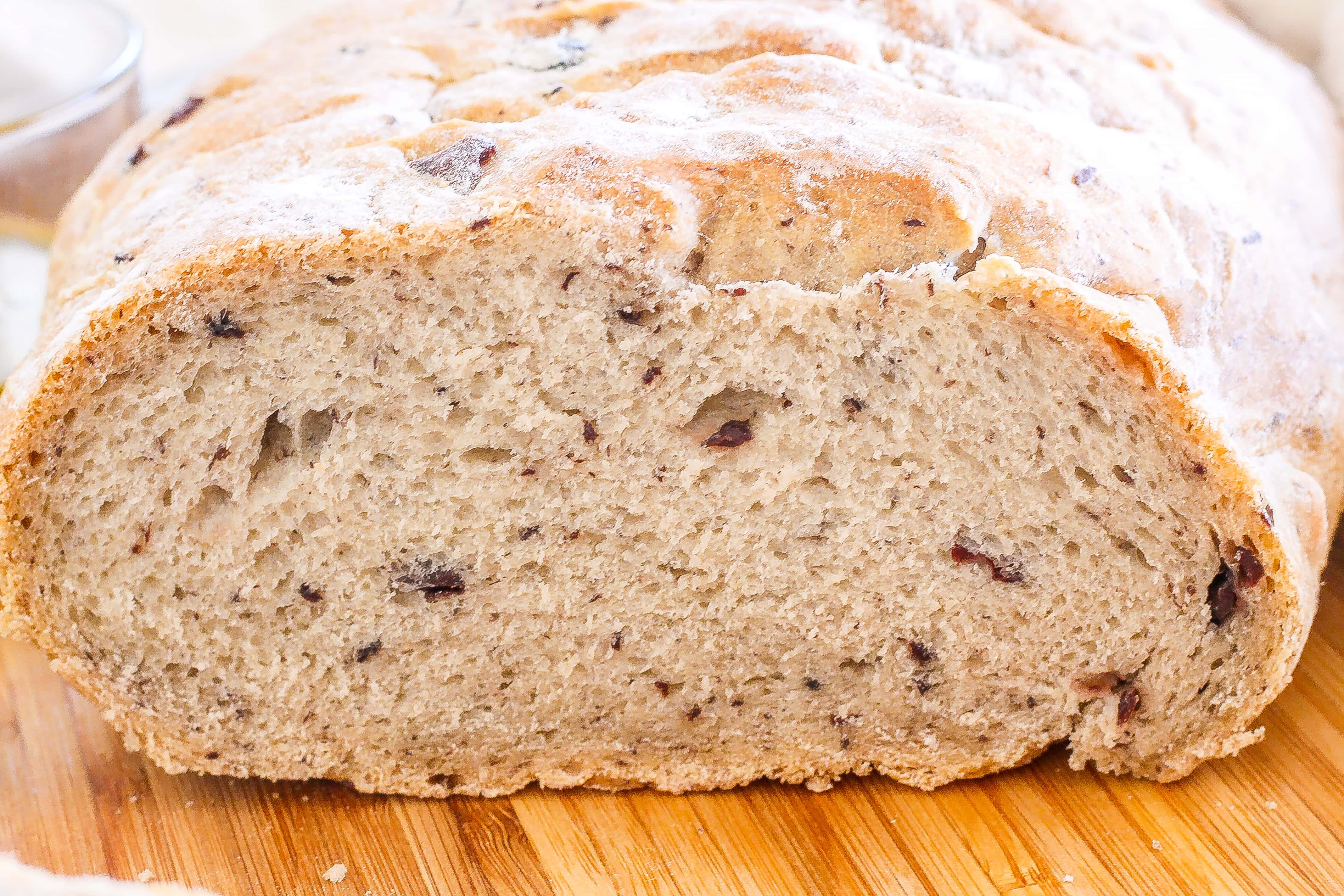 This is the easiest Rustic Olive Bread, all you do it mix, rest and bake- woo hoo!
I am super excited about this bread because it came out perfect! Fortunately my work is close to home so I can go home on my lunches when I want so I whipped this up on my lunch break and when I came home I had such a wonderful surprise on my counter..beautiful bread dough that had puffed up. I even deflated the puffy cloud of goodness and went to workout for about an hour and when I came back the dough got even more puffy! When this happens I know I did a good job letting the yeast incorporate in the mixture and do it's 'thing'.
PRACTICE MAKES PERFECT
I spent some time trying to learn how yeast works and failed several times. I tried making homemade cinnamon rolls for us on New Years morning and that was a fail. They still tasted good but the dough just wasn't the fluffy and puffy dough that I was hoping for. I also tried making a basic Italian Sesame bread and the first time was awful- the dough was lumpy and needed a lot of work. That dough didn't even rise at all so naturally I just tossed it right in the trash.
The second time around, I was really patient and left the dough to mix on my kitchen aid mixer for a good 10-12 minutes. Basically until it was smooth and the dough was soft and a bit warm. When I went to take the dough off the dough hook, it came off so smoothly I had really high hopes this time. I left it to rise for a few hours and when I checked on it, the dough was just right! I even made a cute braid out of it and it came out so perfect.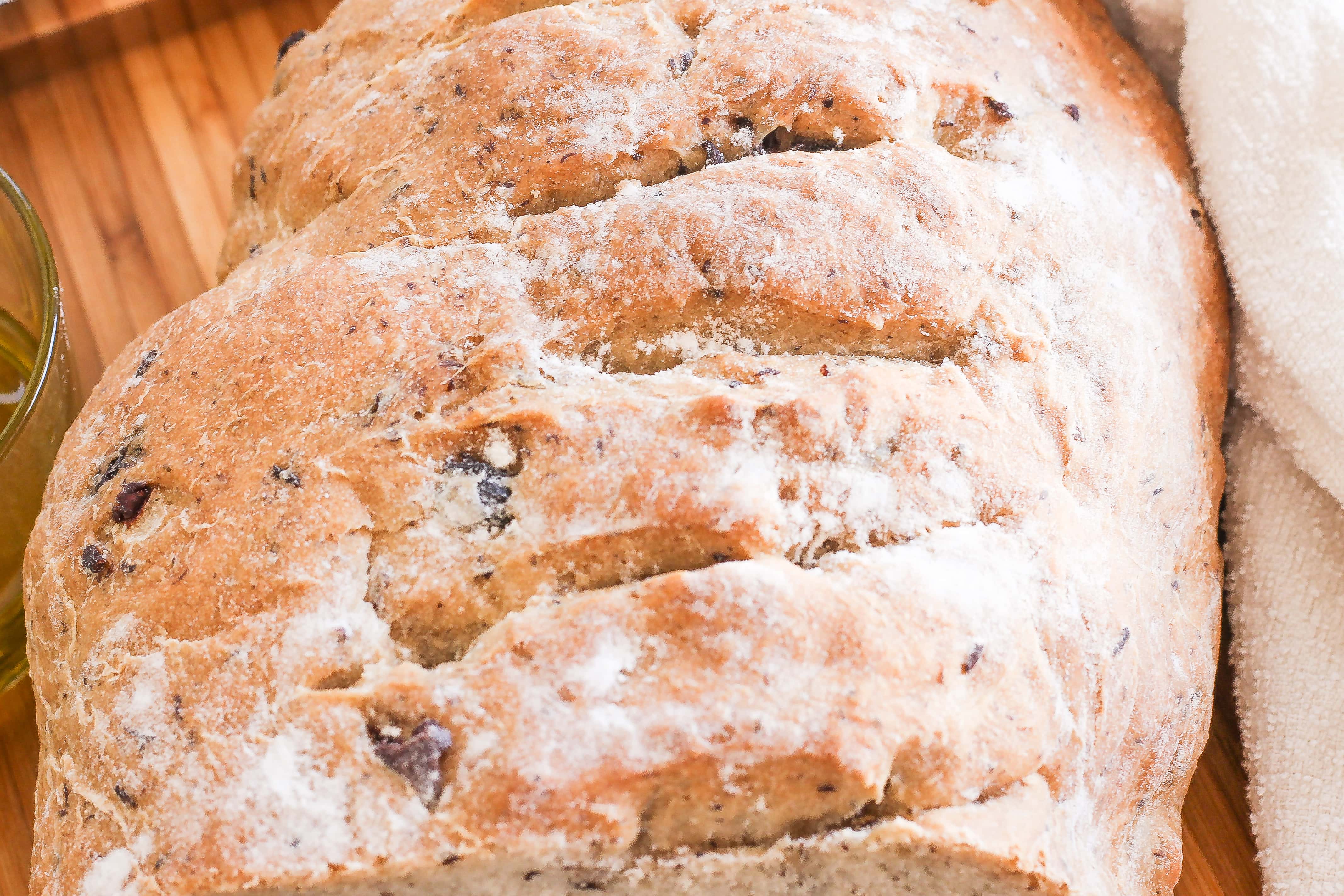 Check out my Instagram photo of my Italian Sesame bread HERE and a close up photo HERE.
Anyways, the point I'm trying to make is bread isn't all that difficult to make from s-c-r-a-t-c-h like ya'll think. If I can do this on my lunch break- you can do it too! At least give it a try. Also I'm addicted to olive bread and I can't wait to make this recipe again. Next time around I am considering adding more olives because I can't get enough of them!
CAN I ADD GREEN OLIVES?
Yes! You can add a combination of the two olives if you want! They are both salty so it is completely your preference. You can even add more olives than what the recipe calls for.
HOW DO I STORE MY BREAD TO KEEP IT CRUSTY?
Wrap it tightly in plastic wrap and place it in a cool area.

CAN'T GET ENOUGH?
Subscribe and I'll send all my newest and FREE recipes to your inbox!  You can also keep up with me on Pinterest, Instagram, and  Facebook. If you make this recipe, please let me know how it turned out! Leave a comment below and share a picture on Instagram so I can see and feature you!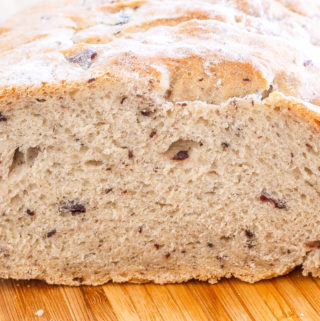 Rustic Olive Bread
The easiest olive bread you will find! Salty olives are stuffed into a crusty rustic french bread. Homemade bread is made simple!
Print
Pin
Rate
Ingredients
2

tsp.

instant yeast

2 3/4

cup

all-purpose flour

1

cup

lukewarm water

1/2

tsp.

salt

1/2

tsp.

garlic powder

3

tsp.

olive oil

1

cup

pitted

chopped Kalamata olives; make sure they are drained
Instructions
Combine the first six ingredients in the bowl of a stand mixer. Use a spatula to roughly combine the ingredients. Let rest for 15 minutes to activate the yeast.

Fold in the olives. Attach the dough hook and knead on medium for 5 minutes. Sprinkle in a bit more flour as needed if the dough won't release from the sides of the bowl.

Transfer the kneaded dough to an oiled bowl, cover, and allow to rise for 60 minutes in a warm place.

Punch the dough down, then transfer to a parchment-lined baking sheet. Use your hands to shape it into a loaf. Allow to rise for another 60 minutes.

Preheat your oven to 400 degrees Fahrenheit and place a second baking sheet on the bottom rack. Dust the loaf with flour and use a serrated knife to make 3-5 shallow cuts across the top.

Place the baking sheet containing the dough on the middle rack of the preheated oven. Toss a half cup of water onto the hot baking sheet on the bottom rack and close the door. Bake for 30 minutes.

Let cool completely on a wire rack before slicing.