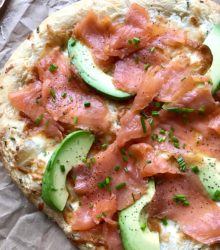 Print Recipe
Smoked Salmon & Avocado Breakfast Pizza
Brighten up your breakfast with this savory combination of pizza, smoked salmon and avocado!
Preheat oven to 450 degrees F.

In a small bowl, combine the cream cheese, chives and crushed garlic. Mix well until combined.

Drizzle the olive oil onto the pizza base and spread with the cream cheese mixture. Top with the shredded mozzarella cheese and bake in the oven for 10 minutes or until the mozzarella has melted through.

Remove from oven; top with the salmon slices and avocado slices. Sprinkle with black pepper, slice and serve!