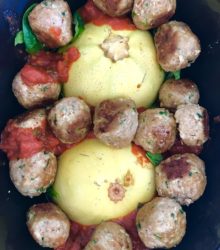 Print Recipe
Crock-Pot Spaghetti Squash & Turkey Meatballs
Looking for tasty, low-carb and wholesome dinner to be ready when you get home? Here you go! All thanks to the crock-pot and this easy recipe.
1

small-medium spaghetti squash

About 4-5 cups of marinara sauce

approx. 1 jar

2

Tbsp.

olive oil

Sprinkle of salt and pepper

Meatballs: makes about 14-16 mini meatballs about the size of a golf ball

Ground Turkey meat

2

cloves

of garlic; minced

½

cup

breadcrumbs

1

whole egg

½

tsp.

salt

½

tsp.

black pepper

½

tsp.

onion powder

¼

cup

fresh parsley; roughly chopped

¼

cup

parmesan cheese; either grated or shredded
For the meatballs: Combine all of the ingredients in a bowl, mix with your hands. If you are thinking gross- it's not..wash your hands! Your hands do the best job incorporating all of the ingredients together. Roll into about 1 ½ inch size balls.

Time to brown the meatballs! Heat olive oil in a large skillet or frying pan to medium heat. Add about half of the meatballs to the skillet; make sure none of the meatballs are touching each other. You can do this in multiple batches if you need to. Brown meatballs on all sides; about 3 minutes per side. They will brown quickly since they are mini! Remove meatballs and place on a baking sheet lined with a paper towel to drain access fat.

Pour one cup of marinara sauce and a drizzle of olive oil into the bottom of slow cooker. Slice the spaghetti squash in half around it's middle, (not from stem to end). Scoop out the seeds, and place cut-side-down into the crock-pot on the sauce. Arrange the meatballs around the spaghetti squash in the slow cooker, and top the meatballs with one more cup of marinara sauce. Cover crock-pot, and cook on low heat for 3 hours.

Once spaghetti squash is cooked, remove the spaghetti squash with tongs- it will be hot to be careful. Let cool for about 10 minutes then scoop out the insides with a fork. Pull the spaghetti squash strands apart. It will start to resemble spaghetti.

To finish, place spaghetti squash on a dish and top with meatballs and marinara sauce. Sprinkle parmesan cheese and enjoy this low-carb tasty meal!