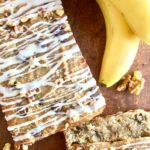 Print Recipe
Chocolate Chip Banana Nut Bread
This moist gluten-free Chocolate Chip Banana Nut Bread tastes just like the classic but a much healthier version! Loaded with bananas and chocolate chips!


Preheat oven to 350 degrees F. Lightly spray a loaf pan and set aside.

Combine mashed bananas, eggs, vanilla extract and syrup. Mix together until combined. Then mix in almond flour, baking powder, cinnamon, baking powder, walnuts and chocolate chips. Mix until all ingredients are combined.

Pour banana bread mixture into loaf pan, use a spatula to scrape all of the batter from the bowl. Bake for 30-35 minutes until toothpick comes out clean from the center.

For the glaze, melt butter in a microwavable mug. Whisk in almond milk and powdered sugar. The glaze will thicken depending on how much powdered sugar you add. If it gets too thick, add more almond milk. The glaze will thicken and thin quickly. Once banana bread is cooled, drizzle glaze on top. Let is set for about 15 minutes, slice bread then enjoy!