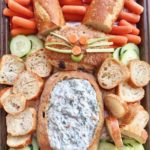 Print Recipe
Bunny Spinach Dip
This dip is almost too cute to eat!
3

bags of spinach

2

tsp.

olive oil

Garlic powder

salt and pepper for extra seasoning

2

cups

of mayonnaise

2

cups

light sour cream

2

packs of Knorr® vegetable dip mix

1

bread bowl

1

baguette

1

cucumber; sliced

Celery sticks

1

bag of carrot sticks

Pita Chips; optional for dipping
Bring a medium/large pan to medium heat and add olive oil and spinach. Sautee for about 5 minutes until spinach is cooked.

Drain all the excess water out of spinach in a colander and let cool for about 10 minutes.

Chop cooled spinach and place in a medium bowl. Add mayonnaise, sour cream and Knorr® dip mix. Stir until combined.

For the Bunny's belly: cut the center of your bread bowl in the shape of an oval or circle (I used an olive loaf because that's all Nob Hill had at the time). Make sure to SAVE the top you cut because you need this for the Bunny's face! Take out extra bread and to make a bowl out of it. Place spinach dip in bread bowl and place in the refrigerator.

For the Bunny's ears: cut the ends off of the baguette; about 4 inches long. Slice the remaining baguette to dip! For the Bunny's face: use the round piece from the bread bowl and use sliced carrot sticks for the eyes and nose and a piece of sliced celery for the mouth. For the whiskers, slice a stick of celery diagonally and cut in half.

Assemble Bunny on a cookie sheet lined with foil—place the belly, face and ears. Place cucumber slices on the bottom (for the grass), then place slices of baguettes, more cucumbers and carrots. Enjoy this cute app!