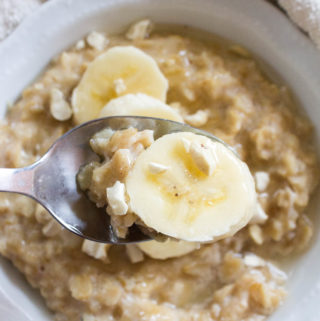 Print Recipe
Peanut Butter Banana Bread Oatmeal
In only a short few minutes, this delicious and nutritious breakfast can be served! Imagine Peanut Butter Banana Bread and Oatmeal combined. This peanut butter banana bread oatmeal is a winner and the flavor of peanut butter, bananas, and toasty cinnamon is so perfect.
In a small saucepan, bring the milk to a boil.

Once cooked, transfer oatmeal to a bowl. Top with banana slices, honey and cinnamon.