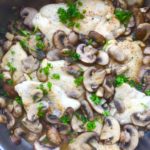 Print Recipe
Skillet Chicken Marsala
Make this favorite restaurant dish at home! Simple, creamy and bursting with sweet Marsala flavor!
Slice each chicken breast in half. Place each chicken breast in between a long piece of plastic wrap on a cutting board. Pound with a flat meat mallet or tenderizer—this will thin out each piece of chicken and make it extra tender. You will be happy you did this! Each chicken piece should be about ¼ inch thick. The chicken breast pieces will expand so I like to cut each piece in half to make smaller serving pieces so you should have a total of 8 chicken pounded pieces.

In a dish or shallow platter add ½ cup of flour, salt, pepper and garlic powder. Mix together with a fork and coat each piece of chicken in the flour mixture- coating the front and back of each piece. Heat a large skillet or frying pan to medium heat and add olive oil. When olive oil becomes hot, place the chicken pieces in the pan. Cook the chicken until both sides are golden brown- about 5 minutes on each side. Make sure chicken is fully cooked, then remove from the skillet and set aside. If your skillet or frying pan isn't large enough, you can cook the chicken in batches.

Keep the heat on and add the butter and onions until onions look softened- about 3 minutes. Add the mushrooms and sauté until they are nicely browned. You will notice that some of the moisture will absorb. Add the Marsala wine and flour; stir often. The wine will turn into a slightly thick sauce, almost like a gravy consistency. Stir in parsley and add the chicken back into the pan to warm before serving. Top with more parsley to garnish. Enjoy this simple hearty meal!