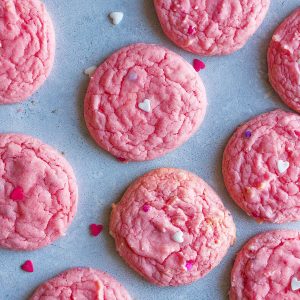 Print Recipe
Valentine's Day Cake Mix Cookies
These cookies will be sure to put a smile on anyone's face!
Pre-heat oven to 375 degrees F. Mix together all of the ingredients until combined. I added some sprinkles to the mix as well!

Roll cookies into golf-ball size or use a mini ice-cream scope to get a perfect shape. Place onto a lightly greased cookie sheet about 2 inches apart. Add sprinkles to the tops and bake for 7-10 minutes or until edges start to brown. Cool for a few minutes and enjoy!