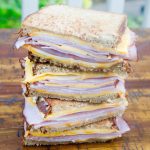 Print Recipe
Semi-Grilled Ham & Cheese Sandwich
Buttery toasted bread with melted cheese and baked ham make the perfect snack or lunch!
4

slices

of whole wheat bread

4

tsp

butter

8

slices

of Sargento Colby-Jack sliced cheese

8

slices

of Hormel baked sliced ham
Heat a frying pan to medium heat. Butter each slice of bread with one tsp of butter per slice. Place on frying pan and fold each slice of cheese in half. Place 2 of the halves of cheese on each slice of bread (there should be 2 slices of cheese per slice).

Fold each ham slice in half and place on cheese. Let sit for about 1 minute then place one of the slices of bread with cheese on ham on the other (there should be 2 sandwiches). Flip to make sure the bread is not burning. Then press the sandwich with a spatula to ensure the ham and cheese are melting.

Let sit for another 2 minutes just until the bread looks golden brown and toasted. The cheese will almost be melted. Remove from pan and slice in half. Enjoy this classic favorite!