Last Updated on
These easy  (e x t r a) cheesy chicken enchiladas are perfect for any night of the week. I'm a rotisserie chicken fan..I mean, how can you not be? I love the taste of them and they are also so perfect and full of flavor. They also can save you when you are in a pinch for time.
So you may have a question: why red enchilada sauce over green enchilada sauce? The answer is you can totally use either for this recipe. The red sauce is a bit more pungent to me and the green is slightly sweeter. Keep in mind the red enchilada sauce is typically made with more vinegar so it has a distinct flavor. Both sauces are made with different chilies.. so it's really up to what you prefer and how much spice you like :).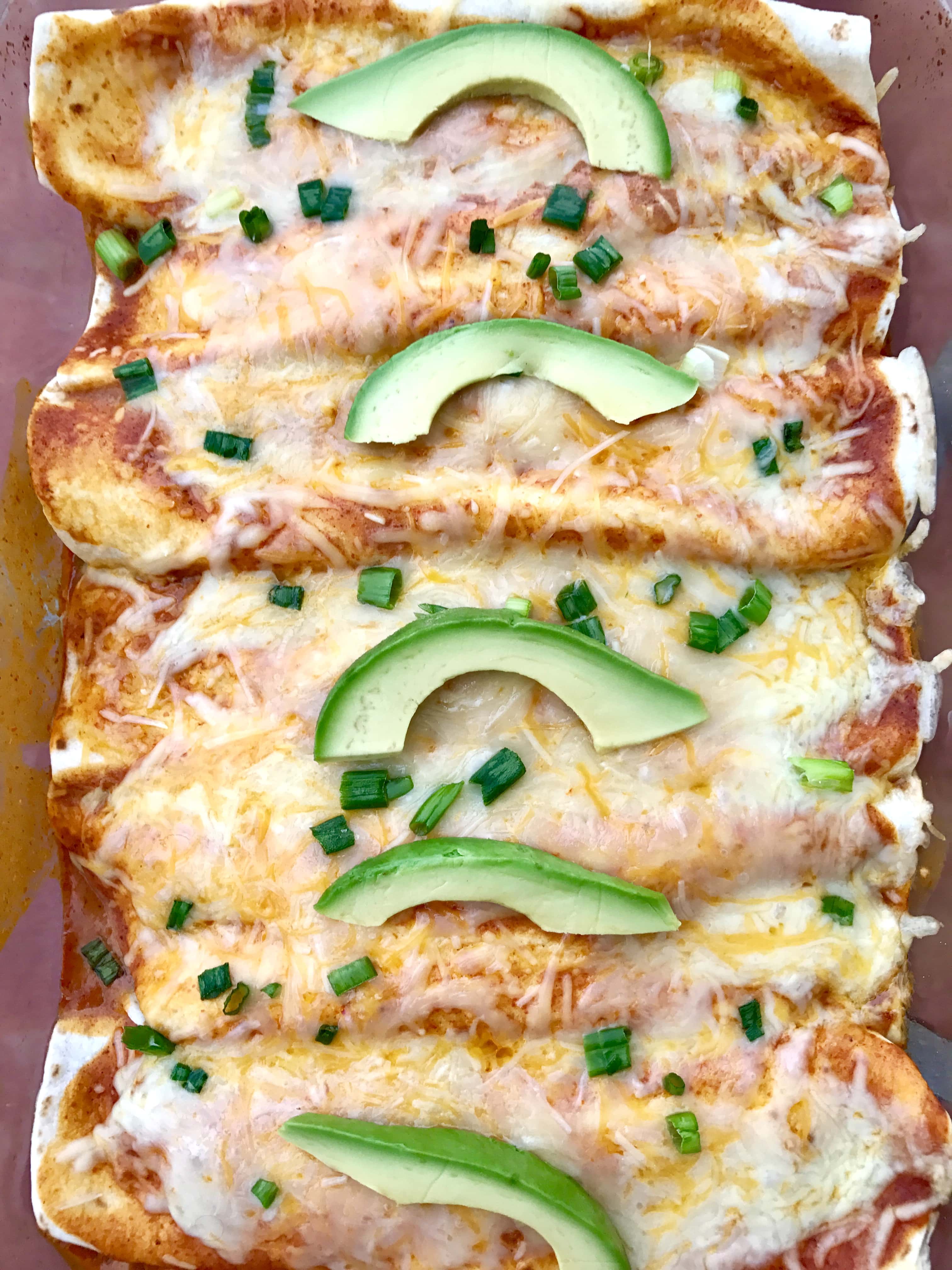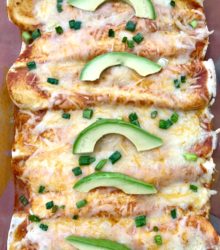 Cheesy Rotisserie Chicken Enchiladas
These lightened cheesy chicken enchiladas have a creamy cheesy topping and filling. They are filled with just the perfect amount of chicken. This is a win for an easy week night meal!
Print
Pin
Rate
Ingredients
6

flour tortillas

1 10

oz.

can of red enchilada sauce

1

cup

of sour cream; I used lite sour cream

2

Tbsp.

low-sodium chicken broth

2

cups

of shredded rotisserie chicken

1/3

cup

yellow onion; chopped

¼

tsp.

garlic powder

¼

tsp.

black pepper

¼

tsp.

salt

1

cup

of Monterey Jack cheese; shredded

½

cup

of sharp cheddar cheese; shredded

½

cup

green onions; sliced

Sliced avocado; garnish
Instructions
Preheat oven to 350 degrees F. For the enchilada sauce: in a medium bowl, whisk together ½ cup of sour cream, chicken broth, and 1 can of red enchilada sauce until creamy and smooth--set aside.

In a large bowl, mix together the chicken, onion, garlic powder, pepper, salt, ½ of the jack cheese, a ¼ of the cheddar cheese ¼ cup of enchilada sauce from step 1, and ¼ cup of green onions. Mix until all ingredients are combine.

In a 13" x 9" glass baking dish, spread the enchilada sauce to coast the bottom of the baking dish. Get a torilla and fill each tortilla with about 1/3 cup of the chicken filling, then sprinkle more cheese inside—this is completely up to you of how much cheese you want but we love cheese in our enchiladas! You can totally omit these cheese in this step if you prefer. Roll the each tortilla and place on the baking dish.

Top the tortillas with more enchiladas sauce until coated, then sprinkle more cheese and green onions on top. Cover with foil and bake for 20 minutes or until cheese is melted. Top with sliced avocados and sour cream!
I typically don't like the taste of enchilada sauce straight from the can. I promised myself I would never by sauce from the can because I had horrible experiences with it and it basically ruins the taste of everything. It always tastes bitter to me so my trick to making it taste semi-homemade is by adding a couple tablespoons of chicken broth and a few dollops of sour cream..this will also make the sauce a bit creamy. I do this every time and it tastes a million times better (I  promise!). If you have more time on your hands and want to make your enchilada sauce from scratch: try my Homemade Enchilada Sauce! Beware: it has a spicy kick to it, but it is SO worth it!