"I received free samples of SPLENDA® Naturals Sugar & Stevia Blend mentioned in this post. By posting this recipe I am entering a recipe contest sponsored by SPLENDA® Sweeteners and am eligible to win prizes associated with the contest. I was not compensated for my time."
I love trying out new products that have a health bonus and being NATURAL.  My favorite part about this natural sweetener is that it's all natural! Most low-calorie sweeteners are artificial and have a horrible aftertaste.
Here are some facts about this all natural sweetener:
-SPLENDA® Naturals Sugar & Stevia Sweetener Blend is made with only Stevia cane sugar and stevia leaf extract
-SPLENDA® Naturals Sugar & Stevia Blend gets its unique sweetness from Reb D, one of the tastiest parts of the stevia leaf
-A 1/2  teaspoon of SPLENDA® Sugar & Stevia Sweetener Blend gives you the same amount of sweetness as a full teaspoon of traditional sugar
-It's made from only 2 non-GMO ingredients: stevia + cane sugar
-It is versatile- It can be used anywhere you would use sugar
-Has 50% fewer calories than sugar
-There is NO artificial ingredients or added flavors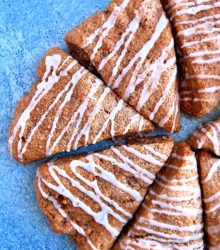 Print Recipe
Healthy Cinnamon Roll Scones
What do you get when a cinnamon roll and a scone get combined with a healthy twist? This healthy treat!
Ingredients
1 ½

cups

whole wheat flour

2

tsp

ground cinnamon

1 ½

tsp.

baking powder

1/4

cup

salted butter

cold and cubed

½

cup; nonfat Greek yogurt

Vanilla or Plain flavored

1

tsp.

vanilla extract

2

Tbsp.

milk

1

egg

1/3

cup

Splenda® Naturals Sugar & Stevia Blend

For the glaze:

1/4

cup

reduced fat cream cheese; softened

1/4

cup

Splenda® Naturals Sugar & Stevia Blend

2

Tbsp.

whole milk

1/2

tsp.

vanilla extract
Instructions
Preheat the oven to 375 degrees F, and line a baking sheet with a silicone baking mat or parchment paper.

With a stand mixer, mix together the whole wheat flour, baking powder, cinnamon, and salt. Cut in the butter in cubes and add to the mixture- the mixture will resemble fine crumbs. Stir in the Greek yogurt, vanilla, milk, egg, and Splenda® Naturals Sugar & Stevia Blend.The dough will be light and it will form into a ball.

Transfer the dough to the prepared baking sheet, and shape into a ¾" tall circle using a spatula. Slice the circle into 8 triangular segments with a sharp knife. Bake for 15-18 minutes, or until the tops are lightly golden. Transfer on a cooling rack and let cool completely.

In the meantime, you can make the drizzle! Stir together the cream cheese, milk, and Splenda® Naturals Sugar & Stevia Blend in a small bowl. If you want a thinner glaze, add more milk. Mix until the glaze is lump-free and smooth. Transfer the glaze mixture to a zip-topped bag, and cut off a tiny piece of one corner. Drizzle the top of each scone and enjoy this healthful treat!
If I were to splurge on one thing from Starbucks it would be on one of their tasty scones I always look at when I'm standing in line or a cinnamon bun. I remember way back in the day before I really even knew what calories were, I would order a scone occasionally when I went to Starbucks. I mean, who wouldn't love a buttery pastry loaded with sugar- am I right? I often browse through Pinterest when I can on my phone throughout the day. Tons and tons of tasty treats overflow through my Pinterest feed and I'm also so tempted to make everything I see. When I received the this free sample of SPLENDA® Naturals Sugar & Stevia Blend I knew I wanted to make a healthy version of one of my favorite treats.  Breakfast scones always sound like a good idea. This time I made them with a healthy twist! These cinnamon roll scone treats are made with SPLENDA® Naturals Sugar & Stevia Blend and yogurt! Breakfast for me during the week is definitely a grab-and-go and these were perfect!