Last Updated on
Caramelized Onion and Smoked Salmon Bagel is smothered with hummus and topped with deliciously smoked salmon, fresh avocados and cucumbers. It's perfect for any time of the day!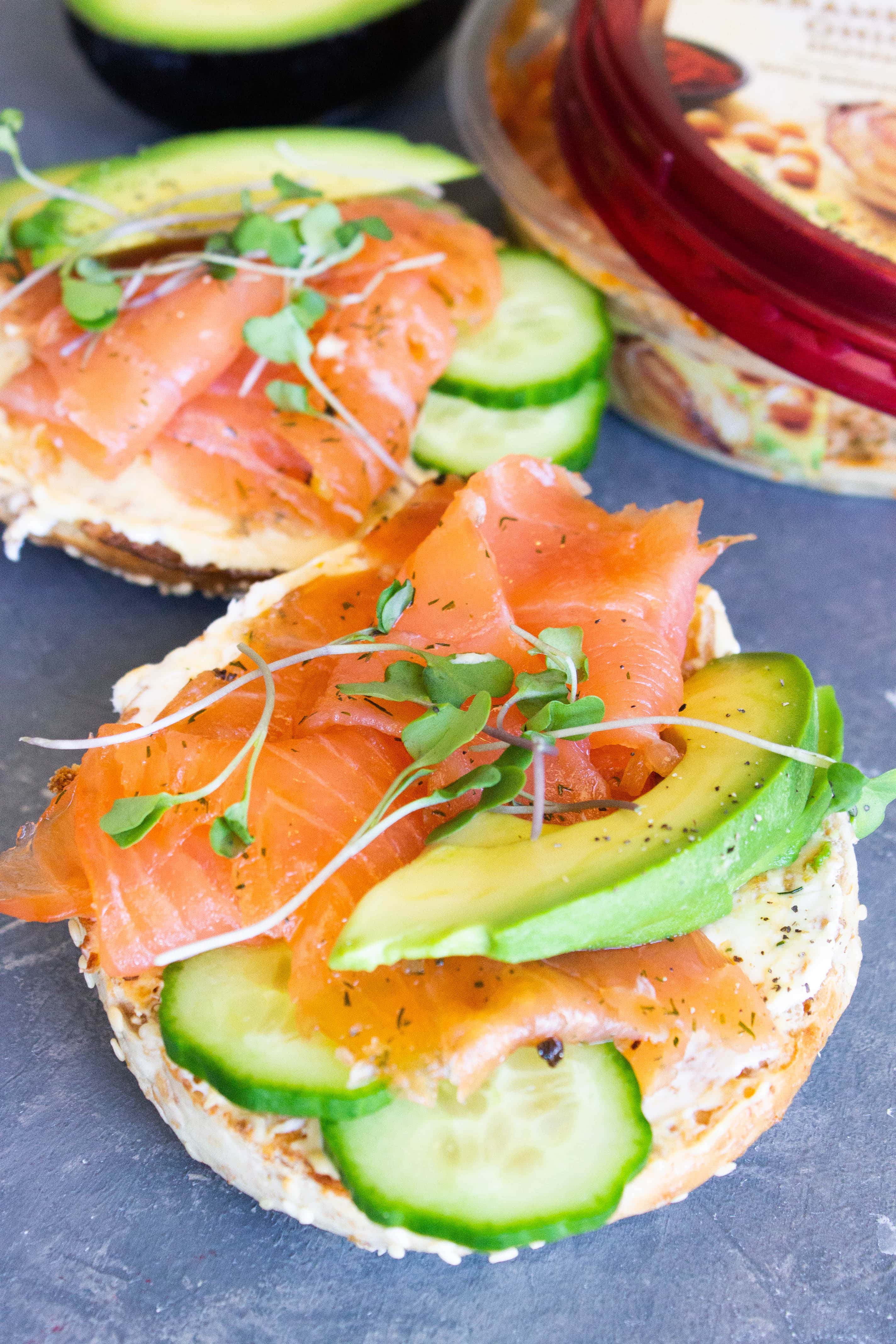 "I received free samples of Sabra mentioned in this post. By posting this recipe I am entering a recipe contest sponsored by Sabra and am eligible to win prizes associated with the contest. I was not compensated for my time."
I love adding additional nutrition to my meals! BUT I especially love plant based protein because it makes it easier to incorporate in almost any dish. Sabra sent me 5 amazing humus flavors! If you couldn't tell already, I am a huge hummus fan. These are just a few recipes I have made  Homemade Artichoke Hummus, Roasted Garlic Spinach Hummus, 'Everything' Hummus.
Sabra has over 12 different flavors so there is always something new to try. Here are just a few flavors Sabra has to offer:
Supremely Spicy Hummus
Roasted Garlic Hummus
Sun Dried Tomato Hummus
Olive Tapenade Hummus
Jalapeno Hummus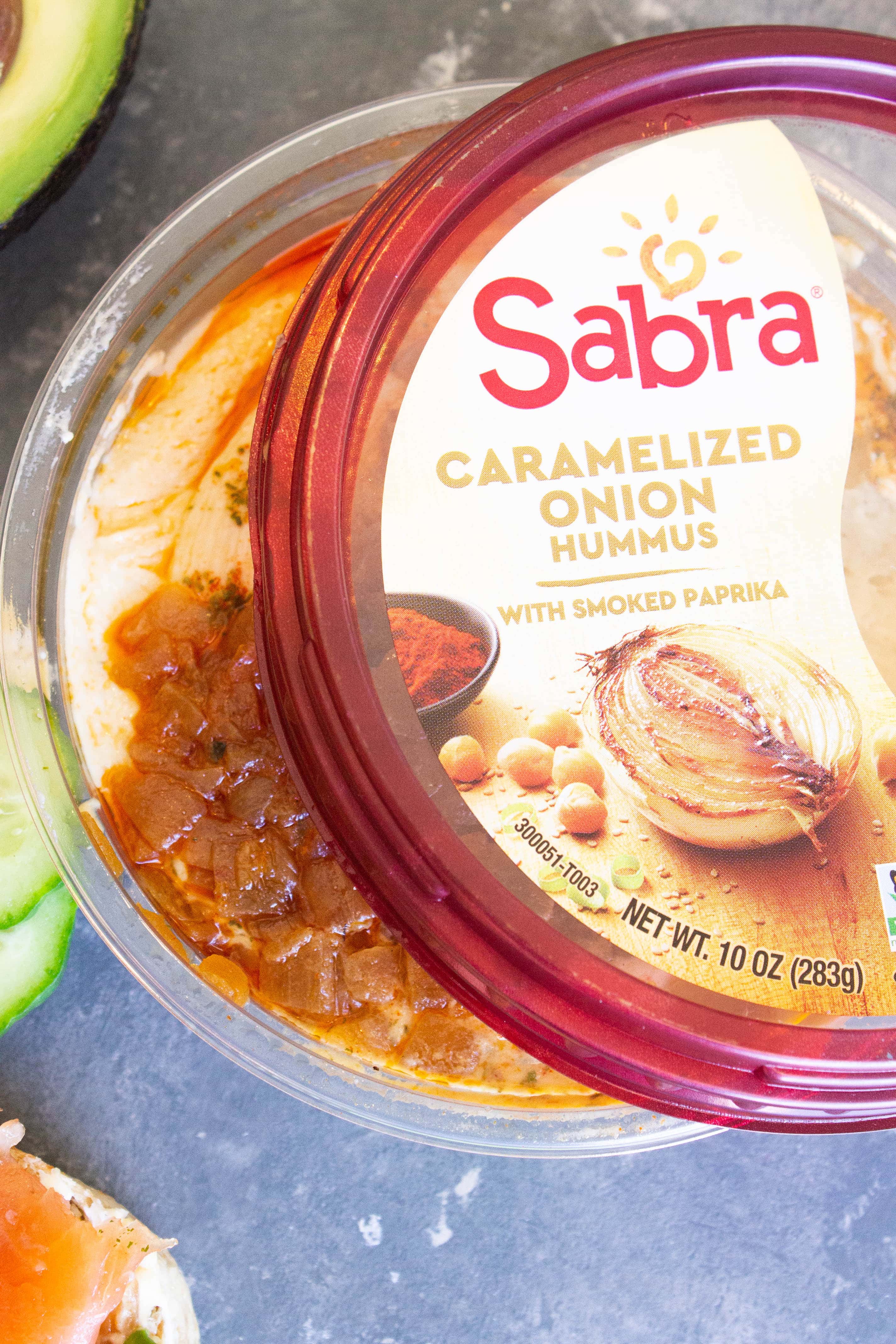 One of my favorite breakfasts in this world is a bagel with smoked salmon and cream cheese. It gets even better with this caramelized onion hummus layered in between the bagel and smoked salmon. Normally I would add sliced red onion to my bagel and instead I added this caramelized onion hummus. It worked perfectly! The hummus has chunks of caramelized onion pieces all over the top.
This nutrient packed bagel makes a hearty breakfast or lunch! The topping possibilities are endless. I think the avocado, cucumber and micro greens compliment the salmon bagel perfectly. This is easy to make and literally will take minutes- even if you are in a rush out the door!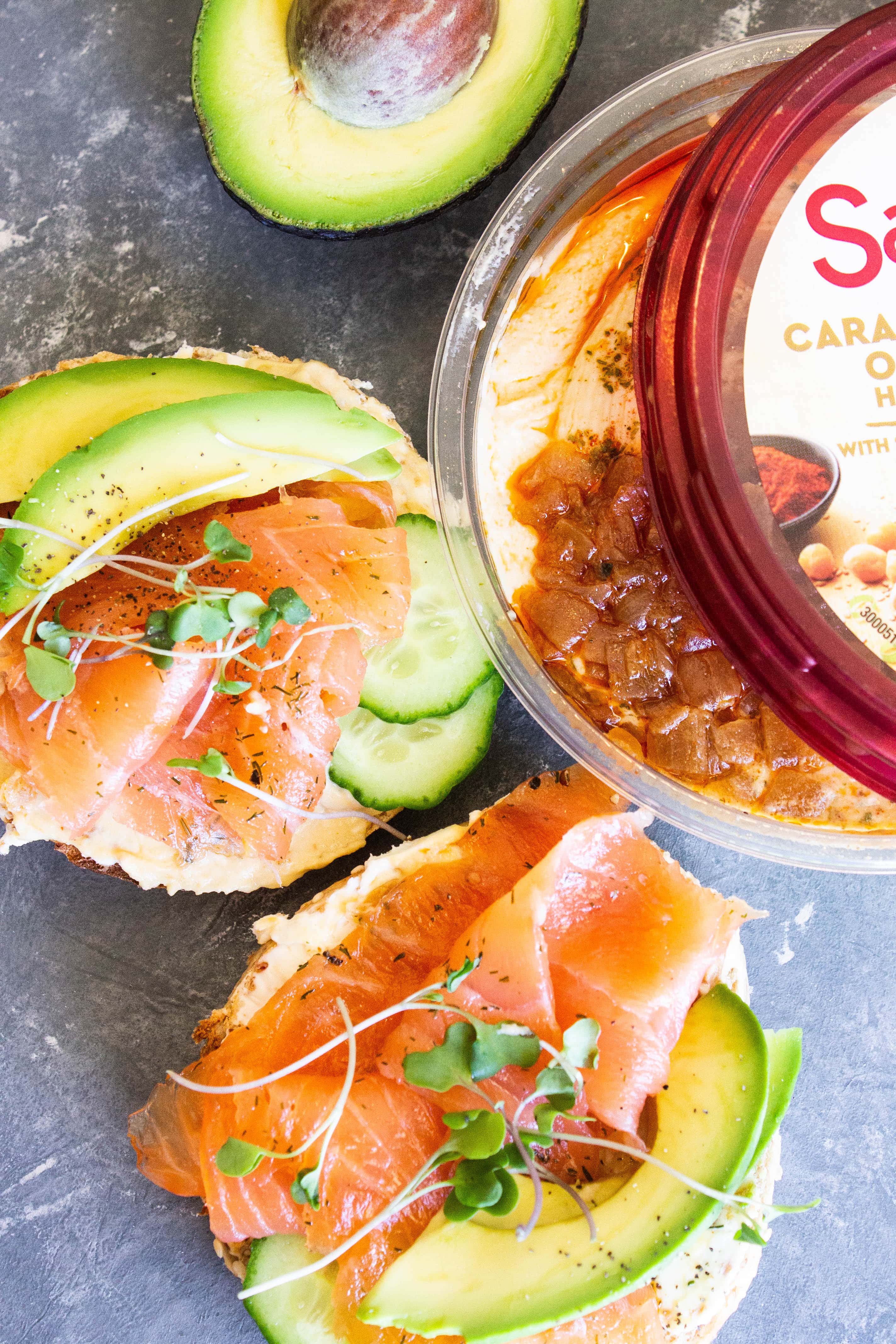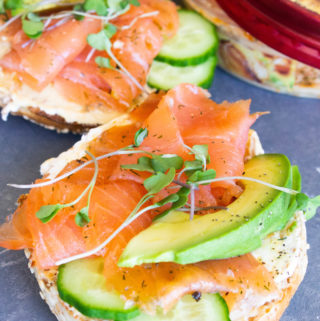 Print Recipe
Caramelized Onion & Salmon Bagel
This perfect toasted bagel is layered with cream cheese, caramelized onion hummus, smoked salmon, avocado and cucumber. This layered delectable combination is hard to beat!
Ingredients
Whole wheat Sesame bagel

1

Tbsp.

cream cheese

2

Tbsp.

1 for each bagel half Sabra Caramelized Onion Hummus

4

oz.

smoked salmon or gravlox

4

thinly slices of cucumber

4

slices

of avocado

Sprinkle of micro-greens; optional

Sprinkle of black pepper
Instructions
Cut the bagel in half and toast.

Spread cream cheese on each bagel. Then spread the hummus.

Top with smoked salmon, avocado, cucumber slices, micro-greens and black pepper.

Enjoy immediately!