I received free samples of Sabra Spreads mentioned in this post. By posting this recipe I am entering a recipe contest sponsored by Sabra and am eligible to win prizes associated with the contest. I was not compensated for my time. #ad
Happy Thursday! Last week Sabra® shipped me 3 samples of their new Sabra® spreads. I was pleasantly surprised when I opened the package because I love hummus and I love sandwiches so these spreads were perfect for me. I received their 3 new flavors: Honey Mustard, Garlic Herb and Sea Salt and Cracked Pepper. I used the Sea Salt and Cracked Pepper Sabra® Spread on my veggie sandwich to add additional flavor—and it did! The flavors on all 3 are bold and they bring on a new take to sandwiches or wraps. Each spread has 75% less fat than the leading mayonnaise brand and has great flavor, NOT fat. The spreads are a bit creamier than a hummus spread so it's actually perfect for spreading on sandwiches! I also forgot to mention they come in a perfect squeeze bottle that you can just squeeze with no mess which is key for most of us.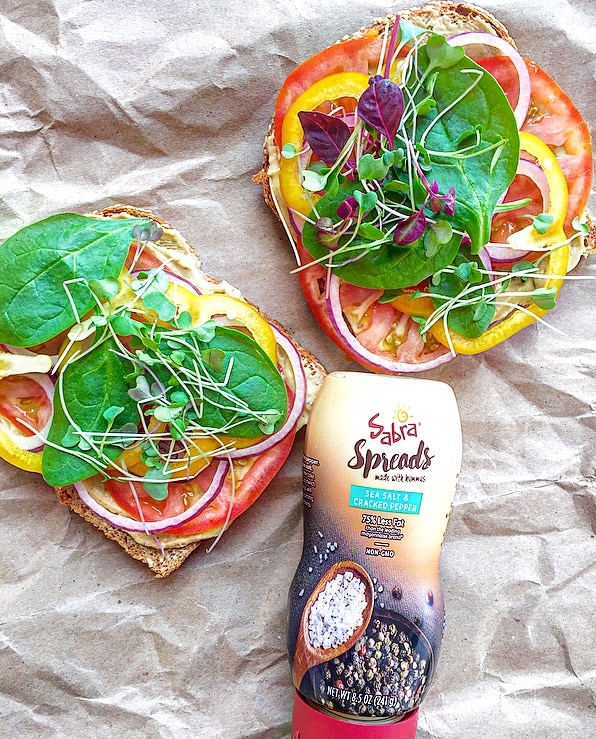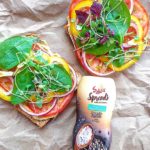 Print Recipe
Sea Salt and Cracked Pepper Veggie Sandwich
Fresh cracked pepper sea salt Sabra® Spreads make this sandwich extra delicious. It's packed with tons of fresh veggies to keep you feeling healthy!
Ingredients
2

sliced of whole wheat bread (toasted is optional

2

Tbsp

Sabra® Sea Salt and Cracked Pepper Spreads

4-6

thin slices of tomato

4-6

thin slices of onions

4-6

thin slices of yellow bell pepper

6

spinach leaves

2

Tbsp

micro greens; or sprouts

Sliced avocado; optional
Instructions
Toast your bread (optional). Spread 1 tablespoon of hummus on each piece of bread.

Layer your veggies on top. I layered in the order of: tomatoes, onions, bell peppers, spinach, then micro greens. Avocado makes a great addition to this also!
These Sabra® spreads helped me recreate this heart healthy recipe because I swapped out the usual mayonnaise and mustard that I normally put on my sandwiches. For my hearty veggie sandwich, I used the sea salt and cracked pepper Sabra® Spreads spread (instead of mayonnaise of course). It worked so well with this sandwich because of the salt and pepper flavor that I got in every bite from the spread.  I normally like to add some type of protein to my sandwiches besides veggies but the hummus was plenty for this hearty sandwich–yes, sandwiches can be hearty without meat too! The amount of veggies you can add to your sandwich are endless and you can add any of your favorites. I used some of my favorites that I sliced with my new slicing mandolin. I hope you get a chance to try out at least one of these spreads with my recipe!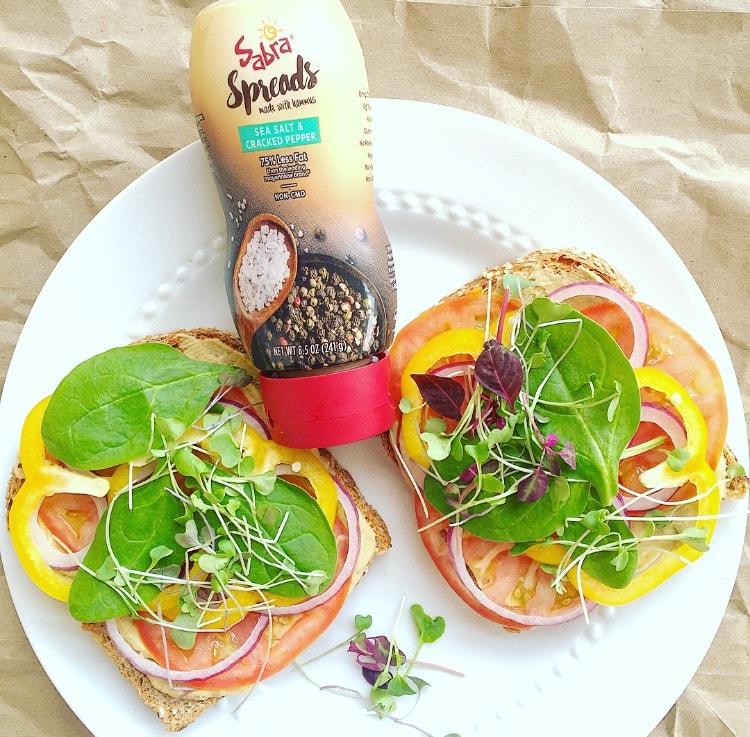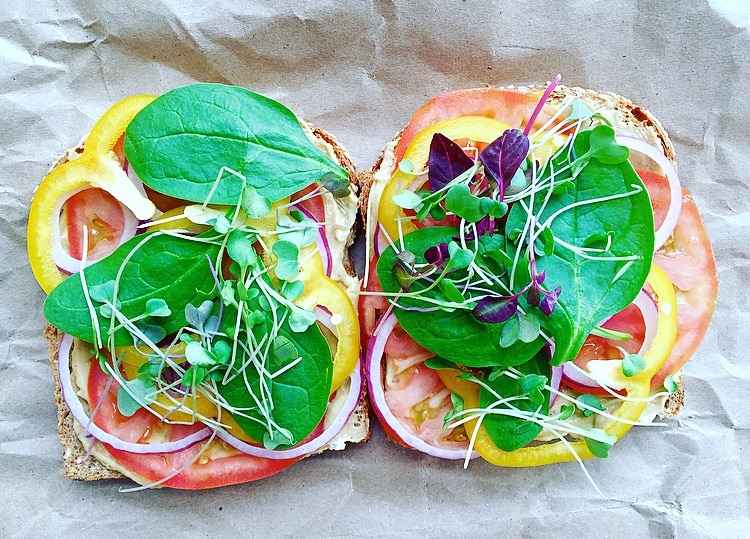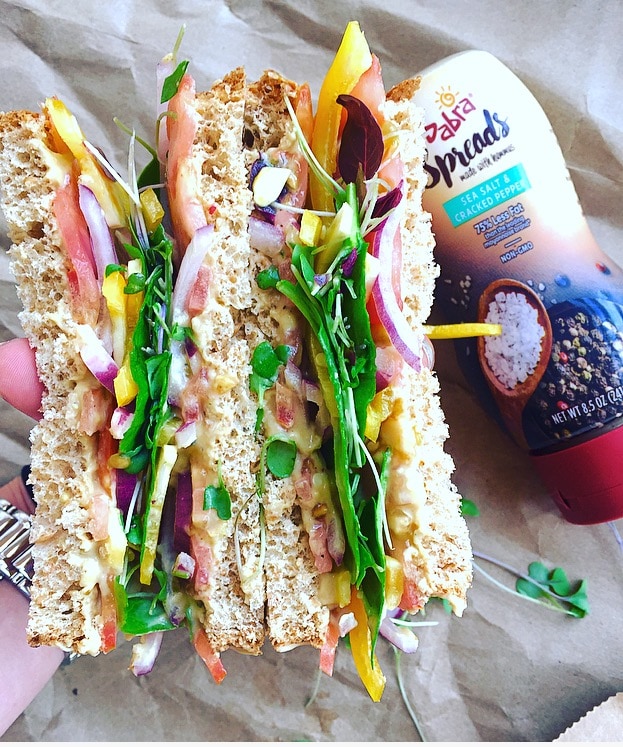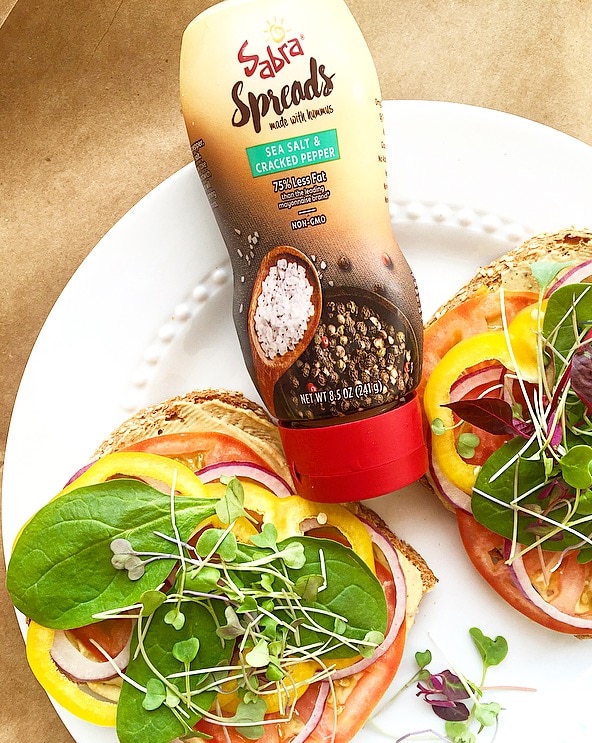 Reader Interactions