Pancakes are a breakfast favorite of mine, because who doesn't like a tall stack of em'? These pancakes are fluffy and have a hint of orange in them. The ricotta adds a touch of creaminess to these! You can even freeze these in the freezer and pop them out when you want to have a delicious quick breakfast by popping them into the toaster!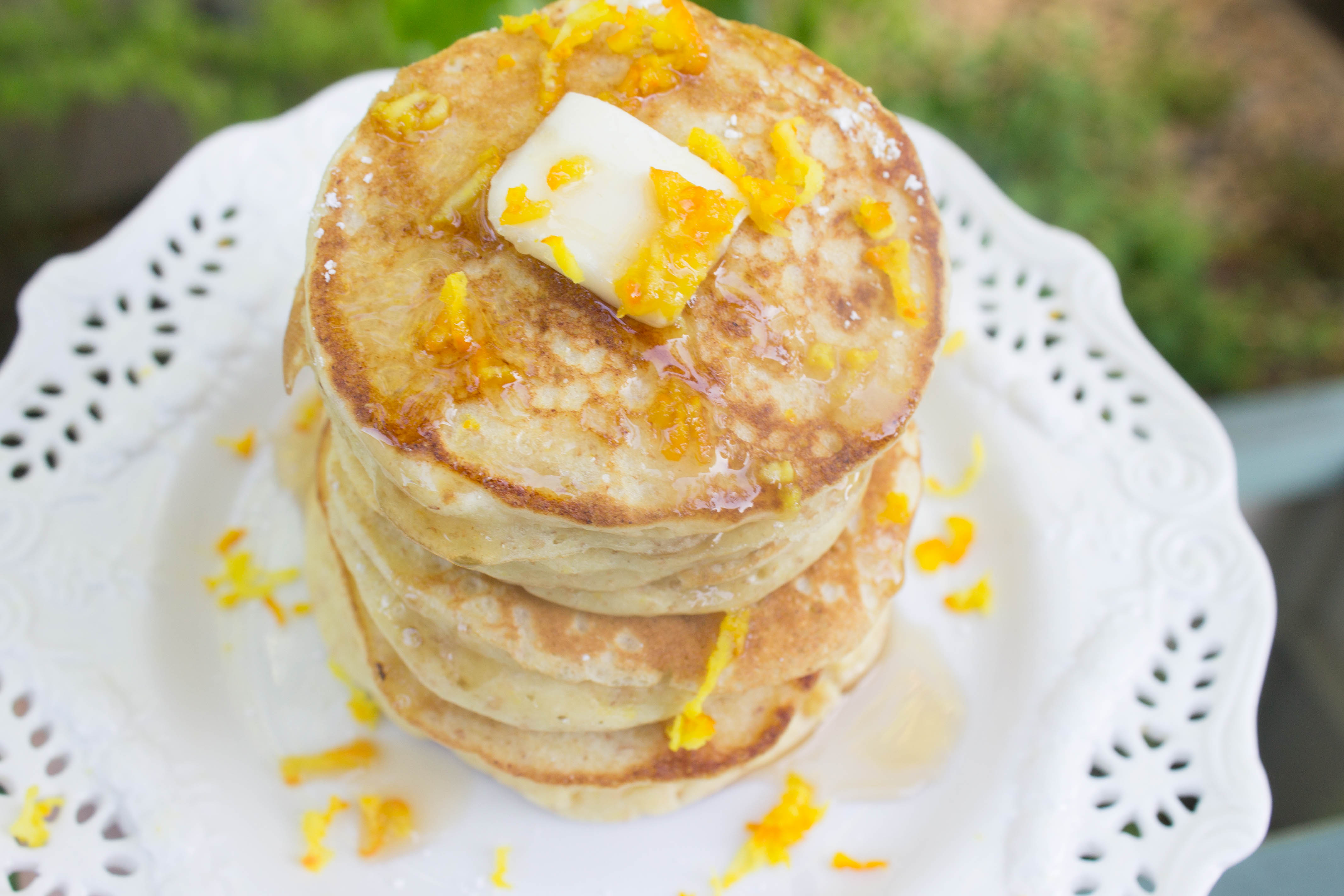 Ricotta Orange Whole Wheat Pancakes
These fluffy, zesty, and sweet pancakes are bursting with a delicate orange flavor and are perfect when topped with warm maple syrup and melted butter!
Ingredients
1 1/2 cups whole wheat flour
3 Tbsp sugar
1 1/2 tsp baking powder
1/2 tsp baking soda
1 large egg
1 cup ricotta cheese
3/4 cup low-fat milk
1/2 cup orange juice
1/4 cup butter, melted
1/2 tsp grated orange zest
1/2 tsp vanilla extract
Pinch of salt
Maple syrup
Instructions
In medium bowl, whisk together the flour, sugar, baking powder, baking soda, and salt.
In a small bowl, whisk together the egg, ricotta cheese, milk, orange juice, butter, and orange zest; set aside.
Make a well in center of the dry ingredients; pour in milk mixture and whisk very gently until just combined (a few lumps should remain). Do not over mix.
Heat a 12-inch nonstick frying pan/skillet over medium heat for 3 to 5 minutes; add 1 teaspoon oil or butter and brush on skillet evenly.
Pour 1/4 cup batter onto 3 spots on frying pan/skillet. Let pancakes cook until large bubbles begin to appear, about 1 1/2 to 2 minutes. Using a spatula, flip pancakes and cook until golden brown on second side, 1 to 1 1/2 minutes longer. Serve immediately, and repeat with remaining batter. Top with more orange zest, a pat of butter, and drizzle of maple syrup. Enjoy!
http://kathrynskitchenblog.com/ricotta-orange-whole-wheat-pancakes/
Copyright Kathryn's Kitchen Blog