When it comes to snacking, I try to always go for healthier options. I can snack on dips anytime..whether it's a salsa, a good guac, hummus, or my favorite…spinach dip. The cream base dips have a bad reputation because they are known for containing lots of fat and they aren't the healthiest choice. BUT wait–I turned this usual high calorie snack into a lite and nutrient loaded dip that is good for you! This recipe also gives you the opportunity to get your daily veggies 🙂
Using California yogurt as the base of this recipe makes this recipe extra creamy. When purchasing dairy products, look for foods made with 100% Real California milk that feature the Real California Milk or Cheese seal. When you see the Real California seal, you'll feel good knowing that the product is certified as having been made with 100% Real California Milk from Real California Dairy families.
Strive for foods that make your body happy because they will end up making you happy! Also… Remember, you are what you eat!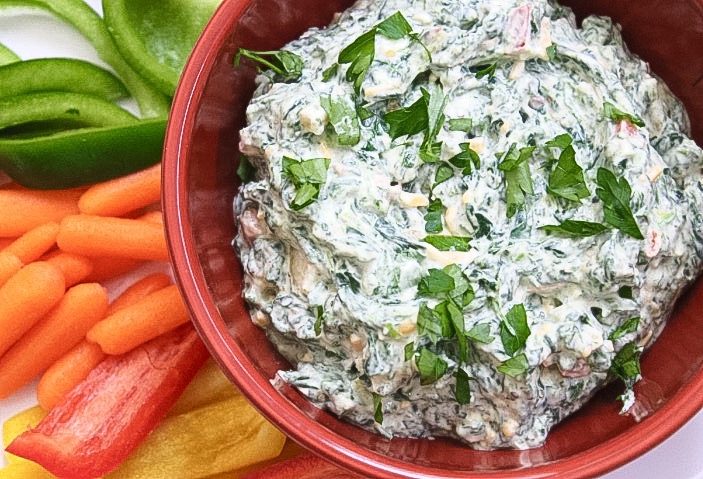 Lite Veggie and Herb Spinach Dip
Ingredients
2 Cups California plain yogurt
3 Tbsp fat free sour cream
2 cup finely chopped spinach
1 tsp olive oil
2 scallions, finely chopped
1/4 of a red bell pepper, finely minced
1/4 of a green bell pepper, finely minced
1 carrot, finely minced
3 cloves garlic, finely minced
½ teaspoon sea salt
½ teaspoon onion powder
½ teaspoon garlic powder
2 Tbsp fresh parsley; chopped
½ cup finely shredded California cheddar cheese
¼ teaspoon freshly ground black pepper
Instructions
In a large frying pan, saute spinach by combining spinach and olive oil. Saute until spinach is wilted for about 3-4 minutes (the spinach takes only a few minutes to saute).
In a large bowl, combine all of the ingredients and mix until well combined. Refrigerate for at least an hour before serving for the best flavor. Taste and season with more salt and pepper if desired. Serve with pita chips and your favorite veggies!
http://kathrynskitchenblog.com/lite-veggie-and-herb-spinach-dip/
Copyright Kathryn's Kitchen Blog
"By posting this recipe I am entering a recipe contest sponsored by Real California Milk products and am eligible to win prizes associated with the contest. I was not compensated for my time."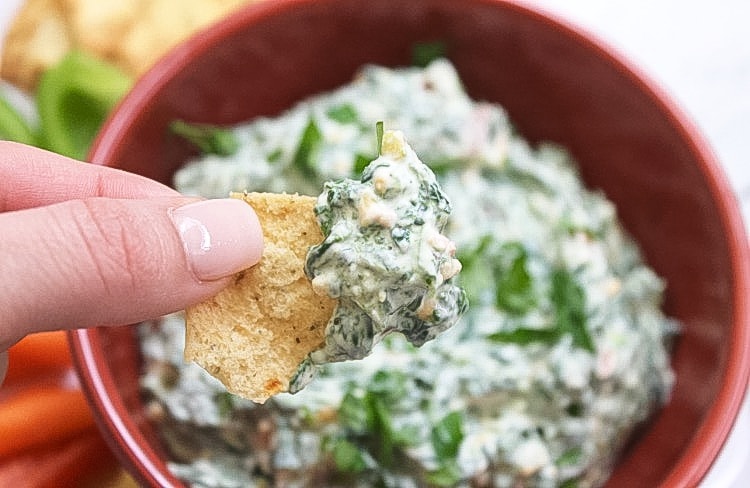 Reader Interactions